Somehow, after six weeks of the most convoluted storytelling you could possibly create, Becky Lynch is still getting cheered in the WWE. If you ever had a question as to whether or not a storyline makes a character or the character makes the storyline, look no further than the mess WWE has made of one of their hottest acts in the company in years as Lynch has managed to stay above it all. Let's examine what the hell has happened between The Royal Rumble and last night's event Fastlane, shall we?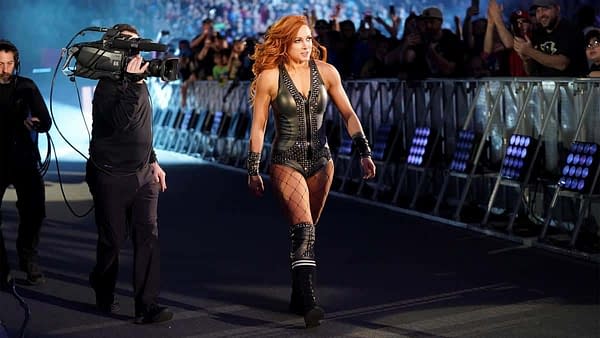 First, Lynch enters the event losing to the Smackdown Women's Champion Asuka (who hasn't been doing much of anything but hanging out in catering and beating Mandy Rose), taking a loss at the start of the night. She then replaces an injured Lana in the Women's Royal Rumble to a massive ovation from the crowd and manages to win the Rumble. She does so by throwing out her rival since SummerSlam, Charlotte Flair, but also sustains a knee injury during the match from Nia Jax. Here's an important detail you need to keep in mind: the winner of the Rumble goes on to face the champion of their choosing at Wrestlemania, it's a guaranteed spot according to the rules of the match. Remember this!
A couple of weeks later, Stephanie McMahon comes out to pump up Lynch and says she would love to see Ronda Rousey, who currently serves as the Women's Champ on Raw, lose the belt to Becky. But Becky's knee needs to be looked at before she can compete. Now here's the first fork in the road where they choose poorly. They could simply say Becky's injury is going to take about 6-8 weeks to heal, they're 8 weeks from Wrestlemania, so they could just send Lynch home and tell her she can't compete so that they get their Wrestlemania match and make money. Thereby giving Lynch a reason to pop-up on TV now-and-again to mess with Ronda and build to the match.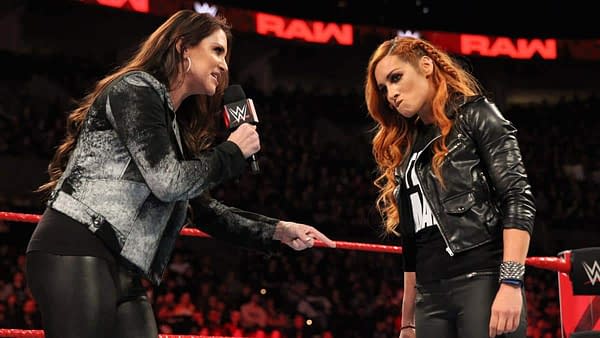 But for some reason, they take a different approach by having Lynch say she's not getting it checked out, and then proceeds to beat the hell out of Stephanie, because that's apparently what everyone in the women's division does these days is beat the hell out of Stephanie. Aside from the cheap pop from the crowd, what did this accomplish? We already know she's defiant, we know she's injured, we know she'll end up in a title match in April anyway… What good did this do for the character or the eventual match? It's a cheap pop to see Steph get a beatdown.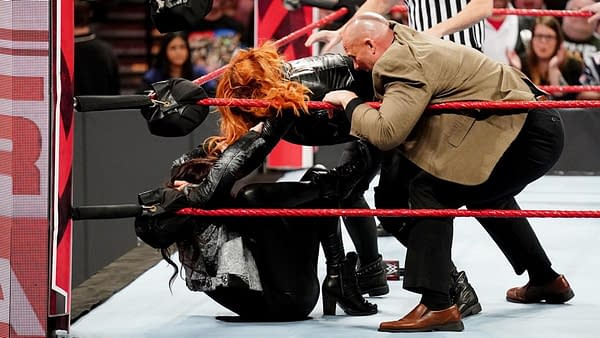 The next night on Smackdown, Lynch slaps Triple H in a promo, because, of course, she does. She's a rebel right now against all things management.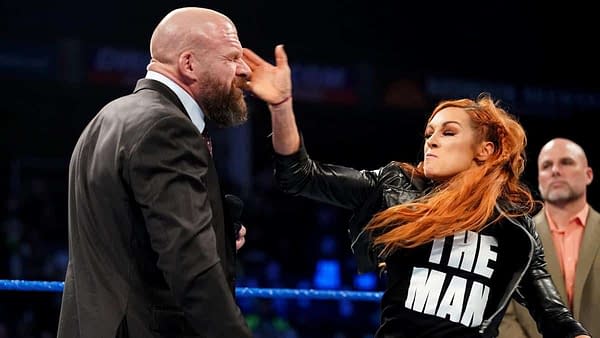 This leads to Steph and Triple H demanding an apology the following week, which they get. But then none of that matters because Vince McMahon pops out and suspends Lynch for 60 days anyway for her bad attitude. (Because remember all the times McMahon suspended Steve Austin for his bad attitude and how he missed Wrestlemania 14 and 15 for having a bad attitude? You don't? Huh…) Then, we have to add another layer of frosting to this cake as McMahon says Flair will now be facing Rousey at Wrestlemania. While he did suspend Lynch, he doesn't officially strip Lynch of her shot at the title at Wrestlemania, only that she'd miss the event. So if she gets unsuspended she still has a title match. Again, keep that in mind.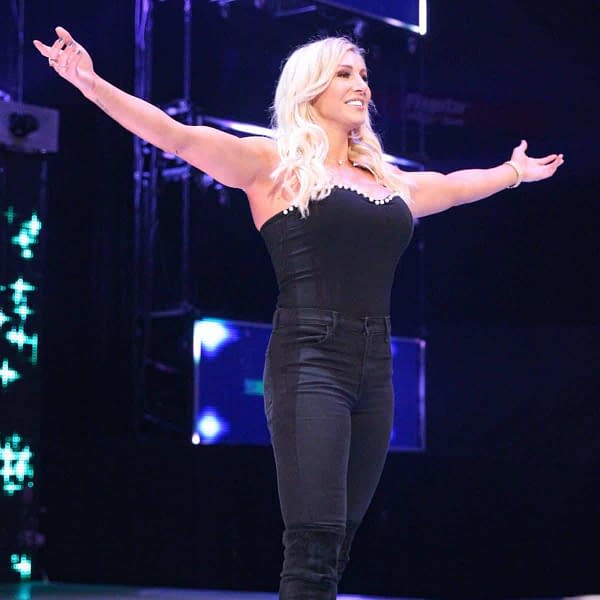 Cut to Elimination Chamber, where Flair and Rousey are having a staredown after a short match with Ruby Riot (who deserves better than this) when suddenly a ginger ninja who just rode in on her Kawasaki motorcycle from 1994 hobbles down to the ring on crutches. Oh wait, that's Lynch. Before we get to the beatdown, just in practical terms, how is this threatening to anyone? At any point, one of those two could have run over and beat up Lynch. But they can't, because we have to somehow let no security stop a suspended superstar, so she can get in the ring and get promo shots and footage of them all staring at each other. If it doesn't make sense on paper, why the hell would it make sense on TV? This leads to Lynch getting an attack on Flair and Rousey you could see coming from miles away with her crutches.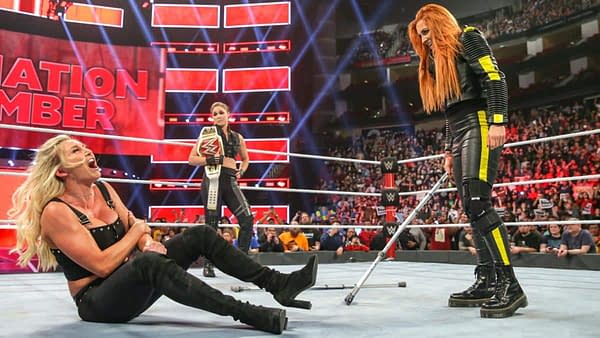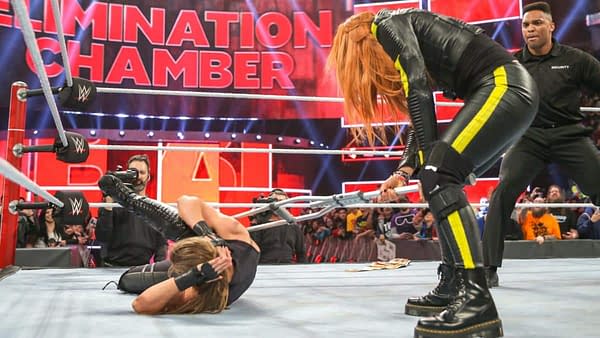 Just over a week later, another "surprise" attack from the crowd in which Lynch gets arrested. At this point, the crutches and the limp and wearing thin. We know where things are eventually going, and yet during the six days between TV tapings where Lynch doesn't show up, her leg just never seems to show any sign of improvement. You could make the argument that she keeps getting reinjured after every appearance, but that's just not how the human body works. There's no percentage bar sitting on a limb like its a video game and every time you get hit you lose a little. You either reinjure yourself or the injury eventually heals. You don't just stay at 50% for a month with no improvement or signs of it getting worse.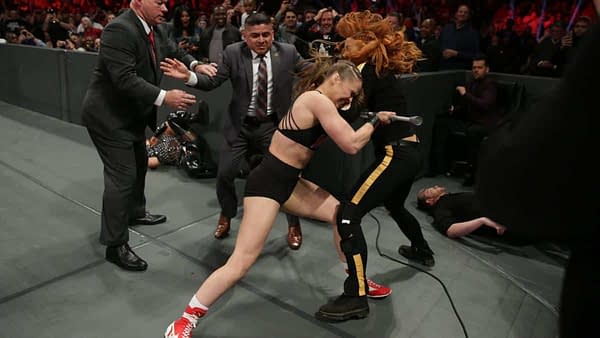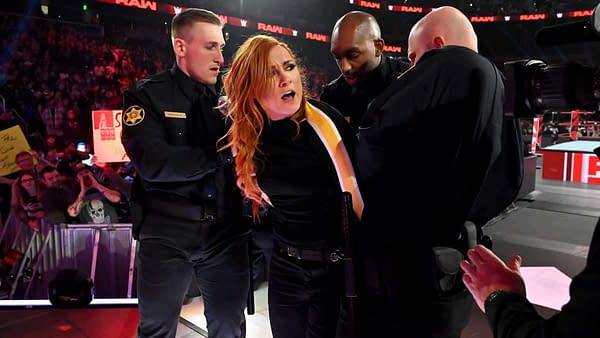 We then get a promo from Rousey who says she wants Lynch, and lays the title on the ground for Stephanie to get her act in gear and give her what she wants. At the time it looked like she vacated the title, because if you have a championship and you leave it on the ground and walk away, you're not renting it out to whoever picks it up. At this point, we now have an injured woman who still hasn't been stripped of her title shot "in custody", one who didn't need to be here watching from afar, and the champ leaving the belt behind. If you're not already tired of how poorly written and conceived this story is, just you wait!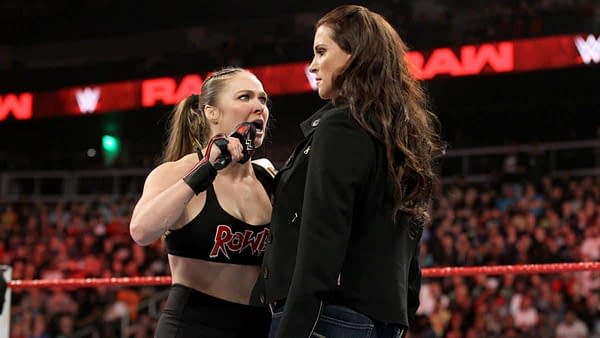 The following week makes so little sense, we're going to gloss over it as much as possible and get to the major beats. Flair wants the company to crown her the new champ since Lynch can't fight and Rousey dumped the title. Doesn't happen. Stephanie unsuspends Lynch and makes her sign a Hold Harmless Agreement, which she could have done weeks ago. Rousey comes out and says she only dumped the title to make Stephanie change her mind, but she's apparently dumb in Rousey's eyes (which is what the WWE creative team must think the fans are at this point), and takes the belt back. A match is set for Fastlane for Lynch to be added to Wrestlemania if she wins to make it a triple threat, and then Rousey beats up Lynch after insulting both of them on the mic.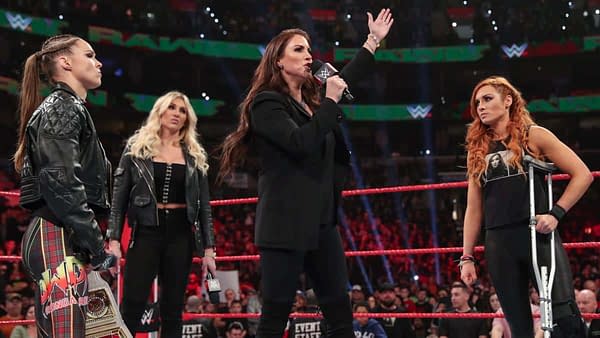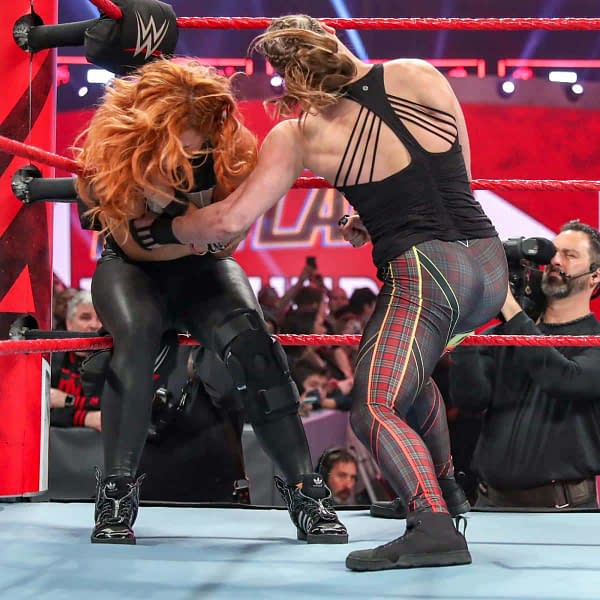 Now again, Lynch still never was stripped of her shot at the title following the win at the Rumble. By definition alone, she's already in the match after being unsuspended. But the company would like you to forget that detail because they're setting her up to be an injured fighting competitor to win the fans hearts. Which they didn't need to do because the fans were already behind Lynch in the first place. So now they're giving her the unspoken "one last shot" to get into the match, even though she was already there and never really lost it, especially after being unsuspended.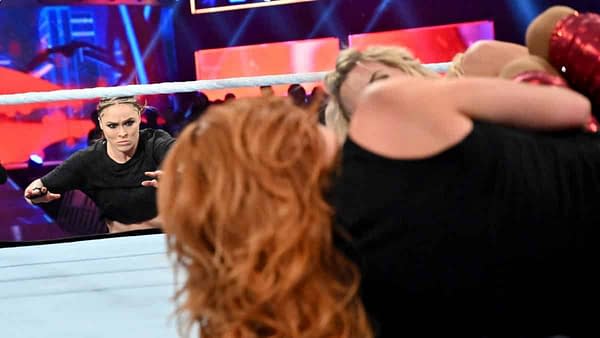 Cut to last night at Fastlane. Lynch vs. Flair. Lynch still hobbling out on a crutch, which is gaining her zero sympathy at this point. They could have had her dump the crutch and take off the knee brace before the match started, gotten a WTF look out of Flair and riled up the crowd to cheer Lynch even harder… but they didn't take that road either. Instead, we got a waste of nine minutes of our lives that all lead to a cheap finish as Rousey ran in and hit Lynch on purpose. This gets Flair DQ'd and Lynch added to the match by default. So they didn't even show Lynch looking strong or like a crazed fighter who will do anything to get a title shot, they threw her back into the match like a sack of garbage. This is one of the most cheered and supported women on the WWF/E roster in the past three decades, and the put her in on a technicality, which she didn't even need because she was already guaranteed a title shot.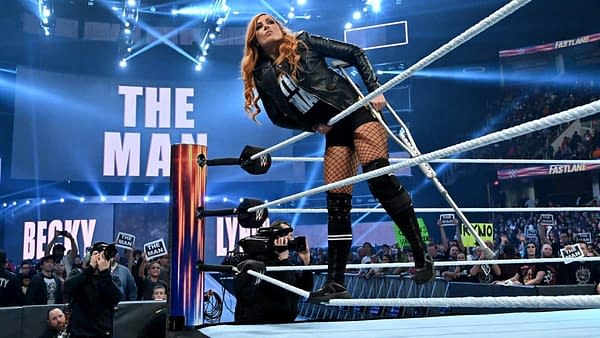 As far as fan reaction goes, the audience isn't as dumb as some would like to believe. This isn't even a mark/smark discussion. Go hit up Twitter and search "Becky Lynch Fastlane" and you'll see a slew of people who are super supportive, but are burned out on all the confusion and irrational decision making put on camera to get us to where we are. If this kind of crap was done to anyone else on the roster, crowds would be sitting on their hands and calling out "Boring!" chants. You know, like they did to the useless pile of hot garbage they put Kofi Kingston through on the very same show just an hour earlier to further his underdog story. The ONE THING keeping this entire story afloat and on track to being the main event at Wrestlemania is Becky Lynch's popularity. Sure, her Twitter feud with Ronda helped, and Rousey sparked a ton of interest and ire last week, but the company has been doing these women no favors.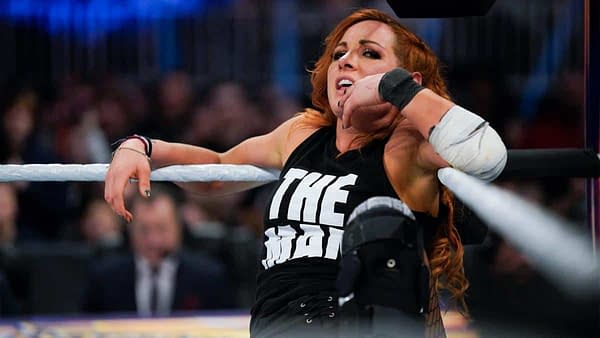 WWE has been trying to replicate Austin vs. McMahon to a degree, because of all the "Stone Cold" Becky Lynch memes on social media. But they didn't need to. The fans were already on her side, they were ready to turn on Rousey after seeing her be undefeated up to this point. There was no need to add Flair to the match other than to add another "first" to her resume for her eventual Hall Of Fame package in 20 years (being one of the first women to main event Wrestlemania). Aside from making it a triple threat match and waiting for confirmation that it is indeed going to be the last match on the card, WWE has burned us out on all the twists and turns this story has taken. And we still got four more weeks of television to sit through before we're done with this.
Can WWE's creative team find a way to make us hate a match we've wanted for months? They got 28 more days to try.
Enjoyed this article? Share it!