Doctor Who: A Look at Amy Pond's Final Adventures with The Doctor
The latest Doctor Who compilation video this week was the second supercut of Amy Pond's (Karen Gillan) best moments. At first, we wondered if this was really necessary. Were they running out of subjects to cut long compilation videos out of, that it made sense to focus on Amy's second season? Well, let's take a look, shall we?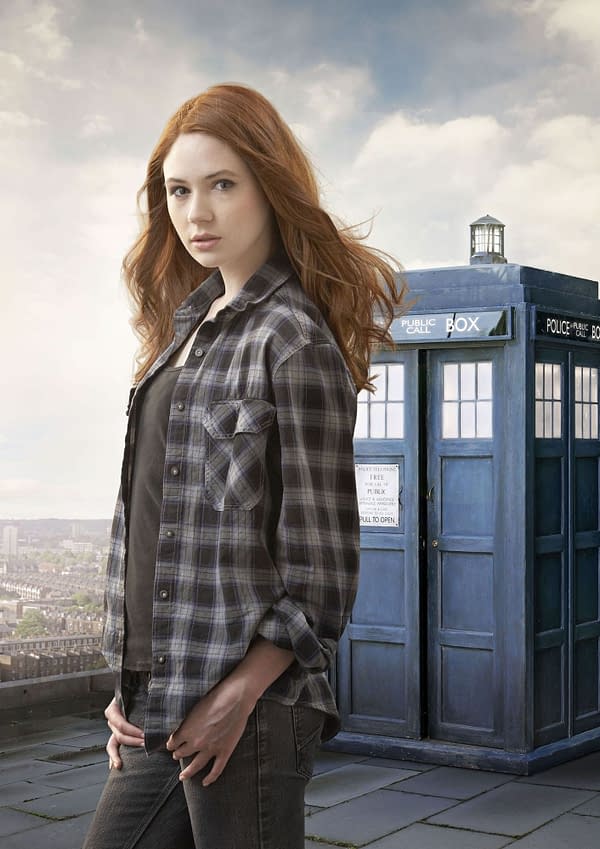 Amy was the longest-serving companion on the new show, lasting three whole seasons. Her creator and showrunner Steven Moffat certainly made her go through more changes and angst-inducing situations than any other companion on the new show's run. She starts her second season happily married to Rory Williams (Arthur Darvill) and the Doctor regards the Ponds as a single unit, though with Amy the dominant – and domineering – one. She was also the longest-running companion who only stuck with one Doctor. Grant, both Martha Jones (Freema Agyeman) and Donna (Catherine Tate) only traveled with one Doctor (David Tennant) but they each only lasted one season.
Despite being one of the most popular companions next to Rose (Billie Piper), some of us always felt Moffat wrote her from the outside. He had a recurring tendency to write the female co-leads of his shows as fantasy girlfriends or waifus for the nerdy hero who's the stand-in for nerdy male viewers. These heroines are often smart, competent, glamourous, and sexy – and always fell in love with the hero. This was evident in the modernised Irene Adler (Laura Pulver) in Sherlock and in his short-lived Jekyll. His upcoming adaptation of The Time Traveler's Wife looks like it's going to continue that trend. Amy and Clara (Jenna Coleman) often felt like male fantasies whose blank spots were filled out by the personalities of the actresses playing them.
At least Amy was never the damsel in distress who screamed and had to be rescued all the time. Her second and third seasons did feel like Moffat was starting to strain to find new things to do within the show, which resulted in a lot of dodgy choices. She turned out to be the mother of River Song (Alex Kingston) which made the latter's "marriage" and romance with The Doctor feel odd and almost incestuous. The whole saga of her pregnancy and the kidnapping of her baby felt like a convoluted Marvel Comics-style plotline. That period felt like the show had entered its decadent phase with storylines that felt weirdly adult for a show that was supposed to be aimed at children. She was frequently mean to Rory, but Darvill's acting range and reserves of rage made Rory feel less passive than the dweeby nerd he was originally written as. Her divorcing Rory because she felt ashamed of not being able to bear more children was an unpleasant sexist trope, and she and Rory's decision to commit suicide to save the day and their love during their exit was an extremely dodgy choice for a show aimed at kids. The Doctor's relationship with Amy also felt increasingly enmeshed, a precursor to the Twelfth Doctor's (Peter Capaldi) destructive co-dependent relationship with Clara later on, which again felt more like a messy adult drama than a family show.
Amy's appeal was down to Gillan's comic timing that made her perfect for Screwball Comedy, which Moffat excelled at, and her brassiness made Doctor Who just a first step on her road to movie stardom. We were lucky to see her here first before Marvel, Jumanji and whatever future franchises got her.