"Doctor Who": Jodie Whittaker Celebrates Her Birthday as Only She Can
Our 13th Doctor – the talented, adorable, energetic, and authentic Jodie Whittaker – celebrated her 37th birthday this week – which raised a question. When you are a household name before the age of 40 and your face is plastered on toys, posters, comic books, and buses the world over, how do you celebrate your birthday? Well, thanks to a trustworthy on-set source, we now know that Whittaker celebrated her birthday as only she could, bringing laughter to the set of BBC's Doctor Who.
Mandip Gill, who portrays Yasmin Khan on the wildly popular television show, posted the above snap of the cast on set. Despite having to work on her birthday, Jodie still found a way to have a good time. Clad in the sparlkiest of dresses, butterfly wings, two birthday girl buttons, and a candle crown, 37 looks adorable on Whittaker. Despite her skeptical look in the photo, Gill was rightfully inspired by Jodie's effusive energy. Someone on Gill's twitter who goes by the name of Jodie's brother Kristian Whittaker was less than impressed:
Maybe after 37 years of this, he's tired of it?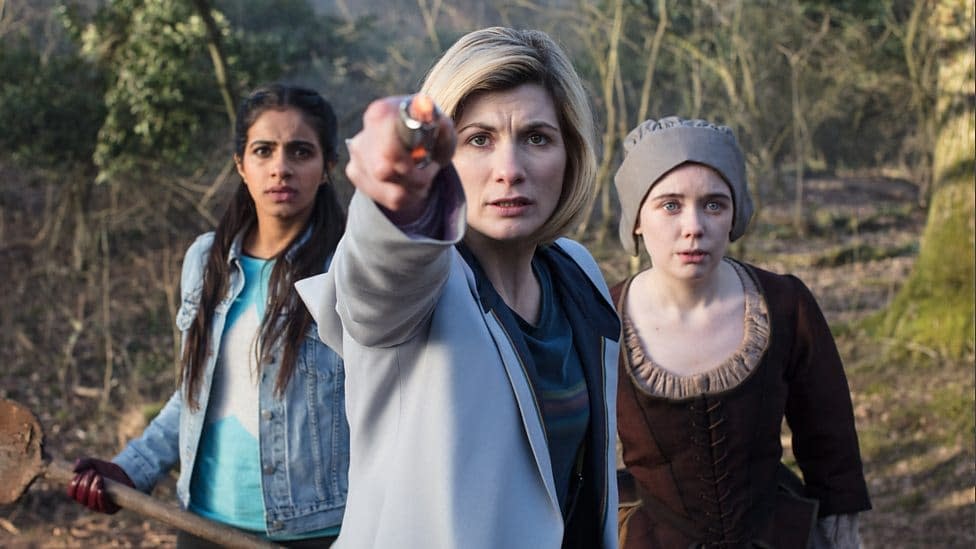 It is impossible to look at this photo and not want to be friends with Jodie. I mean, I already wanted to be friends with her – but now I know just how awesome it would be. Jodie would be that friend you take with you to go to a second-hand clothing store, buy the most outrageous outfits you can find, and then go to a fancy restaurant.
Jodie's birthday also seems to have brought out Amazon Prime UK's sense of humor:
In the midst of the pearl-clutching and angst that accompanied Whittaker's resoundly successful first season of Doctor Who, it is great to see that she and her "fam" are still able to have fun and enjoy themselves on set. The energy that radiates from Jodie in Gill's photo is what makes her an engaging, goofy, and heartfelt Doctor. I look forward to new episodes of Doctor Who in 2020. And, to be honest, I kind of hope she works more of her whimsy into the show.
Doctor Who airs on BBC One and BBC America, and stars Whittaker, Gill, Bradley Walsh, and Tosin Cole.