Doom Patrol Season 2 Review: Every Good Party Ends with Sex… Men
The second season of DC Universe and HBO Max's Doom Patrol continues its mission to be utterly bat-flap crazy, mixing emotional trauma and dysfunction with superpowered shenanigans in a heady mix of surreal madness and gleeful snark. Things continue to be dire in "Sex Patrol", the fourth episode of the second season. This time, the catalyst is Danny the Street, the exuberant nonbinary sentient street that became a town that sheltered outsiders – mostly LGBTQ people exiled from society – in an endless Stonewall street party. Except Danny is in bad shape. Really bad shape. Having been saved by the team at the end of the first season, Danny has been reduced to a single brick. Then last week, Dorothy, the Chief's (Timothy Dalton) extremely unstable daughter Dorothy (Abigail Shapiro) dropped and shattered them. Now they have to figure out how to put Danny back together again.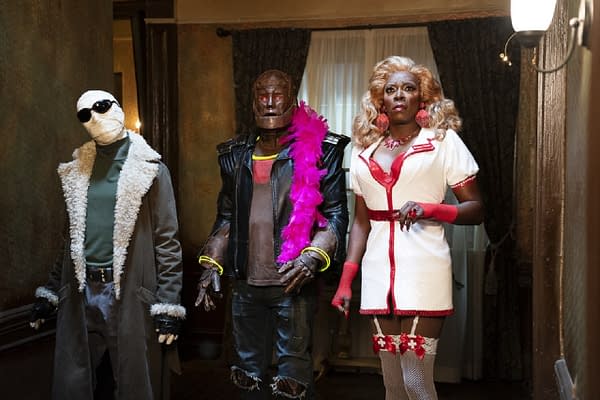 Party, Sex and Sex Men
Danny was created by Grant Morrison for his 1980s run of the comic, and the show embraces their LGBTQ status even harder than the comics could really afford to. Denizens –trans, gay, lesbian, nonbinary outsiders and Flex Mentallo (Devan Long) – who flocked to Danny when they needed a safe haven – come to the rescue. The solution is to throw the most awesome party ever in the Chief's mansion to bring Danny's back to life. The rest of the team is game, since they have to contend with their own problems. Larry (the voice of Matt Bomer, the body of Matthew Zuk) is still guilt-ridden over his abandonment of his family. Crazy Jane (Diane Guerrero) is still fighting with her other personalities for dominance as the Prime. Cliff (voice of Brendan Fraser, body of Riley Shanahan) is still moping over his disastrous attempt to reunite with his daughter. Rita (April Bowby) wants to be a better superhero but needs to overcome a mental block that turns out to be repressed memories from her Hollywood career.
The result is a pansexual party like a miniature New York City Halloween Parade. The Chief puts Ecstasy into Cliff's brain nutrient fluids to send him high as a kite and in a major partying mood to overcome his psychological crisis. Dorothy's unstable mental state (she's been an 11 year-old girl for over 100 years, her arrested development is dangerously literal!) threatens the lives of everyone present without them even realizing it. Rita asks Flex to help unblock her by inducing orgasmic energy so potent it attracts a deadly sex demon that looks suspiciously like Morrison who brings even more chaos to the party and attracts the attentions of a secret squad of carnal ghostbusters known as… the Sex Men! But even they may not be able to conquer the orgone energy that the sex demon is feeding on that might just destroy the world. It has something to do with sex ghosts and a spectral baby. Because Doom Patrol!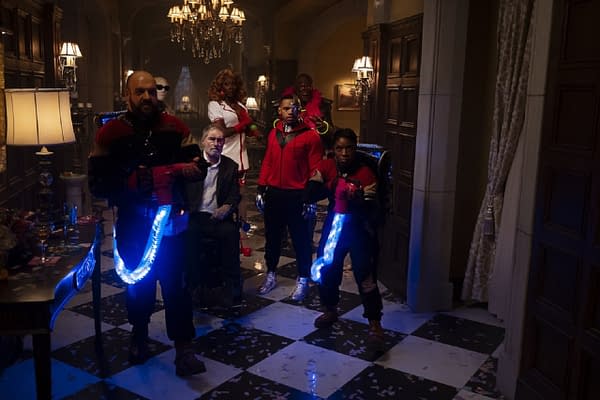 More Grant Morrison Than Grant Morrison
The second season of Doom Patrol continues its mission to be utterly bat-flap crazy, mixing emotional trauma and dysfunction with superpowered shenanigans in a heady mix of surreal madness and gleeful snark. This episode embraces the madness that Morrison introduced to the comics and seems determined to be even crazier. It strives to be even more Morrison than even he was in the 1980s. All the themes he employed in the comics are cranked up to 11 here and his presence is all-pervading. It's no accident that the sinister sex demon from a monastery in Kathmandu looks suspiciously like him. The show seems to be challenging itself to see how far it can push its gloriously sad and broken characters for comedy. It's always about these barely-competent and utterly reluctant superheroes just about managing to save the world because nobody else is around when all hell breaks loose.
The combination of sadness, hope, surreal comedy, gleeful farce, and superpowers makes this the most unique and funniest superhero show on the air right now. You either get into it or you don't, but you can't deny there's no other show like it.
Doom Patrol is streaming on DC Universe and HBO Max, with a new episode permiering every week on Thursday.