Ed Harris Doesn't "Always Understand" Westworld, "No Idea" on S3 Involvement
Westworld season 2 is almost over, with one remaining episode left of the HBO series. Episode 9 left us with far more questions than answers as The Man in Black, played by multi-Oscar nominee Ed Harris, fell deep into his own dark pit of demons and madness. Is it of his own creation? Pretty much.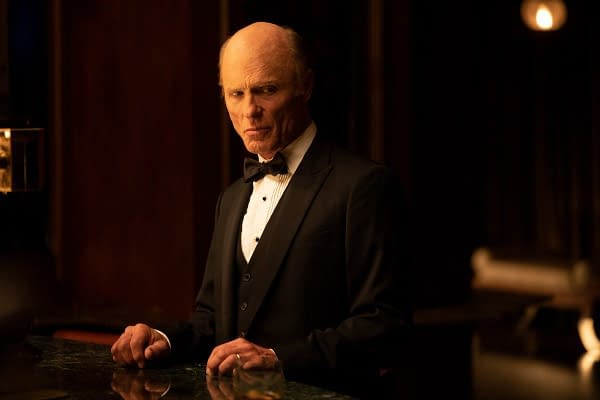 In a recent interview with Huffington Post, Harris spoke a bit about what the Westworld journey has been like for him. And no, he has no idea what's going to happen either.
"Even when I watch it. There's a lot of it that I don't always understand. I have no idea where it's heading. I don't even know if I'm in it or not [next season]. I figure I am? But I don't know in what capacity, and I don't know what the what will be happening. I got to tell you, the way this season ends, I have no idea what's going to be going on."
***
HuffPo: Did you get the sense when you signed on to play this role that it would get a lot of attention?
Harris: I figured when HBO was putting a lot behind it ― our budgets are pretty big. Jonah [Nolan] and Lisa [Joy, the creators] are committed to making this a special kind of deal. Their integrity and their commitment and the depth of their work on creating this thing, it's very impressive. So I was like, yeah, if I can help these guys fulfill their vision, I'd be happy to try. I didn't really go into it knowing how I would feel doing it, it was just a really fun character. I mean, Man in Black? What the heck! I was going to have some fun.
HuffPo: In Episode 9, for example, the Man in Black seems to be struggling with what is real, and he starts to question whether he, himself, is a robot. So viewers start assuming you might be one, too. How do you go about playing that?
Harris: He's been so immersed in this park and in this other reality, this other dimension, that he's lost it. He basically gets lost in it and he's not sure what is going on. And so, especially working on this show, it's not that difficult to play, "I don't know what's going on!" [Laughs]
HuffPo: You've had a stellar season but in Episode 9, you deliver, my friend. Let's discuss some of what goes down. When you read the script, what were your thoughts?
Harris: I knew there were going to be some scenes in the past, in terms of the history with his family, so I was looking forward to it. Then I read it and thought, yeah, this will be fun to chew on.
It's interesting because I've been watching it week-to-week with my wife [actress Amy Madigan] and there are certain weeks where I'm hardly in it, or not in it at all, and I feel like my character is kind of superfluous in terms of what's really going on. But I'm glad there are certain episodes where you get back to the Man in Black and hopefully get intrigued by what is going on with him. Episode 9 was a good one. Working with Sela and Katja was intense.
It was interesting, you know. She's the one character, or the only other person in the outside world, who kind of knows the truth of this guy. She sees beyond his façade of being this respected citizen, and she calls him on it.
HuffPo: You really got to dig deep not only with Sela, but with your daughter, played by Katja Herbers. What we see at the end is the Man in Black seemingly kills his own child. Robot or human, that will surely mess with his psyche.
Harris: Yeah, it was a little surprising, I suppose, but [pause] the years that he's been in this park, especially now that he says he's not going to leave, I mean, his mind is in another place. He's paranoid and knows that Ford is full of tricks and who knows what's real and what isn't? In that moment he just says, sorry, but you're not even my daughter, so, goodbye. And then he goes, wait a minute, was she? Should I end my life? What should I do? He doesn't know what to do.
And, as it turns out, neither Harris nor Jimmi Simpson knew the twist with their characters when they first started.
HuffPo: You guys didn't know you were the same character when you first started the show, correct?
Harris: I don't know if he did, but I sure didn't. I mean, I saw Jimmi walking around the trailers on set one day and somebody told me, "You know, that's you as a younger man." I said, "What?!" I didn't even know!
***
The season 2 finale of Westworld airs on Sunday on HBO.