Edge Issues WrestleMania Open Challenge; Will Cody Rhodes Accept?
ADRENALINE
IN MY SOUL
HEY EDGE, HOW 'BOUT CODY RHODES
WWE Superstar Edge issued an open challenge on WWE Raw last night for someone to make history with him in a match at WrestleMania. Will that someone be Cody Rhodes, who is believed to be returning to WWE soon?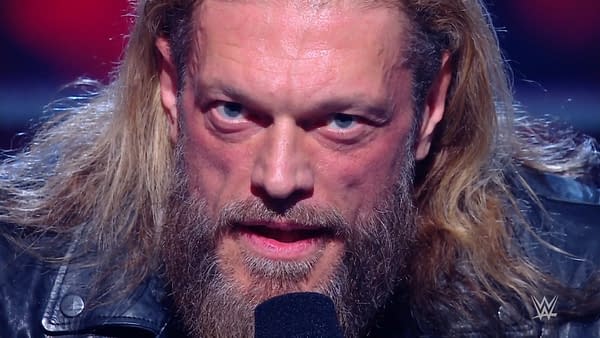 Rhodes, one of the co-founders of AEW, shockingly left the company last week after apparently falling out over creative control and money. He's heavily rumored to return to WWE, but it's difficult to see where he can fit into the WrestleMania main event scene with both world titles tied up in the same Brock Lesnar vs. Roman Reigns feud. A match with Edge could certainly at least come close to fitting the bill.
Edge did hint that Finn Balor or AJ Styles should be the one to accept the challenge, though that doesn't mean it will be AJ who does. Just as The Miz teased Cody Rhodes for his tag team partner against The Mysterios only for Logan Paul to accept instead, Edge could be engaging in misdirection to swerve the fans for reasons. It's possible
Here's a transcription of Edge's open challenge:
You smell that? Come on, South Carolina, you get a whiff of that? I'm not talking about my massively manly pheremones that totally reek of awesomeness. Naw, that's the smell of WrestleMania in the air. Carolina, I want to take you back a little bit, okay? I want to take you back to WrestleMania 3. I would sit beside my uncle Wayne's radio and wait for the results of each match to come in. So finally, the DJ, he cuts in and he says, "Hulk Hogan has bodyslammed Andre the Giant." But not only that, "he beat Andre the Giant." And I'll never forget it. That's why my heartrate goes up, my pulse quickens around this time of year, and everybody in that locker room, they understand the physical toll, but not only that, the emotional toll that it takes just to get on the show of shows, the showcase of the immortals.

And I mean, I know it first hand, because the first WrestleMania that I was brought to as a talent was WrestleMania 14. That's how old I am. Thank you. I love you too. Aw man, it's good to be back. So, it took me two more years to get on the show, to get on WrestleMania, so I knew, I finally got a match at WrestleMania, I gotta throw caution to the wind. I need to take every chance and have the kind of performance that will elevate my career for the rest of my career. And we did it. We did it, man. But in doing that, I understood the stakes now. I understood that every year, I was gonna have to outdo myself.

And at WrestleMania 17, against two of the greatest tag teams of all time, in a TLC match on possibly the greatest show of all time, we stole the show. And I'm thinking about you D-Von. Now, WrestleMania 21, I won the first-ever Money in the Bank ladder match. WrestleMania 22, I put Mick Foley through a flaming table and stole the show again. WrestleMania 24, main event against The Undertaker. The World Heavyweight Championship against The Streak, and man, I came this close. By the way, congrats Dead Man. You deserve it. Yeah. You left it there, man. Hell yeah.

WrestleMania 27, I fought what I thought was my last match, forced to retire as the World Heavyweight Champion. Now, for a lot of people, that would be enough. Not for me. So I busted my ass for 10 years to get WrestleMania back. And last year, I main evented it again.

For 38 years, WrestleMania has been the stuff of dreams. Some kids dream of the Stanley Cup. They dream of the Super Bowl. They dream of performing on Broadway. Not me. I dreamed of WrestleMania. And every year, I still dream about WrestleMania. About what its gonna feel like to walk down that aisle. About what it's gonna feel like to stand in the middle of this ring and soak in all of the energy that you give me so I can be phenomenal. Because at WrestleMania, I make everyone and everything around me better. I step up to the challenge. You see, at WrestleMania, you need to throw caution to the wind. You need to fight your inner demon and become undeniable.

I need WrestleMania. They're calling WrestleMania 38 the most stupendous two-night WrestleMania in history. But you can't call WrestleMania stupendous without me. And as much as I need WrestleMania, WrestleMania needs Edge. So I am throwing down the gantlet. I am laying this challenge out to everyone in that locker room. I need someone to step up. You want to prove yourself? You stand across the ring at WrestleMania against a man who is still the best in this industry today. A certifiable legend. You fight me at WrestleMania, and I'll make you live forever. So step up, boys. I'll be waiting.
WrestleMania this year will take place on two nights, Saturday, April 2nd, and Sunday, April 3rd. The event will be held at AT&T Stadium in Dallas, Texas, where Vince McMahon will hope to draw 100,000 fans on both nights. To make that happen, they're pulling out all the stops, like trying to get "Stone Cold" Steve Austin, still their top merch seller in 2021 despite decades of retirement, to return for one more match. Maybe instead of Cody Rhodes, it will be Steve Austin who accepts Edge's open challenge in a Neck vs. Neck match. As the company becomes more desperate in the coming weeks, we'll just have to see how low they're willing to go.