Edward James Olmos is no stranger to family dramas, albeit the last one was set in space on a Battlestar. The announcement of his presence in FX's Sons of Anarchy spinoff series Mayans MC was a reassuring one, a casting choice that made perfect sense.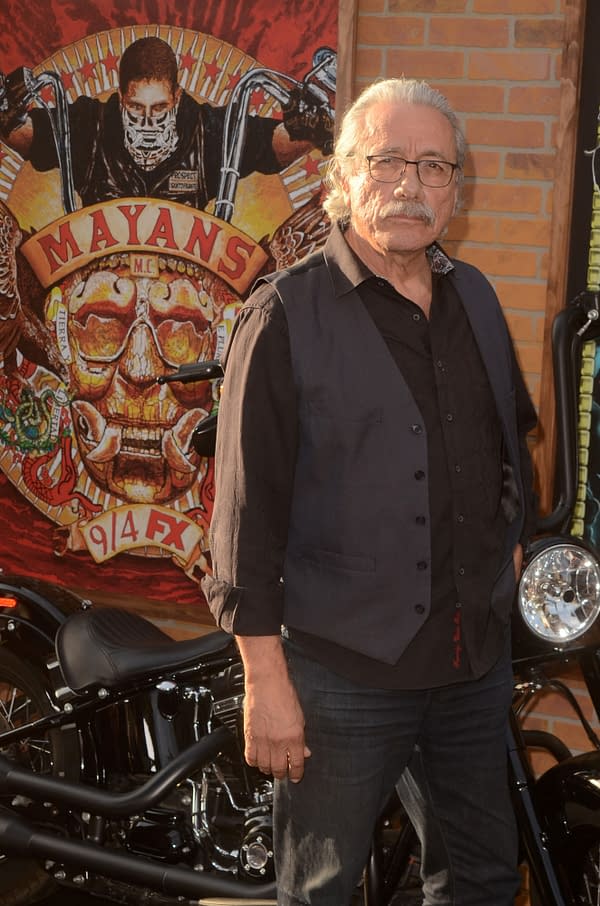 The series has aired two episodes now, and the role of Olmos's patriarch Felipe Reyes is becoming more and more developed as a source of direction and purpose.
In a recent interview with The Observer and with The New York Times, EJO spoke a bit about his personal feeling of responsibility in how violence is presented through the medium of television, and also the role of family within Mayans MC:
I do feel a sense of responsibility when I use this medium because it attacks the subconscious mind, especially when it's put on the big screen. But television also has a tremendous impact on viewers, so the creators of shows like "Mayans M.C." have to understand that responsibility. Sometimes they do. Sometimes they don't [NYT]

It seems to me that people actually like dark things. I think human beings destroy everything on all levels. People are into dark, terminal situations. We'd rather watch that than good news shows. If you put out a newspaper with only good news no one would pick it up. Put out a paper with all the crap that's happening, and people want to read it to prepare themselves. So, with that in mind I say, "Watch Mayans and you'll be able to help your family, because you'll be in the know." [Observer]
As to yet another project where a cartel is an antagonist, EJO said:
Narcos is a very well-defined piece of work. It's like what Kurt Sutter's doing with Mayans M.C. He really dives deeply into the subtext of the characters' lives. Using the medium to entertain, it can be very hard not to glamorize violence. Like with Miami Vice: It's based on a true concept of the War on Drugs. But sometimes, it was so stylized that viewers would forget what the show was about. Just like with Narcos, which is almost romantic at times. Sometimes, Mayans M.C. threatens to go that way. But it's so dark, and pretty honest, too. [NYT]
And on the subject of a predominately Latino cast, the unusualness of that for a network (cable or otherwise):
I think this show is going to move the needle. We're [about a fifth] of the population, and we're less than 4 percent of the images on the screen. African-Americans are 17 percent of the images we see on the screen and 12 percent of the population. Indigenous and First Nation people and Asian people are not even in the scope.

We are in a very difficult time. We think of this as representation, but some stereotyping is running a bit amok here as well. But what is a stereotype really? It's a truth—not the truth—about situations in a given culture. So it's not inaccurate to say that this is showing a type of "stereotypical" Latino family.

In light of this, I think that everyone is going to see this show and have an opinion about it. Just like we all have A-holes, we all have opinions. [Observer]
Mayans MC airs on Tuesdays on FX.
Enjoyed this article? Share it!