The Expanse Season 3: New Trailer Shows Us War on Earth Has Been Declared
Syfy has released a second trailer for the third season of their hit science fiction epic The Expanse. Based on the novels by James S. A. Corey (a pseudonym for writers Daniel Abraham and Ty Franck), the series moves into its third season about a brewing civil war between Earth, Mars, and the people that live in the asteroid belt in between. The tag line for the new season is "Divided by hate. Ignited by love. United by war." Where the first trailer released was a bit more relaxed, this one features a lot more action and stressed the tension growing between the factions. The series stars Steven Strait, Cas Anvar, Wes Chatham, Dominique Tipper, and Shohreh Aghdashloo.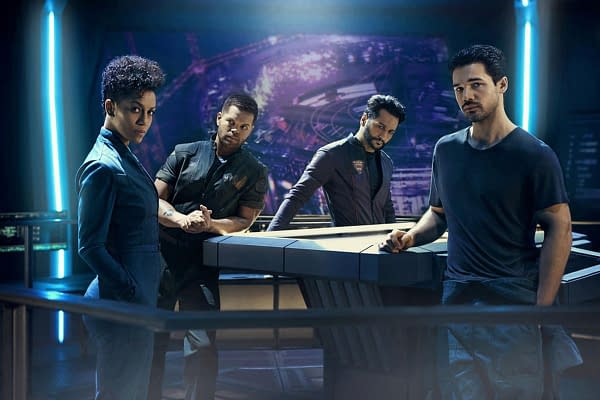 The synopsis for The Expanse reads:
Hundreds of years in the future, humans have colonized the solar system. The U.N. controls Earth. Mars is an independent military power. The planets rely on the resources of the Asteroid Belt, where air and water are more precious than gold. For decades, tensions have been rising between these three places. Earth, Mars and the Belt are now on the brink of war. And all it will take is a single spark.
The Expanse season 3 kicks off April 11th on Syfy.