Fanboy Wrampage: Lacey Evans Pins Brian Cage in Twitter Match
New AEW star Brian Cage may have left Impact Wrestling, but he's still pining for intergender competition. Cage took on WWE star Lacey Evans on Twitter over who invented the moonsault they both perform. Cage was initially angered when a fan accused him of stealing the move from Evans. It prompted Cage to tweet that he was doing it first and attacking Evans' credibility, tweeting and deleting that he did the move "before she new (sic) WWF was WWE now." Evans caught wind of the Tweet and fired back, writing, "*knew. And I don't *know who you are…. ya nasty. I'm 4 year in the game and doing *it better than *you. Don't make me lose my manners sweetheart. 💅👒 #WWE #AsYouWere …"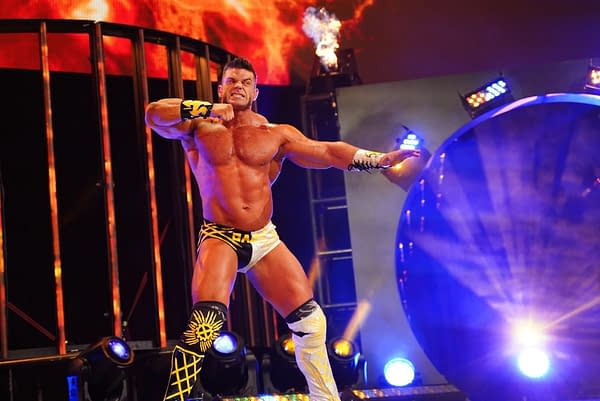 This prompted Cage to renew his attack, "There you go sweetheart @LaceyEvansWWE I wasn't going to edit and even almost paid you a compliment. Until I read the rest of your tweet. And my stance remains the same. Still did it years before you(your 4 years in the biz) and I'm also sure you didn't KNOW it was WWE then😘." Evans responded, "Almost doesn't count. Compliment me…. or get out of my mentions ya nasty. #WWE #BlessHisHeart #NothingButANasty."
Cage did find support from Ring of Honor star Flip Gordon, who tweeted, "Don't you know these WWE peeps come up and own every move ever done!? 😂." Cage replied, "My bad. I mean I'm pretty sure it's a turnaround moonsault many have done and it's not my move. And just for knowledge @FightOwensFight did it before her in wwe(and outside) and @MarcMero did it and it was called a "MeroSault" So if its anyones move." Wait, wasn't Mero was wrestling for WWE when it was called WWF?
Evans just no-sold Cage and Gordon, tweeting, "Looorrrdddd. What should I call this "never been done like me" maneuver? Since im getting panties in a bunch and feathers ruffled. 💅👒 #WWE." She added, "I'm new to this biz…..what do they call these….🤔 mArkS. 💅👒☕"Sorry, Brian Cage. We're big AEW fans over here at Bleeding Cool and looking forward to your match with Jon Moxley, but Lacey Evans definitely got the pinfall in this one.