AEW Update on Brian Cage Plans, Fyter Fest Title Match
Following last night's AEW Double or Nothing PPV, AEW owner Tony Khan shared updates on the plans for Brian Cage, who debuted in the Casino Ladder Match and won a shot at the AEW World Championship. Cage will face AEW World Champion Jon Moxley in a title match at Fyter Fest. Former Impact Wrestling Champion Cage finally made his big AEW debut at Double or Nothing, ending months of speculation after he left Impact Wrestling in January after the Hard to Kill PPV. Cage, who left the promotion with a bicep injury, was initially rumored to have signed with AEW, but Cage walked that rumor back online saying he wanted to recover before committing to anything.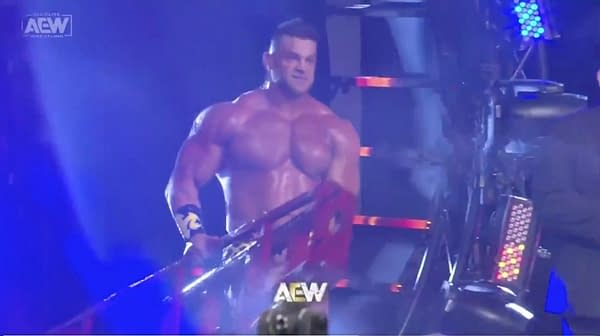 Cage debuted as the mystery participant in the Casino Ladder Match last night, the winner of which is entitled to a world championship title shot. Cage was treated as a monster in the match, dominating all eight of his opponents and performing feats of strength such as placing Darby Allin on top of a ladder and then gorilla pressing both the ladder and Allin over the top rope and out of the ring. At one point in the match, every other wrestler in the match teamed up on Cage and buried him under a pile of ringside equipment, but Cage still came back to win the match.
It looks like Cage will have Taz as his manager, and foreshadowing from recent episodes of Dynamite between Taz and Allin as well as Cage's manhandling of Allin at Double or Nothing seems to hint at an Allin vs. Cage feud happening sometime in the near future. Cage's match against Moxley will take place at Fyter Fest. AEW's first Fyter Fest happened last year to coincide with a gaming event and was a 2019 event that was broadcast for free and helped tide fans over between the launch of the company and the premiere of AEW Dynamite. Details about this year's Fyter Fest will be revealed on Dynamite this week, but it likely won't air on PPV since AEW has said they will only hold four PPV events per year and the next one is All Out. It's possible Fyter Fest could be a special episode of Dynamite, like Bash at the Beach was and like Blood and Guts was planned to be before the coronavirus pandemic scuttled plans.