"Fear the Walking Dead" Showrunners on Dwight/Morgan Reunion, Search for Sherry, and More
As we made it crystal clear in our review of AMC's Fear the Walking Dead "Humbug's Gulch," the addition of Austin Amelio's Dwight for the fifth season could end of rivaling Lennie James' Morgan for smartest casting decision in the Walking Dead universe. While it's still the Dwight we remember from The Walking Dead, Amelio portrays him as a man who has clearly changed – and not necessarily for the better.
We learn that he's still searching for Sherry, following notes from her to reach her… though I think it would be safe to say that viewers have earned the right to call this into question. After some "brutal reality" from Dorie (Garret Dillahunt), Dwight makes the viewers feel every ounce of his pain and (apparent) loss as he raises a gun to his head. Thankfully, June (Jenna Elfman) is able to use her shared story with Dorie to give Dwight back some speck of promise, of possibility.
Now, series showrunners Ian Goldberg and Andrew Chambliss are opening up about how they chose to introduce Dwight into the FTWD universe, how the character has changed since fans last saw him, the dynamic of the Dwight-Morgan reunion, and the meaning behind Dwight's search for Sherry:
● For the duo, Dorie's own established backstory seemed like the perfect bridge to bring Dwight over, with June representing the hope of Sherry:
"We definitely played with some other ideas, but what I think led us to the Gulch was the fact that it really seems like Dorie and June being the first people to encounter Dwight just felt right because of all those similarities that Ian just mentioned, the fact that Dwight is looking for someone who he loved and Dorie had been through that same exact experience. It really seemed like those two parallel story tracks were telling us that Dorie and June should be the first people to encounter him. And we really saw it as Dwight being a mirror image of Dorie and almost a sign of what could have happened to Dorie if he had not had the luck to find June.

And given where Dorie is at the beginning of this season, of kind of feeling the guilt for all the things that he does have in the apocalypse — Dwight really exacerbates that, because it is someone who has not had the same fortune he's had."

– Andrew Chambliss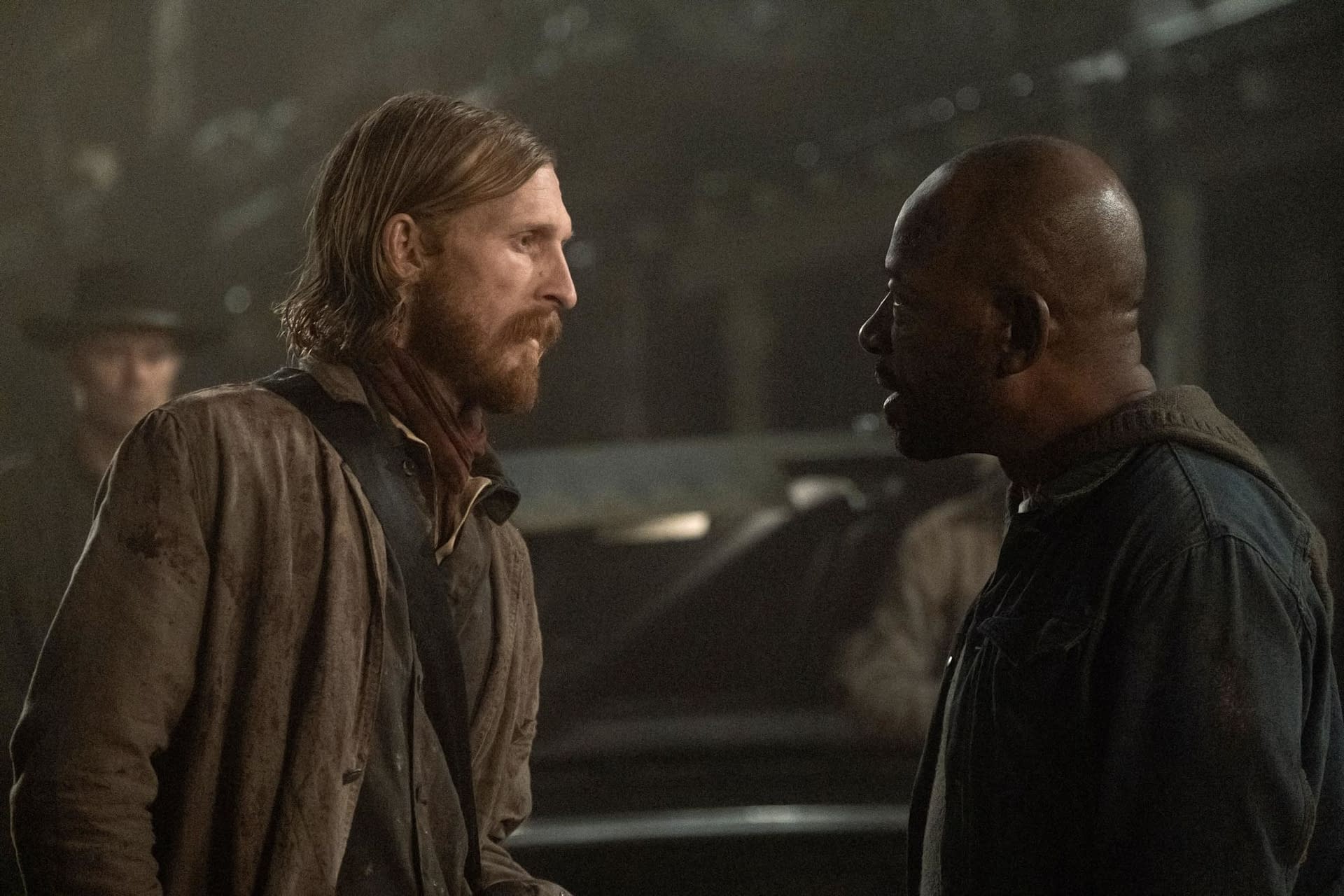 ● For Goldberg, one of the exciting aspects of bring Dwight aboard was working with Amelio to craft a Dwight that fans would know, yet be a character who has truly changed since we last saw him – and (at least for now) not necessarily for the better:
"It was exciting for us to sit down with Austin because we're huge fans of his character and of the work he did on The Walking Dead. But what we thought was cool and what we got excited about with bringing Dwight onto Fear is that it was going to be a redemption story, and we were going to see a more hopeful side of Dwight start to take shape. And obviously when we find him, he's not in a hopeful place.

And this episode, it's quite the opposite where we know that when he left The Walking Dead at the end of season 8, Daryl spared his life and told him to find Sherry and make it right. We see that that hasn't been going very well for him. And he's in a desperate, low place where he doesn't believe he's ever going to find her or ever make things right, which puts him in a position where he's at the end of his rope.

He doesn't think there's any place for him to go. He's suicidal, frankly. And he's fortunate enough to come across John Dorie and June, who've got this incredibly hopeful story that we saw play out over season 4. And there are people who are able to bring him out of his funk and to give him a reason to keep going. That was really exciting to us. And like everyone else in the group — from Morgan to Alicia, Dorie, June, really everyone in our group — Dwight's someone who has things to make up for, and now he's found a new family that he's going to be able to do that with. And it's going to be a challenge for him. But we're going to see a different side to Dwight than we saw for a lot of The Walking Dead."

– Ian Goldberg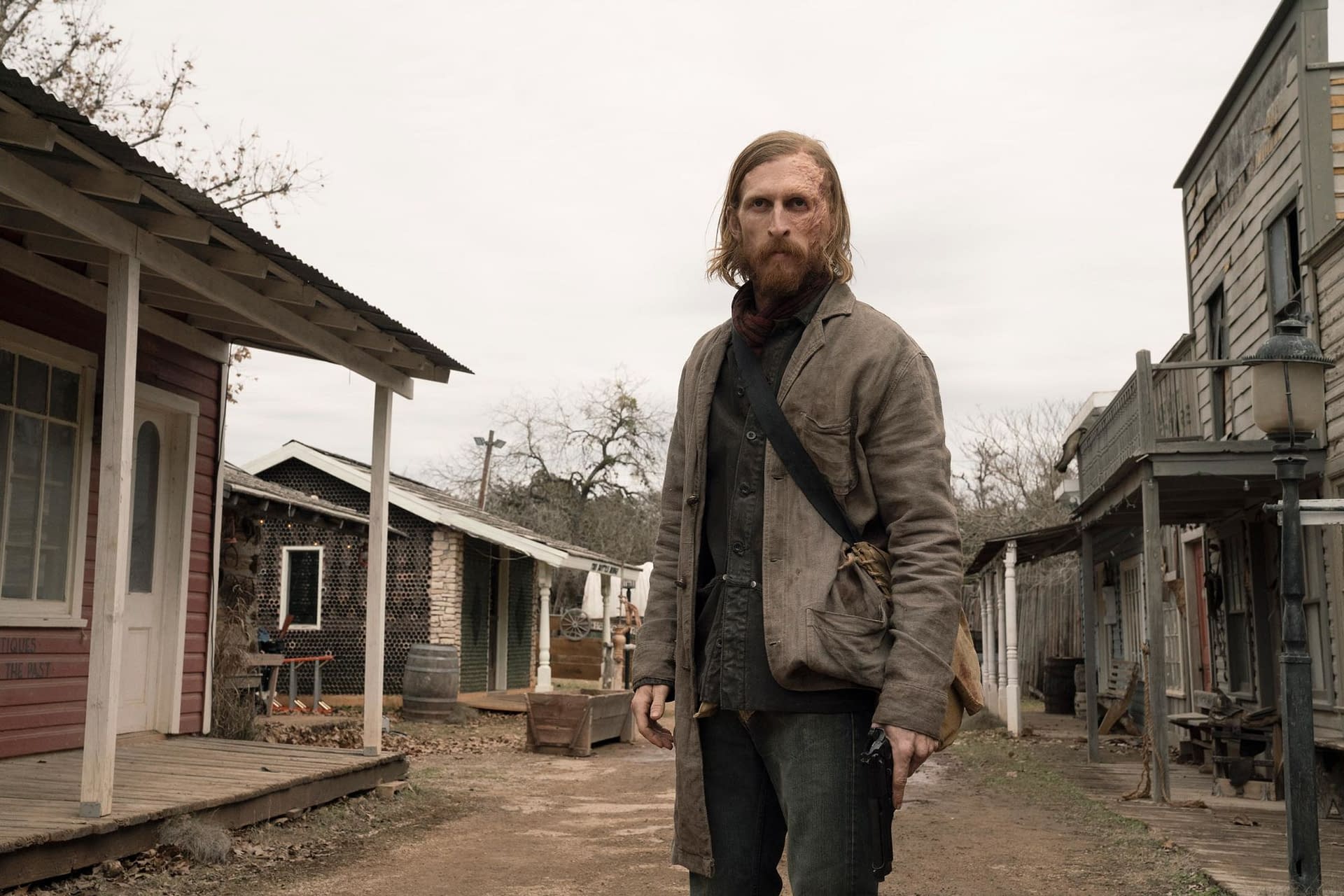 ● For Morgan and Dwight, there is a comfort that comes from their shared backstory – as well as the unease that comes from having someone appear who knows more about your own past than you've been willing to offer up:
"Yeah, it was a big moment obviously. And I think what we really wanted to have out of it was just A, the kind of shock that somehow they found each other, and also just have a little bit of fun with it. And the interesting thing when we were sitting down with both Lennie and Austin at the beginning of the season, they said to us, "We really haven't worked much with each other."

They were in some of the bigger group scenes, but Morgan and Dwight hadn't actually had a lot of personal one-on-one interaction. They obviously both kind of know each other as characters and their history. So I think when they find each other, it was really the surprise that these two people ended up in the same place. And we give some hints that there are some reasons that they both ended up in the same area in Texas. And there's a little bit of that back and forth where they're talking about what roads they took. And I think we'll learn a little bit more about what forces drove them to this area.

But the other thing that we wanted to get is just the promise of these two people finding each other when they're very different than they were when they left. Morgan was still very much a broken person. Season 8 was very tough for him, and the same for Dwight. They saw the worst sides of each other and now they're amongst new people trying to be the best versions of themselves. So I think there's a little bit of wariness about, "Hey, this guy knows who I really am. Is that okay? Is that side of me going to come out again?" And we'll continue to kind of see the two of them kind of size each other up and see how much they really have changed."

– Andrew Chambliss
● While the search for Sherry is important on a number of levels, Goldberg reminds us that Dwight's journey also involves living up to that other part of Daryl's (Norman Reedus) instructions:
"If this episode shows us anything, it's that he's definitely not giving up on his search for Sherry. Dorie and June give him a kind of renewed energy and hope that she could still be out there. And so he's going to continue to search. But along with that, he's going to do the other thing that Daryl told him to do, which is make it right. And that can take a lot of different forms that don't necessarily relate directly to Sherry. Dwight's got a lot of bad things he did to make up for. In addition to looking for Sherry, he's going to be looking for ways to redeem himself, and it will be with this new group of people finding how he does that and how he fits in with the greater family."

– Ian Goldberg

AMC's 'Fear the Walking Dead' Season 5…
Heading into season 5 of Fear the Walking Dead, the group's mission is clear: locate survivors and help make what's left of the world a slightly better place. With dogged determination, Morgan Jones leads the group with a philosophy rooted in benevolence, community and hope. Each character believes that helping others will allow them to make up for the wrongs of their pasts.

But trust won't be easily earned. Their mission of helping others will be put to the ultimate test when our group finds themselves in unchartered territory, one which will force them to face not just their pasts but also their fears. It is only through facing those fears that the group will discover an entirely new way to live, one that will leave them forever changed.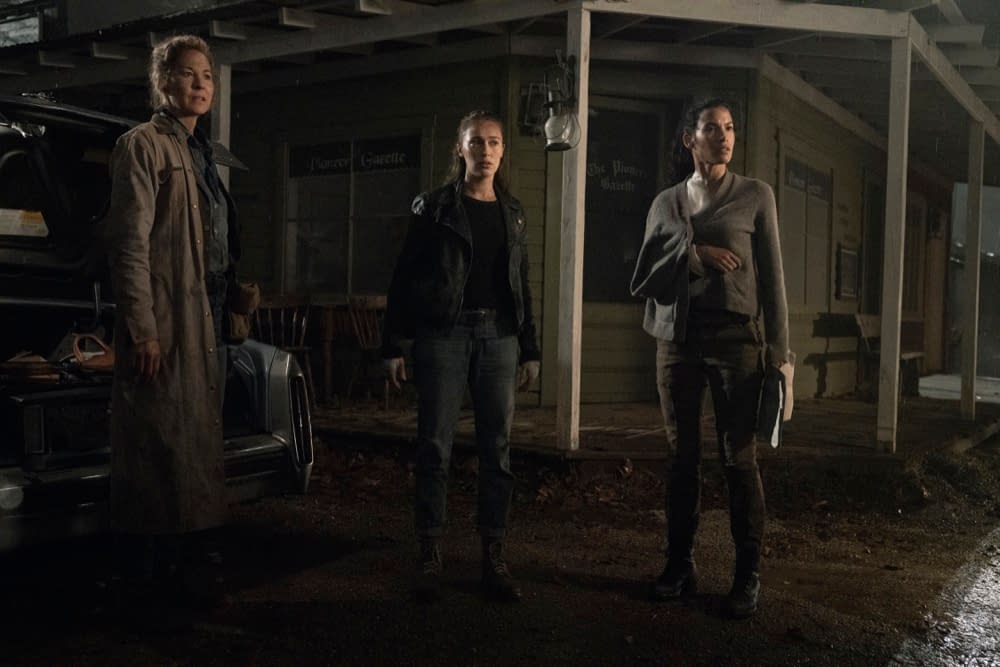 Earlier this year, FTWD cast member Alexa Nisenson (ex-Vulture Charlie) was promoted from recurring to series regular for the upcoming season. Joining Nisenson are Karen David (Legacies, Galavant) as series regular Grace, The Walking Dead alum Austin Amelio reprising ex-Savior Dwight, and the returning Ruben Blades as Daniel Salazar. Bailey Gavulic (Prodigal, At The End Of The Day) will play young survivor Annie, who ends up crossing paths with our crew. Cooper Dodson's (American Horror Story, Preacher) Dylan and Ethan Suess' (Scorpion, Henry Danger) Max are two additional new survivors this season, though what their connection to Gavulic's Annie (if any) is still unclear. Matt Frewer (Max Headroom, The Stand, Watchmen) also joins the cast in the still-kept-under-wraps role of Logan.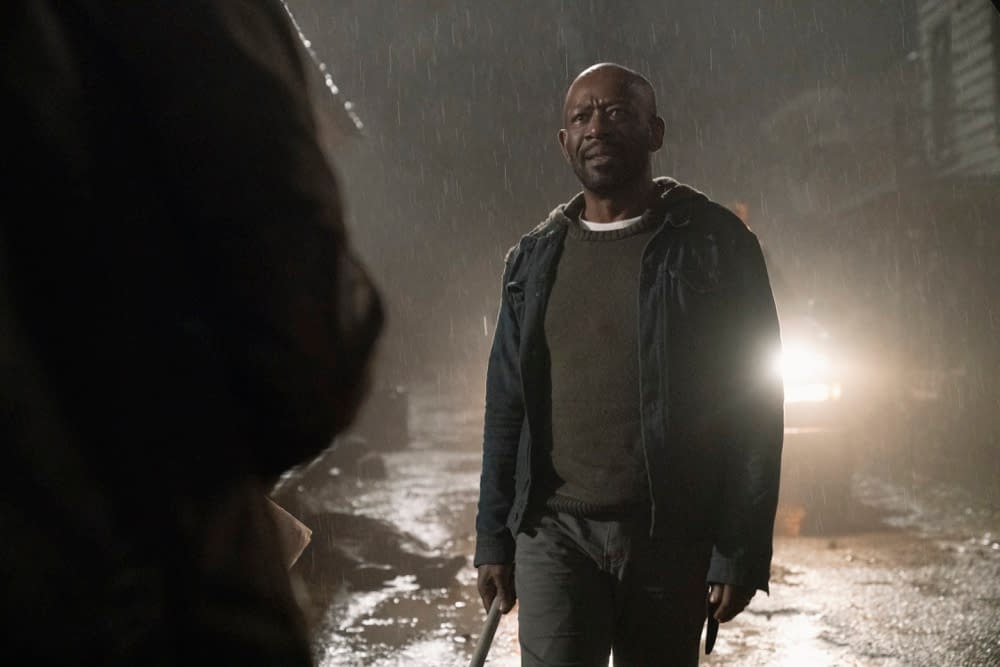 Nisenson, David, Blades, Amelio, Gavulic, Dodson, Suess, and Frewer join Dwight's crossover comrade Morgan (Lennie James) on the upcoming season of The Walking Dead spin-off series, which has undergone some major changes over the past year. Jenna Elfman, Garret Dillahunt, Maggie Grace, Mo Collins, and Daryl Mitchell joined James on the series last season; with Alycia Debnam-Carey, Colman Domingo, and Danay Garcia the only original cast members heading into the fifth season. Daniel Sharman is reportedly reprising his role as Troy Otto, though how his character will come into play during the upcoming season is still unknown.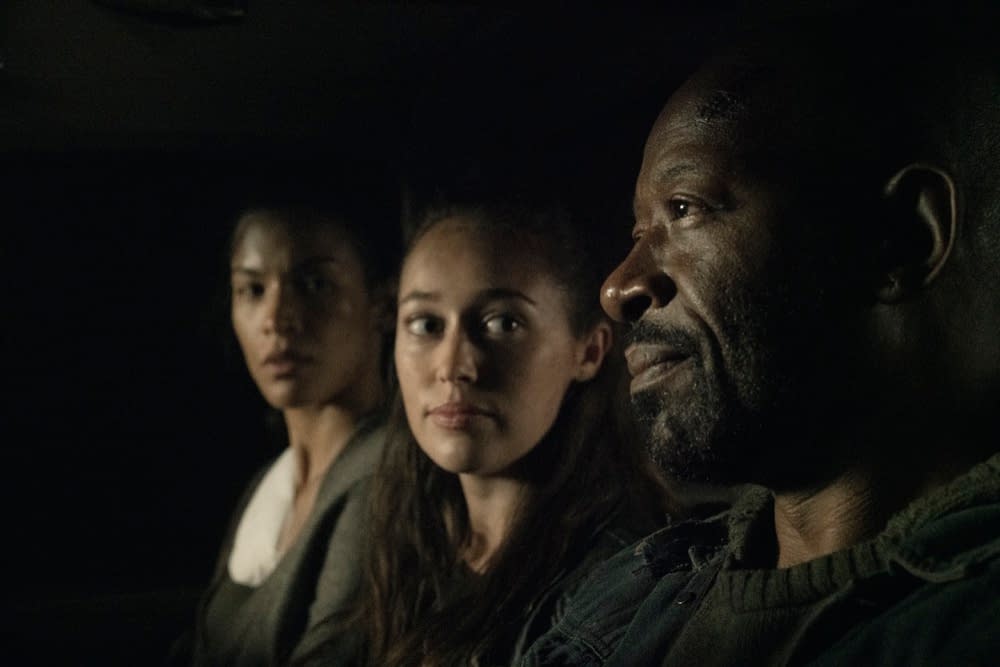 AMC's Fear the Walking Dead is executive produced by showrunners Andrew Chambliss and Ian Goldberg, as well as Robert Kirkman, Scott Gimple, David Alpert, Gale Anne Hurd, and Greg Nicotero, and produced by AMC Studios.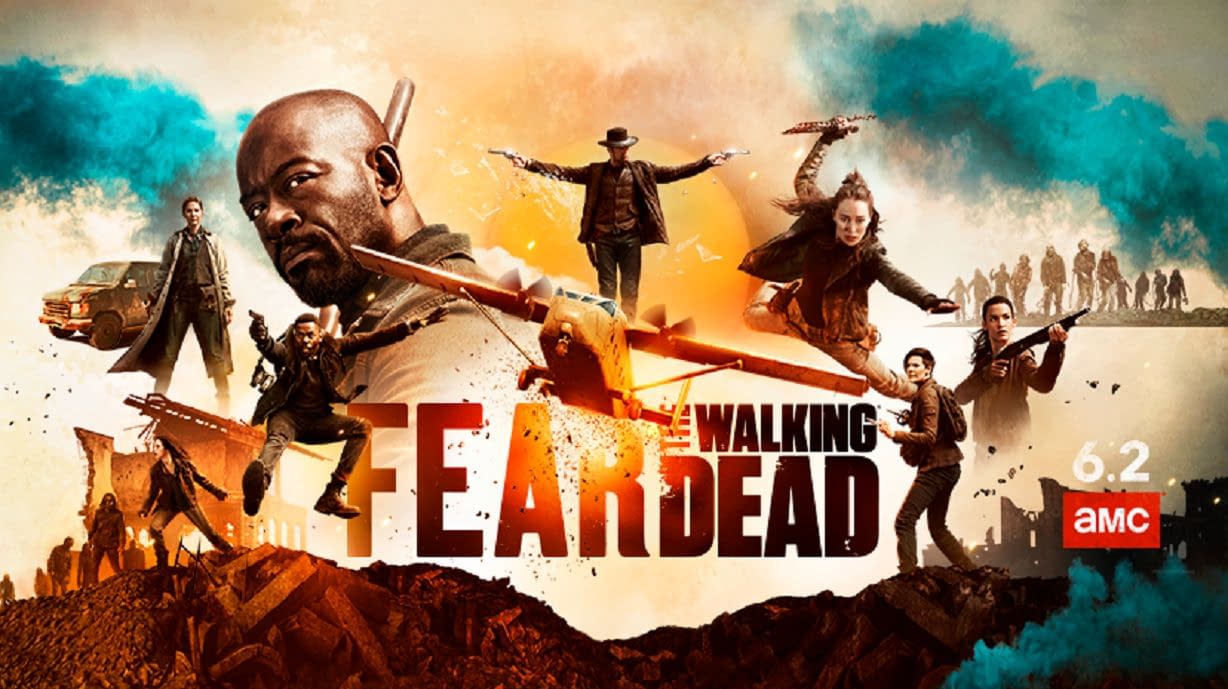 Fear the Walking Dead airs Sundays at 9 p.m. ET/8 p.m. CT – leading fantasy-horror series adaptation NOS4A2, based on Joe Hill's best-selling novel.