The Flash Season 4: Inside the Episode 'Lose Yourself'
Tonight's new episode of The Flash season 4, 'Lose Yourself', has the team tracking down the final buss meta, Edwin Gauss (Arturo Del Puerto) and preparing to go after the Thinker in his pocket dimension. Executive producer Todd Helbing takes us inside the episode in this new behind-the-scenes look.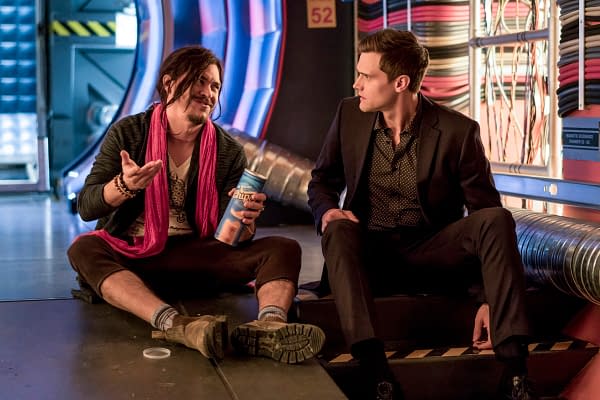 The team tracks Gauss to a tent city where the folks there call him the Folded Man… I look forward to hearing the explanation of that. And from Helbing's description, the show is focused on Gauss's ability to open pocket dimensions, possibly how the team will get to the Thinker's lair, but he also has the ability to turn himself two-dimensional and I think that would be fun to see. Kind of a flat version of Ralph (Hartley Sawyer).
Ralph is the other big part of the episode as he struggles to figure out just what to do with the Thinker. He's watched multiple people be killed by DeVoe, including Izzy (Miranda MacDougall), whose body he currently inhabits. Ralph sees the Thinker as a threat to everyone he holds dear — which is the members of Team Flash — and the only way to make them safe is to kill DeVoe. But Barry Allen (Grant Gustin) has to teach him one last lesson of being a superhero: that there is always a way to win without killing. After that, Barry needs to swing by the DCEU movie franchises and teach them that lesson too.
The Flash airs tonight at 8 p.m. ET on the CW.
https://youtu.be/Kryhr_dO5vk