Because of set photo leaks, we've known for a while that Iris West-Allen (Candice Patton) was going to become a speedster for an episode of The Flash — and even get a super suit. There had been a ton of speculation on just how that was going to happen, ranging from it being a doppelgänger version of Iris to her being pregnant and tapping into the Speed Force through the baby. Turns out that it's none of those, and this is more of a All-Star Superman type set up where Iris gets to be the hero for a day while Barry (Grant Gustin) has to stay back at S.T.A.R. Labs and be the 'guy in the chair'.
The episode introduces another bus meta named Matthew (Leonardo Nam) with the ability to swap people's DNA. They call him Melting Pot and during a fight, he ends up giving Barry's powers to Iris. A lot of this season has been about Iris finding her place on the team, now she will get to see what it's like to be in the field. It's probably safe to assume that she will only have the powers for one episode and then they'll go back to Barry.
I can find no DC Comics character named Melting Pot, so this may be the first bus meta made completely by the series.
The network has also released a image of her in the super suit, which looks to be similar to either Jesse Quick or Trajectory's.
The Flash returns February 27th at 8 p.m. ET on the CW. The episode Run, Iris, Run will air on March 13th.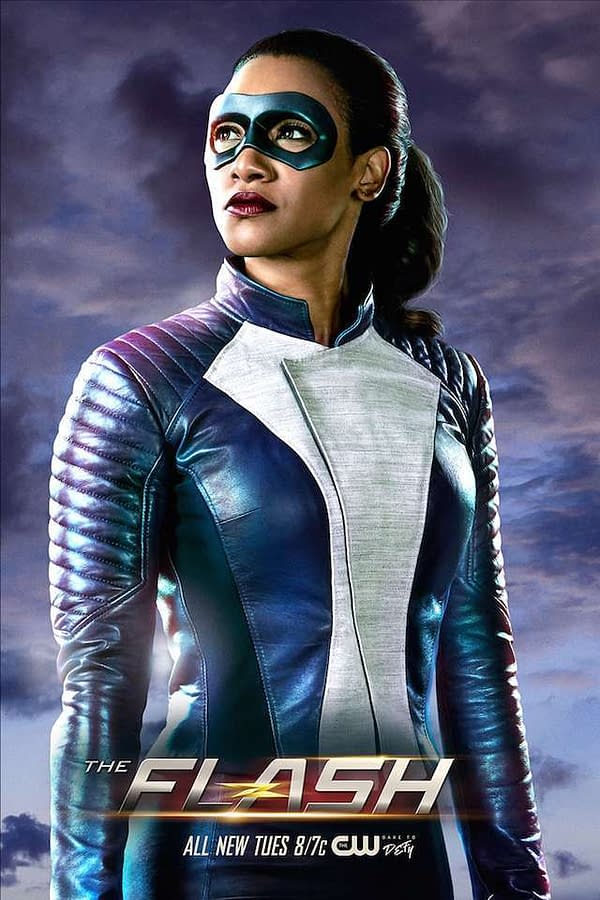 Enjoyed this article? Share it!