Foundation Star Lou Llobell on Gaal Dornick, Series Themes & More
Lou Llobell (Voyagers) stars in Apple TV +'s highly anticipated Foundation as Gaal Dornick. A relative newcomer to the industry, the Spanish-born London-based actress is completely engaging in her nuanced portrayal of Gaal as she helps guide the audience through this massive tale. The fate of an entire galaxy rests on the beliefs of one man in Dr. Hari Seldon (Jared Harris). Will his conviction save humanity or doom it? Based on the award-winning novels by Isaac Asimov, Foundation chronicles a band of exiles on their monumental journey to save humanity and rebuild civilization amid the fall of the Galactic Empire. Working alongside that man is Gaal Dornick. Bleeding Cool spoke with Llobell about Foundation, her reaction to the script, how realistic the sets were, and how her character differs from the original story.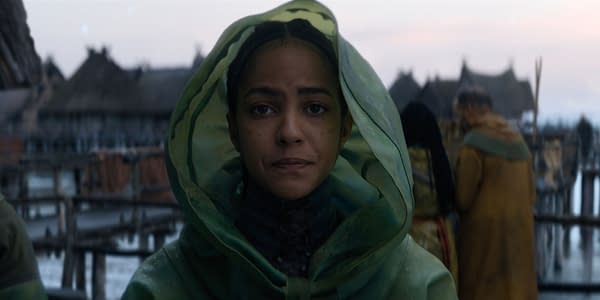 How familiar were you with the original Issac Asimov books?
Lou Llobell: After reading all the scripts, I went back and read the first couple of books. So, I've read some of them. Yes.
As someone new to the ideas and the concepts of this story. What was your reaction the first time you read the script?
LL: It was amazing. I loved the scripts. I thought they were so brilliantly written. I saw them come to life before my eyes and then I got to actually do them. It was even better than I could have even imagined.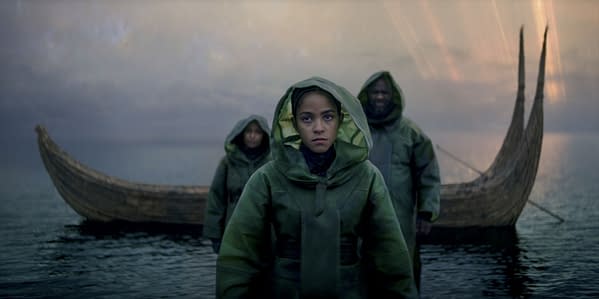 How is your character different from the original book?
LL: I am aware that in the book, I mean, she was a he, and also very short-lived. So I'm very grateful that my character is fleshed out and I got to explore who she is. It's different, but I think it's a really good addition to the story. I think she shines a lot of light on taking the audience through the story, through her eyes. It's a little bit of an ally for the audience, which I think is quite helpful.
How prescient would you say the themes of this show are as far as climate planning for the future? It might seem like it was ripped from today's headlines if it wasn't written 80 years ago.
LL: Yeah, I would say so. I think that history has a way of repeating itself and in society, in politics and with the way that things go. And I think it's still very, very relevant today, especially all the themes that were spoken about in Foundation, for sure.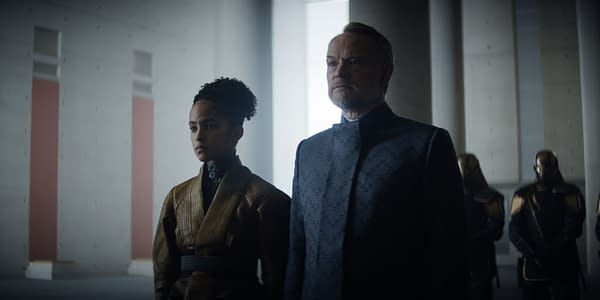 What aspects of Gaal do you think you relate with the most?
LL: I would say she's a very strong swimmer. That's just a physical trait, but I've been swimming my whole life and when I heard that I would have to be doing a lot of that on set, I was very excited. I couldn't believe that something that was on my skill set, on my CV, was actually being used on one of my first jobs on film.
What was the mood on the set?
LL: Everybody was brilliant. I mean, there's a lot of young people, but there's also a lot of very experienced actors. You know, Lee Pace, Jared Harris, Terrence Mann, Laura Birn, all actors that have been acting for a long time. So having a mixture of us newbies, and the old guard, I would say was pretty amazing. I learned a lot, and I think, I hope that they also took something from spending time with us too.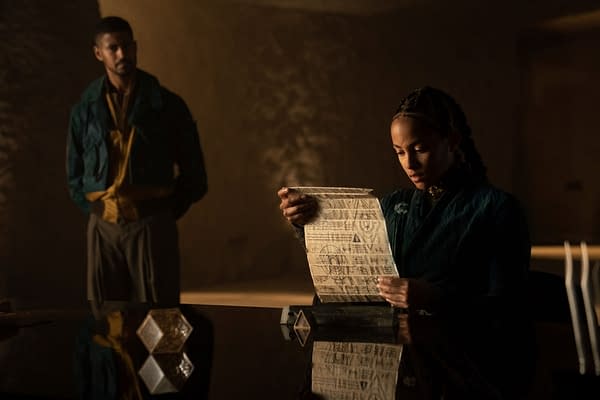 My first reaction to this show was that I was blown away by the special effects and the set design. Everything's gorgeous on the screen. What's your favorite aspect of the show? What do you think fans are going to react to?
LL: How massive all the sets and the special effects, the visual effects, all of it. A lot of it was actually built sets and locations that they found. Some of the props were all pretty real. In my Synnexian world, I had a lot of fish-based props. They were like actual fish skin, or real like a sea sponge, or we're eating miso soup. It was just so authentic you could smell the seaweed when you walked onto those sets. And I think that was just pretty amazing because it really took you to that place. And I didn't really have to work very hard to imagine myself being Gaal Dornick on Synnex.
Your character wins a contest and has to leave her entire life behind and hide her true self for a chance to work with Hari Seldon (Jared Harris). Is there anything in your life that you can relate to that you have to leave everybody behind for your big chance?
LL: I grew up in Spain until I left, when I was eight, with my family to move to South Africa where I lived for 10 years. When I was 18, I made the decision to leave everyone, all my friends and my family, and move to the UK by myself. It has pretty similar parallels to Gaal. Quite real, because I thought, I wanted to come here and become an actor and study and here I am. I'm very grateful and it's pretty amazing.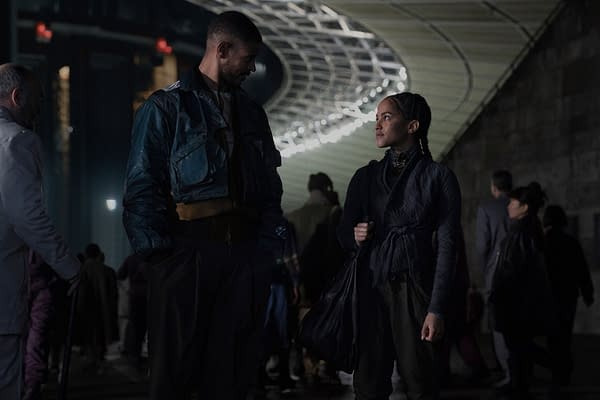 I want to ask about the fabulous costumes. Which one of your costumes is your favorite?
LL: I think I was the luckiest person because I got the most costume changes. I was always in fittings, and I was always wearing something new. All her jackets are amazing and they are all just pretty wonderful. But the jacket that's on the poster, the yellow reed jacket, was pretty cool. The green poncho was also amazing. It was a nightmare to get on and off, but it just looks so beautiful. She just has the best fashion sense coming from a rural planet. You know, it's shocking. But she's pretty fashion-forward, I would say.
You can check out the full interview here: