Fyter Fest: Taz Revives ECW's FTW Championship, Gives It to Brian Cage
AEW has just expanded its collection of championships belts by adding an old school one. On tonight's episode of Dynamite, which is the second night of the Fyter Fest event, Brian Cage was initially supposed to face Jon Moxley for the AEW World Championship. Unfortunately, Moxley was forced to quarantine for two weeks due to his wife, Renee Young, testing positive for COVID-19. That match will take place next week at another special episode of Dynamite called Fight for the Fallen.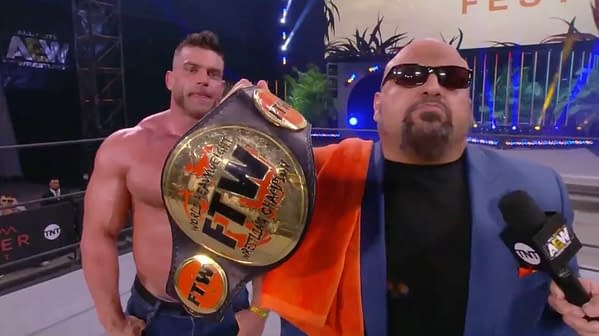 But Brian Cage's manager Taz didn't want to wait until next week to get a belt onto Cage. Taz came to the ring and broke out a relic from the past: the FTW World Championship he used to carry around in ECW. Here's what happened, out of our in-progress AEW Dynamite report, which will be published tomorrow morning.
Tony Schiavone brings out Taz, who claims to have news about next week's Fight for the Fallen event, and Brian Cage. Taz has something hidden in a black towel with him. Taz says that Cage was supposed to win the championship from Jon Moxley tonight. But since that's not happening, Taz has brought something he created decades ago. Oh shit, is it the FTW belt? Yes it is. Taz is going old school ECW. Tax says the man who holds this championship is the baddest son of a bitch in wrestling. He gives it to Brian Cage. Taz tells Cage his ass is done next week.
The FTW Championship, which was never an "officially sanctioned" title in ECW, was retired in 1999. Since WWE owns the intellectual property of ECW, one would think they own the rights to the FTW Championship, but Tony Khan must feel differently. Khan is known as an old school ECW fan back in the 90s, which I gotta respect as I was one myself. And what better belt than the FTW Championship to give the middle finger to Vince McMahon?