"High Fidelity" EP Talks Zoë Kravitz, Possibility of Film Crossover, Her "Top 5" Series Influences
With Hulu and Zoë Kravitz's (Big Little Lies, Fantastic Beasts: The Crimes of Grindelwald) High Fidelity ready to brighten everyone's Valentine's Day (pretty appropriate) on Friday, February 14, executive producer Sarah Kucserka (Bull, Ugly Betty) sat down with EW to discuss viewers can expect from the romantic comedy-drama.
While the interview covered a number of topics, we're highlighting three areas that really grabbed our eyeballs: why Kravitz was the right person for the series; the possibility of any characters from the hit 2000 John Cusack film making a trip from Chicago to Brooklyn; and – of course – her "Top 5" series influences: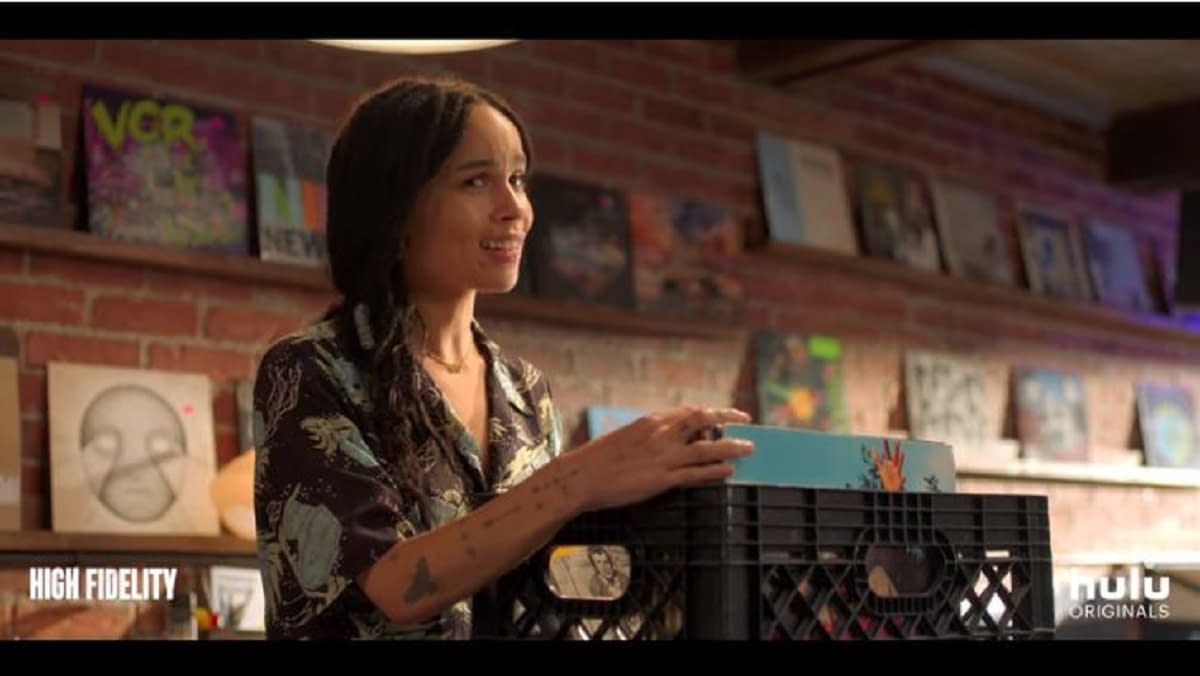 ● So why was Kravitz perfect for the role of Rob? For Kucserka, it's simple: she's Zoë Kravitz! While she was their top choice from the start, there was still the matter of whether or not she would be interested…
"She exudes cool and exudes such a raw aura, to me, of somebody who you know has great opinions and great taste. Truly, she is the only person we sat down with on this project. I have a notebook still somewhere when we were making a casting [list], her name is at the top with three question marks of like 'Would she ever do this?' There's so much personal connection obviously that she has with her mother [Lisa Bonet] being in the film but, to me, she just screamed the kind of person that would own a record shop and sit there and want to talk about music all day and find joy and love and happiness in all of that pop culture world."
● When the idea of Lisa Bonet (Kravitz' mother and star of the original film) appearing as a relative of Rob's, Kucserka teases some of the guest stars appearing this season – and left the door open for familiar faces to appear:
"Trust me. I was like, there is absolutely a world where that could happen. But we've talked about 'If any of those characters from the movie could come and play in our world, which ones would it be?' I'm not going to spoil it because if it happens, I'd love it to be a surprise. But I think that we wanted to make sure that our Rob was enough on her own that she didn't feel like she needed to spin out of the movie world.

We do have some amazing guest stars in the course of this season, though.I don't want to spoil it, but in the book and the movie there's the concept of the 'Bruce Springsteen Oracle' moment with Rob and the real Bruce Springsteen and we have our own version of that on the show. And then there is episode 5, that Zoë and her writing partner co-wrote and Parker Posey is in it."
● Finally… Top 5 Things That Influenced High Fidelity: (5) Empire Records (4) Reality Bites (3) Stevie Wonder's "Talking Book" (2) David Bowie's "The Man Who Sold the World" (1) Nick Hornby's High Fidelity.
High Fidelity stars Kravitz, Jake Lacy (I'm Dying Up Here), Da'Vine Joy Randolph (On Becoming a God in Central Florida), David Holmes (Mr. Robot, Mindhunter), and Kingsley Ben-Adir (The OA: Part II).
Kravitz, Kucserka, and Veronica West executive produce alongside Midnight Radio's Josh Appelbaum, André Nemec, Jeff Pinkner; and Scott Rosenberg, who co-wrote the High Fidelity feature. Rosenberg and Midnight Radio produce alongside ABC Signature Studios (SMILF).