In an epic, jolly finale to Food Network's Holiday Wars, artists brought mind blowing cake and sugar work, well at least in round two, round one kind of felt like they played it just a little too safe. Ginger Snappers and Bah Hum Bakers competed to wow the judges by giving the abdominal snowman a make over and pinning the elves and reindeer against each other.
Host Jonathan Bennett inspired the artists to keep the grand prize of $25,000 on their mind and give it their all. Judges Shinmin Li and Jason Smith were undoubtedly impressed with the creativity, design, and a very challenging tasting element (garlic as a dessert?)
#HolidayWars finale in 8 hours @FoodNetwork pic.twitter.com/sVsACZJJcA

— Jonathan Bennett (@JonathanBennett) December 22, 2019
Holiday Wars consists of two rounds:
● Round #1 – Snowball Fight: Contestants are given an hour to create a small sculpture to represent a theme
● Round #2 – Winter Blizzard: Competitors are given five hours to create a festive display guaranteed to have us 'falalala'. They must also incorporate a delicious treat into their creation.
At the end of each episode a team is eliminated with the remaining teams competing for a chance to win $25,000
The remaining teams this season are as follows: Ginger Snappers and Bah Hum Bakers
Here are some of highlights from Episode 4 "Elves vs Reindeer"
● Round 1 "Abominable Snowman Makeover": Contestants were tasked with reinventing the scary monster and both teams decided to give Abominable a more pleasant reputation.
● Bah Hum Bakers dressed the Abominable Snowman in a Christmas tree suit, decorations, lights and all. They wanted him to spread 'holiday cheer' not 'holiday fear'. They successfully accomplished exceptional detail on the face, and the ornaments were magnificent. The judges however felt that choosing to not sculpt the body was an easy way out. I personally felt that he looked more like he was swallowed by the tree as opposed to wearing it.
● Ginger Snappers transformed Abominable into a show girl, sugar necklace and feathers in toe. I guess he went drag. Kind of resembled a creepy blue witch with vampire teeth and horns. The judges felt the detail was amazing and granted them the win and an additional assistant going in to round 2.

● Round 2 "Elves vs Reindeer": A sweet treat incorporating two very different flavors in perfect harmony. Absolutely fantastic, both teams truly outdid themselves, and produced artwork that could not have possibly only taken five hours to create.
● Ginger Snappers had both teams competing in an epic prank war with Santa caught in the crossfire. The texture work on the concrete floor and the stain glassed window (1 broke) were exquisite.
● Such a gorgeous concept, playful, fun, and the expressions on all the characters especially Santa were very lifelike. There was no need to tell this story, the display sang it loud and clear.
Their black garlic, dark chocolate and cherry truffle was to die for.
● Bah Hum Bakers created had the reindeer and elves sledding down a hill (cold air blowing) to reach the bottom for the win, while whimsically having a snowball fight with each other and Santa.
● The motion on the characters and the incline of the hill had them coming to life. The story was utter perfection and the faces on the reindeer were hilarious. The backdrop forest and mountains resembled a painting.
● Their rosemary Christmas bon bon was a marriage of perfect flavors.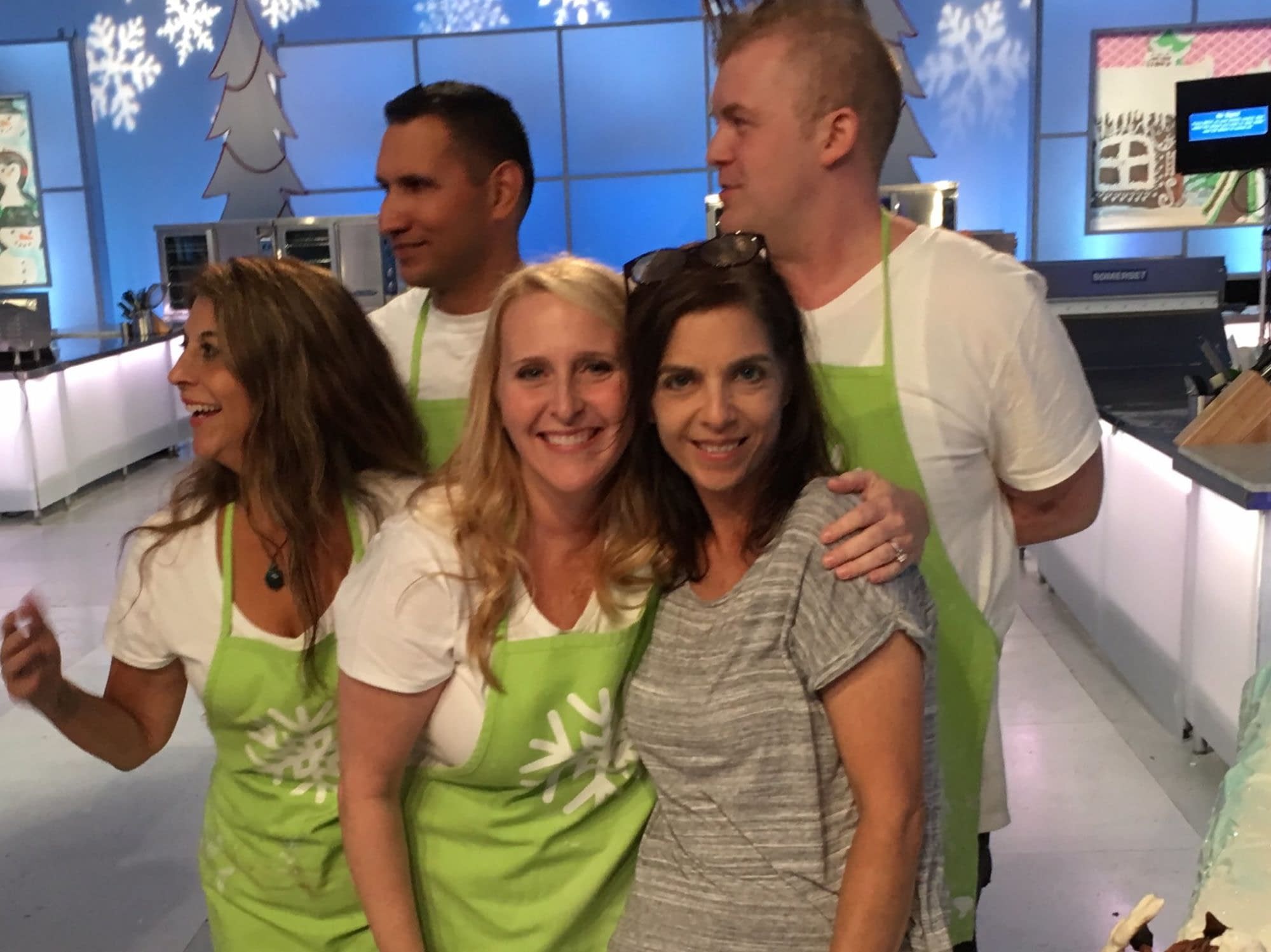 It must have been a great challenge to identify a winner of the competition, because both teams had absolutely no mistakes in round two. The judges decided that the winner of Holiday Wars went to Bah Hum Bakers. Both teams came a long way and deserved the win, but in the end the holiday whimsey won out. A delightful cooking competition, and a pleasure to watch – would have enjoyed it if it extended to six episodes.
Enjoyed this article? Share it!