Talking Heads was a BBC TV series written by Alan Bennett that won every award going and underlined his reputation as a national treasure. A series of monologues, mostly by leading actors of the day, and primarily women, that revealed lives that were fun, tragic, poignant, transgressive, but all very human. The first monologue that inspired the others, A Woman Of No Importance with Patricia Routledge, was broadcast in 1982. This joined six others, performed and broadcast in 1988, the second set in 1998.
In lockdown rules, the BBC recently remade ten of the original twelve – two called for an older woman, initially played by the late Thora Hird – and it was decided that they couldn't use actors that old at this time – so Alan Bennett wrote two new ones. The monologues were filmed using remote control cameras and the sets of BBC's long-running soap opera Eastenders, which has not been filming any episodes.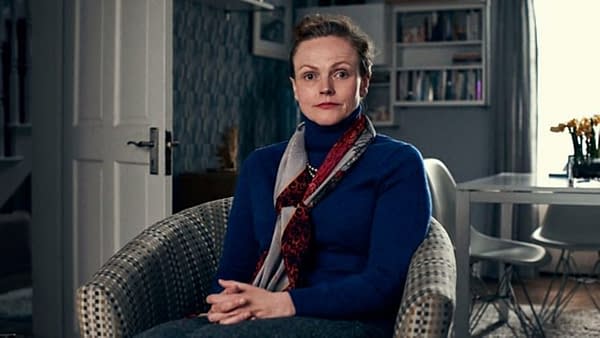 For those familiar with the original shows, it's sometimes hard to hear familiar lines spoken in a new cadence or a new accent. Killing Eve's Jodie Corner playing Leslie in Leslie's Big Chance, the role originated by Julie Walters, was one of the more glaring. But one new read, Maxine Peake's Miss Fozzard, originally played by Patricia Routledge in Miss Fozzard Finds Her Feet with director Sarah Frankcom goes somewhere new.
Patricia did more of the monologues than anyone else (three), and if anyone is the visible voice of Talking Heads, it is her. The original monologue told the story of a very prim-and-proper, snobbish and judgemental woman, trapped in her life, who seeks out nothing more than a new chiropodist. Only to find someone with a kink regarding women's feet. The relationship changes, as her own circumstances do, until rather than her paying him, he starts to pay her.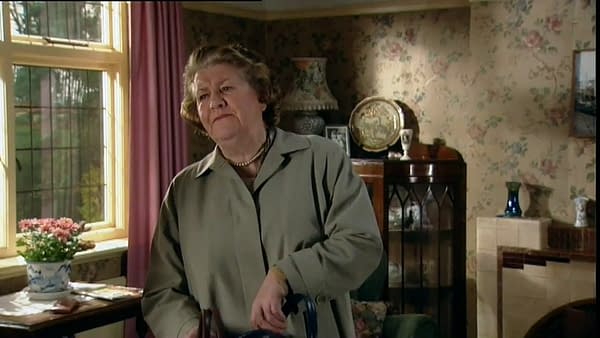 The original ending was rather downbeat. Miss Fozzard, shaming herself, talking about her new status, and including a call back from the beginning regarding her husband's dementia and how he would get to a word by 'skirting around it.' Head bowed, and ashamed, barely looking at us, it concluded with us being told. 'There's a word for what I am but… I skirt around it.' Somber cello notes play, fade to black.
The ending of the play is unchanged in words, but utterly in attitude. We see Miss Fozzard played by Maxine Peake on her way out of the door. She is dressed in bright red, her hair, her makeup, in bright contrast to the drabness we had previously seen. We get the same line but now spoken in an 'I can't believe I am doing this, what am I like?' manner. Someone excited, someone looking forward to what she's doing, even if it challenges what she once thought about herself and the thoughts of others. 'There's a word for what I am but… I skirt around it' now spoken with a wink and a smile. Door slams, and she's off. There is no shaming here, from the character or from us.
The same line, three decades later, utterly transformed for the times. Just thought it was worth noting.
The new Talking Heads is available on the BBC iPlayer.
Enjoyed this article? Share it!