In the first part of our Impact Wrestling report, Taya Valkyrie and Rosemary teamed up against Susie and Kylie Rae, The Deaners wrestled XXXL, TJP & Fallah Bah, and Reno Scum, Jordynne Grace took on Kimber Lee, and Johnny Swinger stole Suicide's clothes. Read about it here. But the real action takes place here in part two.
A video package explains the current Impact World Championship situation. Impact parted ways with Tessa Blanchard, who was still the champ at the time. They also parted ways with Michael Elgin over #SpeakingOut allegations. Now, Eddie Edwards, Trey, and Ace Austin will be joined by a fired WWE mid-carder in a fatal four-way at Slammiversary. The video talks up each of the competitors (except the fired mid-carder because we don't know who it is yet). The video is long as hell, as Impact has a lot of time to fill since they had to scrap a bunch of pre-recorded material due to the #SpeakingOut firings. The package teases EC3, Luke Gallows, Karl Anderson, Mike and Maria Bennett, Curt Hawkins, Eric Young, Bully Ray, Kurt Angle, James Storm, Sting, and Mr. Kennedy. Impact takes a break.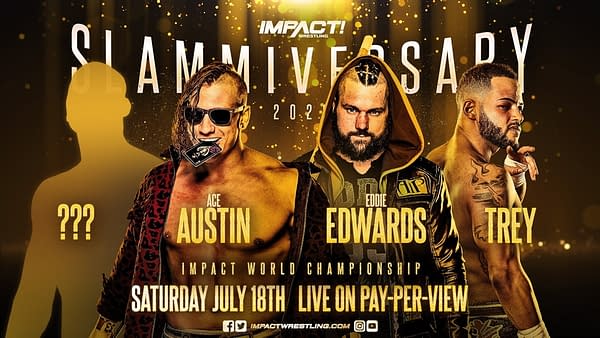 Johnny Swinger, wearing Suicide's costume, runs into Willie Mack backstage. Mack asks him if he remembers their secret handshake. Swinger manages to wing it. Mack tells him he'll see him later tonight, but Swinger has no idea what he's talking about. Mack explains that after Suicide helped him last week, Mack promised him a shot at the X-Division title. In the course of doing so, he continuously insults Swinger, first by not remembering his name, then calling him old and saying he smells like balls. Swinger can't take it says, "It's Johnny Swinger and he's 44 kayfabe," which made me laugh. Presumably, Mack knows who he is and is messing with him.
Time for Locker Room talk with Madison Rayne, who doesn't have Johnny Swinger with her. Why? Because Swinger can't handle the guest tonight. She runs down the guest's many accolades. You can see where this is going. The guest is Madison Rayne. Rayne interviews herself. The big news is: Rayne will be returning to the ring to compete in the gauntlet match at Slammiversary which will decide the number one contender for the Knockouts Championship. Tasha Steelz and Kiera Hogan interrupt and make fun of Rayne for talking to herself. Havok and Neveah show up to talk trash with Hogan and Steelz. It devolves into a brawl, as you might expect. Impact takes a commercial break.
Back from break, Hernandez is arm-wrestling for money backstage when Rhino shows up for a match. They lock hands, and this arm-wrestling epic will be continued. Okay.
Willie Mack heads out, followed by "Suicide," who is actually Johnny Swinger in disguise. Swinger offers to shake hands with Mack to start the match and immediately kicks him. Swinger does his best Suicide impression, which is not very good. At one point he tries to hang himself up in the ropes and ends up just kind of sliding down and falling out. Despite being disguised as Suicide, Swinger uses much of his own 90s-themed offense. At one point he tries to go to the top rope but thinks better of it. Mack hits a stunner and wins. It was a comedy match, and I laughed. Commercials.
Gia Miller interviews Tommy Dreamer backstage. Dreamer is wearing what appears to be a very cheap suit, possibly made out of sweat pants material. Dreamer wants to read a prepared statement and apology to Moose, drafter by his attorney, "Tricky Dicky Heyman." The apology is sarcastic and takes more shots at Moose, calling him a flat-Earther. Moose walks up. he doesn't believe the apology is sincere. Moose says there's no proof the Earth is round. Dreamer says he just got off the phone with a bunch of TNA management groups including the TNA Championship committee and they made him the number one contender for Moose's TNE Championship. Moose says there is no TNA Championship committee. Dreamer is going to face Moose under "old school rules" at Slammiversary. Moose insists again that there is no committee and if Dreamer wanted a match he could have just asked for one. Dreamer says he knows there's no committee… just like there's no TNA.
Josh Matthews recaps the entire segment we just watched. He says the match is official for Slammiversary. He also shows a new graphic for the Knockouts gauntlet match, now featuring Madison Rayne. Matthews is having trouble wrapping his mind around this. He wishes her good luck. He runs through the other matches we know about for Slammiversary. Now it's time for the main event. Josh Alexander heads to the ring with Ethan Page. Sami Callahan comes out.
Callahan and Alexander lock up to start the match. Callahan comes out on top as they feel each other out. Callahan clotheslines Alexander out of the ring. Alexander tries to come back in but Callahan knees him to the floor again. Now Callahan follows him out. Ringside violence ensues. Impact takes a final commercial break.
Alexander is in control now, and the match is still taking place outside the ring. Callahan gives Alexander a Death Valley Driver on the floor. Alexander suplexes Callahan on the apron. Alexander retreats back inside the ring. Callahan makes it back in on the 9-count. Alexander works Callahan over for a few minutes. Callahan gets a few mini-comebacks that go nowhere. Alexander gets Callahan in Ken Shamrock's Ankle Lock. Callahan makes it to the ropes. They grapple on the apron and Callahan hits a piledriver. Callahan goes for the pin, but Alexander kicks out hard, causing Callahan to elbow the ref. Ethan Page attacks the ref to keep him down and then goes after Callahan. Ken Shamrock comes out and puts Page in the Ankle Lock. Callahan hits another piledriver on Alexander and gets the win.
Impact goes off the air with a Slammiversary commercial, promising more than one fired WWE mid-carder. Impact is really upping the stakes! In all seriousness, Slammiversary is looking like a pretty interesting show. I'm actually ready for it now and somewhat annoyed I have to wait for one more episode of Impact before it happens.
Enjoyed this article? Share it!