Into The Dark Film 'Pooka' Debuts December 7 on Hulu, Check Out the Trailer
Into the Dark, the year long holiday-centered horror anthology series continues on Hulu on December 7th with Pooka! Set around the Christmas season, the film stars Nyasha Hatendi as an actor who is hired to play a life-size version of the holiday's hottest toy: the pooka doll. Soon after, he develops a split personality where he acts differently in and out of the suit. Over time, pooka is taking possession of him, and there may be nothing he can do about it.
Check out the trailer and synopsis below:
"A struggling actor gets a holiday season job as a Christmas character in a plush suit to promote the hottest toy of the year, "Pooka." At first it's a fun and friendly distraction, but he slowly develops two personalities–one when he's in the suit, and one that's outside it–as Pooka slowly starts to take possession of him. This unconventional monster movie is directed by Academy Award nominated filmmaker Nacho Vigalondo, the visionary behind the acclaimed 2016 Kaiju film COLOSSAL."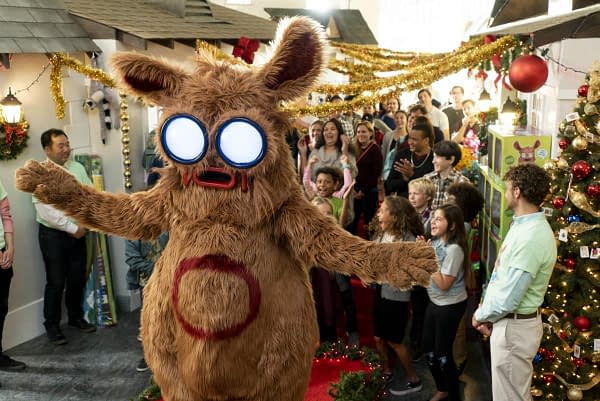 Pooka, directed by Nacho Vigalondo, and starring Nyasha Hatendi, Jonny Berryman, April Campion, Dale Dickey, Gene Freeman, Cliff Weissman, and Katie Wilson debuts on Hulu on December 7th, part of Hulu and Blumhouse's Into The Dark film series.