Posted in: FX, Preview, Trailer, TV | Tagged: always sunny, It's Always Sunny In Philadelphia, preview, season 16, trailer
---
It's Always Sunny in Philadelphia S16 Teaser Hits All the Right Notes
With Season 16 kicking off this week, the newest teaser for FXX's It's Always Sunny in Philadelphia goes the late-night music route.
---
As this is being written, we are only slightly more than 24 hours away from the return of FXX's Rob McElhenney, Charlie Day, Glenn Howerton, Kaitlin Olson & Danny DeVito-starring It's Always Sunny in Philadelphia for an epic 16th season. And from what we've seen so far, the show is still hitting all of the twisted notes that we want them to – and then some. And speaking of hitting notes, we have a new teaser to pass along that not only celebrates the record-setting series and its love & appreciation for the gift of music but also gives us some looks at what Season 16 has in store… done in a style that those of us who had insomnia back in the day and watched late-night television to try to break it.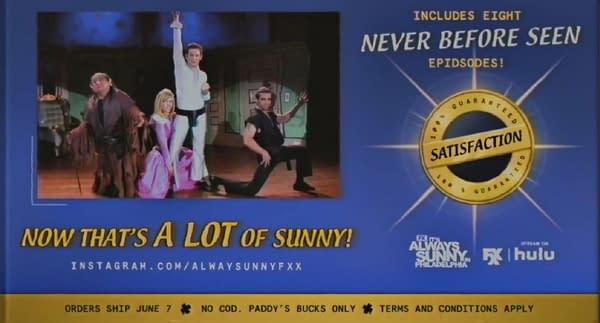 Here's a look at one of the more innovative promos for "Always Sunny," followed by a look at what's still to come:
It's Always Sunny in Philadelphia Season 16 Preview
The Gang is ripping straight from the headlines – Inflation, US-Russian relations, mental health, gender equality, injury liability, gun control, and… celebrity-branded products. But here's a headline for you: "It's Always Sunny in Philadelphia Returns for Sweet Season 16!" But there's nothing sweet about them as Ronald "Mac" MacDonald (Rob McElhenney), Charlie Kelly (Charlie Day), Dennis Reynolds (Glenn Howerton), Dee Reynolds (Kaitlin Olson), and Frank Reynolds (Danny DeVito) yearn for the past as they attempt to survive in 2023. This year alone, Mac battles with allergies and long-distance dating, Charlie takes on his long-forgotten sisters, Dee fights for rent control and women's athletics, Frank wrestles for his gun, and Dennis struggles to improve his mental health. At the end of the day, they're navigating 2023 with 16 years of baggage as a few figures from their past rear their heads.
It's Always Sunny in Philadelphia Season 16 Episode 1 "The Gang Inflates": Dennis and Mac get into inflatable furniture to deal with the economy's inflation, while Dee tries to find a place to crash after being evicted by her greedy landlord and Charlie wants to pitch Frank his crypto/online investment idea. And in this inflation episode, everything gets bigger – Dee's desperation, Mac's lips, and even Charlie's apartment! Written by Nina Pedrad and directed by Heath Cullens.
It's Always Sunny in Philadelphia Season 16 Episode 2 "Frank Shoots Every Member of the Gang": After Frank shoots Dennis and Dee, they resolve to take Frank's gun away. Mac and Charlie go on a road trip with their moms to get their inheritances — for Mac, it's letters written by his grandfather which have fallen into his Uncle Donald's hands, while for Charlie, it's a jar of teeth that is now in the hands of his sisters, Bunny and Candy. Written by Davis Kop and directed by Richie Keen.
It's Always Sunny in Philadelphia Season 16 Episode 3 "The Gang Gets Cursed": The Gang's going to be on Bar Rescue, but a series of bad omens leads them to believe they are all cursed. They set off to undo the curses and make amends to the people/things they've wronged. While Mac, who's on a run of good luck, meets Chase Utley and invites him for a catch. Written by David Hornsby and directed by Richie Keen.
It's Always Sunny in Philadelphia Season 16 Episode 4 "Frank vs. Russia": Charlie cheers on Frank at a local chess tournament against a Russian grandmaster; Dennis helps Mac and Dee find boyfriends. Directed by Heath Cullens and written by Megan Ganz.
It's Always Sunny in Philadelphia Season 16 Episode 5 "Celebrity Booze: The Ultimate Cash Grab": When news spreads of Bryan Cranston and Aaron Paul's visit to Philadelphia to promote their Dos Hermanos mezcal brand, the guys decide to pitch them their own liquor; the Gang takes to the skies to get a taste of the glamorous high life. Directed by Megan Ganz and written by Rob McElhenney, Glenn Howerton & Charlie Day.
In addition, future episodes include S16E06 "Risk E. Rat's Pizza and Amusement Center," S16E07 "Dennis Takes a Mental Health Day," and S16E08 "The Gang Goes Bowling."
---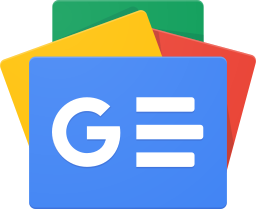 Stay up-to-date and support the site by following Bleeding Cool on Google News today!