'iZombie' Season 5, Episode 2 "Dead Lift": Can You Trust Fitness Advice From a Zombie? [PREVIEW]
After the season premiere left me disappointed and craving more action, more Liv – and more brains – we're ecstatic that the second episode of the fifth season of CW's iZombie "Dead Lift" appears to be a redeeming follow up. The continuation of "Thug Death" – still with no body to speak of – has Liv (Rose McIver) and Clive (Malcolm Goodwin) actively pursuing leads: I'm going to go on a limb and say that even if that is the crime scene vehicle, the body is not in it.
https://www.youtube.com/watch?v=luOAgHIEqV4
iZombie season 5, episode 2 "Dead Lift": KAREEM ABDUL-JABBAR GUEST STARS — Liv (Rose McIver), on fitness guru brains, and Clive (Malcolm Goodwin) continue investigating a murder with no body and no evidence. Meanwhile, Peyton (Aly Michalka) approaches councilman Zed (guest star Kareem Abdul-Jabbar) with a request but doesn't get the answer she was hoping for. Lastly, Liv surprises Major (Robert Buckley) with a thoughtful gesture just when he needs it the most. Rahul Kohli, David Anders and Bryce Hodgson also star. Michael Fields directed the episode written by Philip Hoover & Jacob Farmer
"Distracting? you mean these bad boys": Our duo is back in action and the comedic partnership that I've so much enjoyed as part of iZombie is in full investigative swing. Clearly there will be a brain delicatessen for Liv to munch on – resulting in a fitness guru personality, ripped arms, and some serious tongue lashings being shelled out.
With Major (Robert Buckley) concerned that humans view Fillmore-Graves as only having zombie interests at heart, it will be interesting to see if Liv's surprise to Major somehow alleviates those fears. And what's the deal with that "request" Peyton (Aly Michalka) approaches Councilman "Skyhook" (NBA icon Kareem Abdul-Jabbar) with?
Looking forward to a more edge-of-my-seat, hot pursuit, laugh-out-loud second episode… when iZombie returns to the CW this Thursday.
https://youtu.be/8T8qAj2MXLo
In season 5 of iZOMBIE, our heroes try to keep the peace in the zombie state that is New Seattle, but with starving zombies on one side, and terrified humans on the other, they'll have their work cut out for them. Liv faces off with the U.S. military trying to prevent her from bringing the sick and dying into Seattle to give them a lifesaving scratch. Major, now the head of Fillmore Graves, has to worry about dissent in the ranks dissatisfied with his warmhearted treatment of humans. Peyton, still the acting mayor, will use her power to attempt to make the rest of the world see Seattle as something other than a lawless wasteland.

Ravi will work tirelessly on a cure that may be the only thing that can stave off widespread violence. And through it all, Liv and Clive will continue to solve the murder cases that come across Clive's desk, the murders themselves becoming more and more tied to the societal breakdown taking place all around them.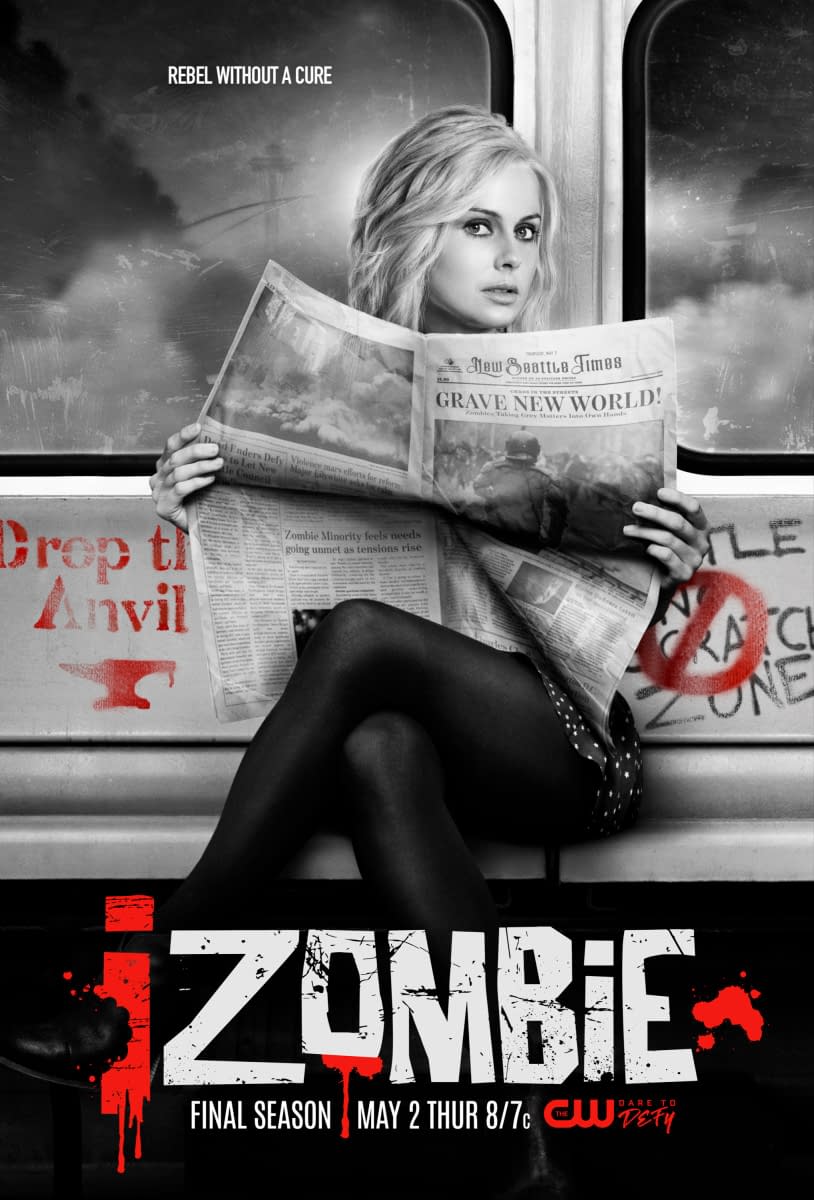 Margo Staten is a Ukrainian born, raised in Brooklyn, organically driven, coffee loving, twice-divorced mother of one baby Einstein. Has a passion for books, yoga in the park and all things 80's and New Orleans.