Jeff Hardy Accepts Challenge from Sheamus for Extreme Rules Bar Fight
WWE Superstar Jeff Hardy has been involved in an angle with Sheamus on SmackDown for the past couple of months. The premise is that Sheamus is tormenting Hardy over Hardy's history of addiction and relapse. Oh, and also that Sheamus drinks urine, but that's not necessarily relevant here.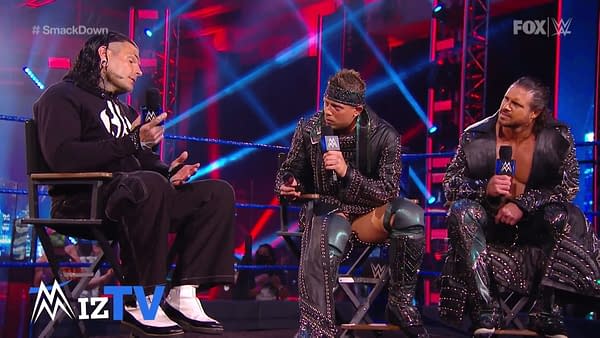 Jeff Hardy has been framed for DUI, forced to take a drug test live on television, and involved last week in a "toast to Jeff Hardy" segment in which he was prodded to abandon his sobriety and drink alcohol. Hardy, of course, is the face in the feud, an underdog standing up to Sheamus's bullying. But Hardy has also made some questionable choices, such as sniffing the glass of champagne he was tempted with last week. The worst decision, however, may yet be to come. Here's what happened during the opening segment of last night's SmackDown, in which Hardy was a guest on Miz TV with The Miz and John Morrison. From our report.
Miz says Jeff is his daughter's favorite star. But she doesn't know about the darkness in Jeff, and Miz, as a father, doesn't want his daughter to put her faith in someone who will let her down. Hardy is getting even more annoyed. Miz and Morrison ask Jeff if he's okay. Isn't everything Sheamus is doing, and losing to him, eating away at him? Jeff says he's been to hell and back, but it will take more than taunts from Sheamus to drive him back to addiction. Miz and Morrison are skeptical.

Hardy admits Sheamus does bother him and the loss at the last PPV bothered him too. But Jeff will do everything in his power to destroy Sheamus and put his past behind him. Hardy wants to be a beacon of life to anyone who watches WWE and struggles with addiction. He says hope is real, and there's a life beyond their wildest dreams if they can stay sober. Miz and Morrison are touched. Miz says they want to help him redeem himself. Miz says Jeff needs a rematch with Sheamus in a place where he has the home-field advantage, where he's guaranteed to do his best work. Miz says Jeff should face Sheamus in a bar fight. He can fight his physical enemy, Sheamus, and his metaphorical enemy, alcohol, at the same time. Jeff isn't amused. He calls Sheamus the Celtic butthole. Jeff says he's never going back to where he was. He's gonna take Sheamus out in the bar fight (wait, he accepts?). Jeff says he'll never let any of the WWE fans down again. Jeff officially accepts the match.
So Jeff has accepted a bar fight with Sheamus for the PPV happening in a week. The story is Hardy standing up to Sheamus and overcoming these issues that have challenged, but surely that's not something his sponsor would approve of, is it? Hardy lost in his first match with Sheamus, so hopefully, he'll have better luck in the bar at Extreme Rules.