John Cleese Guilts BBC into Restoring Fawlty Towers to Streamer
Earlier this week, the BBC pulled "The Germans", an episode of the classic sitcom Fawlty Towers from its UKTV streaming service for containing "racial slurs". However, the episode will now be reinstated to the service after creator, star, and co-writer John Cleese took to Twitter to criticize their decision. In the episode, the major uses the N-word repeatedly, which appalls even Basil Fawlty, who is himself a bigot. Cleese pointed out that the use of racial slurs in that episode was to attack and make fun of the racism of certain people who were on the wrong side of history, not to endorse or celebrate them.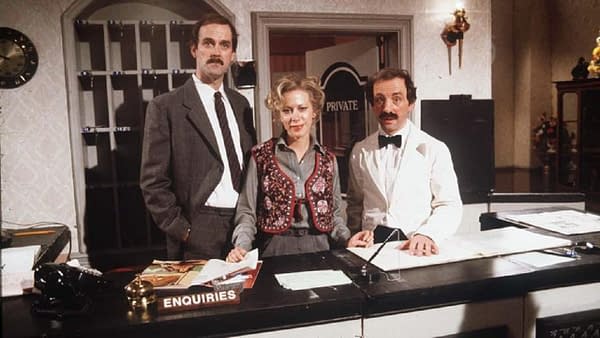 "The Major was an old fossil leftover from decades before. We were not supporting his views, we were making fun of them," said Cleese. "If they can't see that, if people are too stupid to see that, what can one say?"
Here are his comments in full:
"I would have hoped that someone at the BBC would understand that there are two ways of making fun of human behaviour One is to attack it directly. The other is to have someone who is patently a figure of fun, speak up on behalf of that behaviour Thank of Alf Garnett…

…we laughed at Alf's reactionary views. Thus we discredited them, by laughing at him Of course, there were people – very stupid people – who said 'Thank God someone is saying these things at last' We laughed at these people too Now they're taking decisions about BBC comedy

But it's not just stupidity The BBC is now run by a mixture of marketing people and petty bureaucrats It used to have a large sprinkling of people who'd actually made programmes Not any more

So BBC decisions are made by persons whose main concern is not losing their jobs…

…That's why they're so cowardly and gutless and contemptible I rest my case

The BBC's website refers to my 'fury' I think my comments were quite measured and moderate So why would the BBC refer to them as my 'fury' ? Because it will get them a few more 'clicks' This sort of thing happens when marketing executives and tabloid journalists take charge"

"A lot of the people in charge now at the BBC just want to hang onto their jobs. If a few people get excited they pacify them rather than standing their ground as they would have done 30 or 40 years ago."
According to Deadline, Cleese also expressed support for Black Lives Matter.
"At the moment there is a huge swell of anger and a really admirable feeling that we must make our society less discriminatory, and I think that part of it is very good," he said. "It seems to me the best parts of the George Floyd protests have been very moving and very, very powerful."
The Removal of Racially Insensitive Content
This incident is part of the kerfuffle over past content getting yanked from streaming services for racist content in light of the protests over the police killing of George Floyd and institutional racism. HBO Max has removed Gone With the Wind but will reinstate it with an introduction to explain its historical context. David Walliams and Matt Lucas' Little Britain and Come Fly With Me have been removed from Netflix, Britbox, and the BBC iPlayer.
On Saturday, Walliams and Lucas issued an apology on Twitter: "Matt & I have both spoken publicly in recent years of our regret that we played characters of other races. Once again we want to make it clear that it was wrong & we are very sorry."
Leigh Francis, who played various black characters in his 2002 Channel Four sketch show Bo'Selecta, where he wore facial prosthetics to make the real-life people he was spoofing look as grotesque as possible, also issued an apology for his past work. His portrayal of British TV personality Trisha Goddard had caused her children to be bullied at school. She has accepted Francis' apology.
Fawlty Towers: Punching Up vs. Punching Down in Comedy
It seems Fawlty Towers gets restored to streaming services because John Cleese had to actually explain the joke to the executives who yanked it – that he was deliberately attacking racism rather than merely expressing it. He was using comedy to speak truth to power and attack a social wrong.
This is different from Little Britain, Come Fly With Me, and Bo'Selecta, which offered no commentary on racist stereotypes at all but rather perpetuated them with no thought to what they meant beyond a cheap laugh. It's telling that even now comedians don't often know the difference between punching up and punching down until someone actually has to point it out to them.