Posted in: CW, Preview, Riverdale, Trailer, TV | Tagged: bleeding cool, cable, cw, katy keene, lucy hale, Pretty Little Liars, riverdale, streaming, television, tv
---
"Katy Keene": Lucy Hale, Canine Companion Visit CW Series' Writers Room
With "Archie-verse" creator and executive producer Roberto Aguirre-Sacasa, Berlanti Productions, and Warner Bros. Television's Riverdale spinoff Katy Keene officially getting a series nod from the CW and currently working on its midseason debut, the show's writers' room had a surprise visitor or two on Friday. Currently in production, writer Michael Grassi (Riverdale, Supergirl) took to Twitter to share two image of series star Lucy Hale (Pretty Little Liars) – one with canine companion – stopping by to show the writers some love and support:
The CW's Katy Keene also stars Riverdale's own Ashleigh Murray, Jonny Beauchamp (Penny Dreadful), Julia Chan (Saving Hope), Camille Hyde (American Vandal), Lucien Laviscount (Snatch), Zane Holtz (TV's From Dusk Till Dawn), and Katherine LaNasa (Imposters).
Here's What You Need to Know About The CW's "Katy Keene"
https://youtu.be/_ryc9o-10ZQ
A RIVERDALE spinoff, KATY KEENE follows the lives and loves of four iconic Archie Comics characters — fashion legend-to-be Katy Keene (Lucy Hale), singer/songwriter Josie McCoy (Ashleigh Murray), performer Jorge Lopez/Ginger (Jonny Beauchamp), and "It Girl" Pepper Smith (Julia Chan) — as they chase their twenty-something dreams in New York City…together. Katy designs clothes for anyone she can, including her friend and roommate Josie, whose singing talent catches the attention of Alexander Cabot (Lucien Laviscount), a CEO who hopes to reboot the record label division of his father's corporate empire. But Alexander's dream of signing Josie to a recording contract meets resistance from Cabot Media's powerful senior vice president Alexandra (Camille Hyde), who also happens to be his twin sister.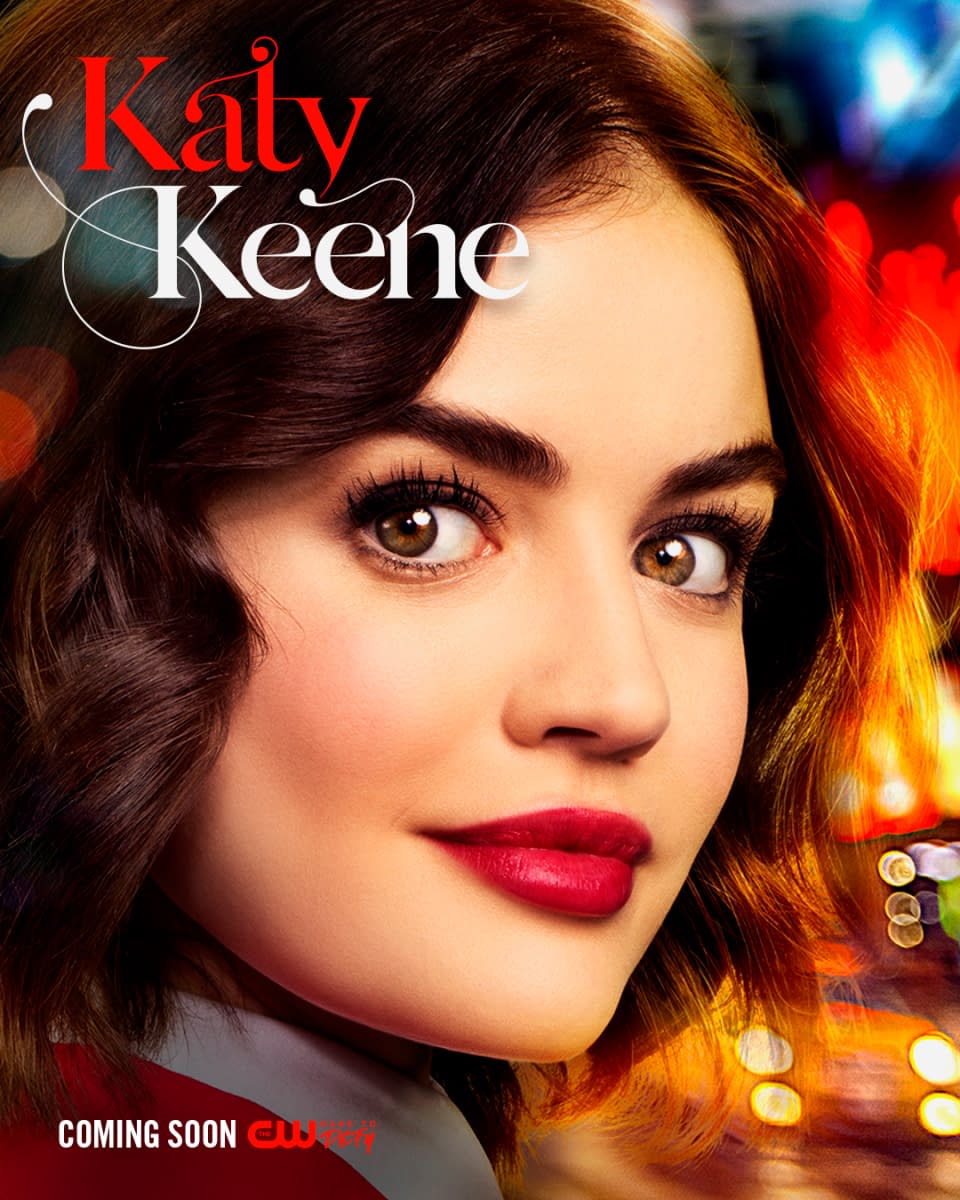 Josie and Katy's roommate Jorge works at his family's bodega and has his eye on Broadway, but after a series of rejections, he hopes to take his drag performance career as Ginger to the next level. The mysterious Pepper Smith plans to open her own version of Andy Warhol's Factory. She has the connections, but no one seems to know where she got her money — or if she really has any at all. Katy struggles to manage the pressures of her day job at Lacy's Department Store and her very demanding boss, Gloria (Katherine LaNasa), who is a legendary personal shopper. But Katy has the support of her longtime boyfriend, KO Kelly (Zane Holtz), who has his own dream of becoming a professional boxer. As these aspiring artists take on the runway, the recording studio, Broadway, and the NYC social scene, they will find more than just a career in the big city — they'll find long-lasting friendship.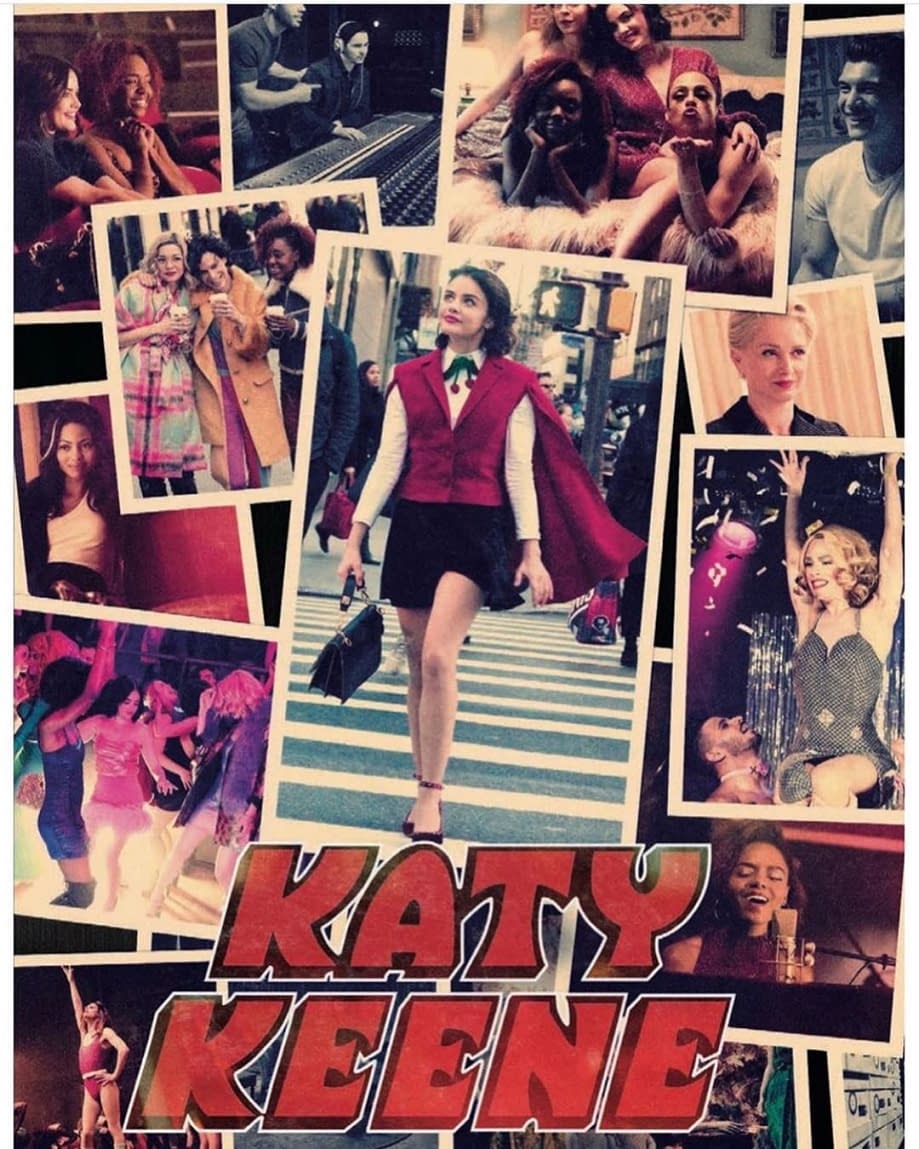 ● Hale's Katy Keene is a bold, big-hearted, and independent twenty-something New Yorker who aspires to be a fashion designer. When she's not working as a personal shopper at a luxury department store, she's navigating friendship and dating in the big city.
● Spinning off from her time in the small town of Riverdale, a now 20-something Josie McCoy (Murray) sets off on a new adventure to make it in the big city. More determined than ever to break into the music scene as the next Diana Ross, Josie finds herself forging new friendships, falling into new relationships, and, one day, becoming the star she is destined to be.
● Hyde's Alexandra is a powerful, savvy and chic New York socialite. Senior Vice President at her father's company, she is both respected and feared. Alexandra is competitive with her brother, Alexander – who has a very different vision for the record label.
● Laviscount's Alexander is the CEO of his father's company and dreams of rebooting its dormant record label division, which attracts him to Josie. He's cut from a different cloth than his billionaire family, as he'd rather take the subway and listen to vinyl – and he secretly DJs at a dive club.
● Beauchamp's Jorge/Ginger Lopez works at his family's bodega by day – but by night, his drag alter ego Ginger bartends and performs at a local club. Jorge always has aspired to be a Broadway performer, but he's now looking to take his drag career to the next level.
● Chan's Pepper Smith is a New York City "It Girl" who is at the epicenter of all things trendy. As the funny, magnetic life of the party, she dreams of opening her very own version of Andy Warhol's Factory. But behind all the outrageous noise, no one quite knows where she gets all her money — or if she even has any.
● Holtz's Ko Kelly is a boxer with two goals in life: to fight a welterweight championship in Madison Square Garden and to marry his longtime girlfriend, Katy Keene. Born and raised in Queens, Ko is a humble, protective, salt-of-the-earth guy who makes ends meet as a personal trainer and a bouncer.
● LaNasa's Gloria Grandbilt is a legendary personal shopper at the luxury department store Lacy's, which caters to the rich and famous. Always impeccably dressed and the queen of her domain, she demands a level of excellence from her "girls," young assistants that few can provide.
Executive produced by Greg Berlanti (Arrow, The Flash, Supergirl, DC's Legends of Tomorrow), Roberto Aguirre-Sacasa (Supergirl, Glee), Michael Grassi (Riverdale, Supergirl), Sarah Schechter (Arrow, The Flash, Supergirl, DC's Legends of Tomorrow), and Jon Goldwater (Archie Comics Publisher & CEO), Katy Keene is from Berlanti Productions in association with Warner Bros. Television and CBS Television Studios.
---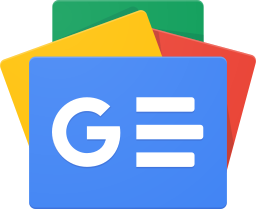 Stay up-to-date and support the site by following Bleeding Cool on Google News today!