"Kidding": EP Dave Holstein Says Ariana Grande Sings Like "Pickle Fairy Goddess" in Season 2 Role
With production currently underway on the 10-episode second season of Showtime's critically-acclaimed, award-winning series Kidding, we're starting to get a peek behind the curtain as some of the new faces we'll be seeing – but this "new face" is a pretty familar one to millions of fans around the world. Singer Ariana Grande revealed that she will be making a "tiny appearance" in an upcoming episode of the dramedy that marked Jim Carrey's (The Truman Show) return to television in a series regular role, reteaming him with Eternal Sunshine of the Spotless Mind helmer and series director Michel Gondry for the first season.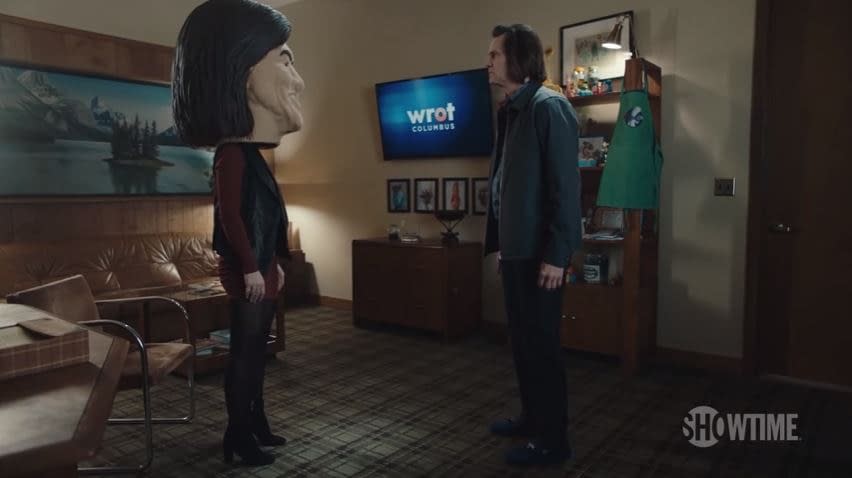 In the following Instagram post, Grande shared her appreciation for the opportunity – with extar props to Carrey and series creator/executive producer Dave Holstein:
there aren't words. – i've been staring at my screen and no words do this moment justice. thankful for the most special experience of my life. nothing is crazier than getting to work with and spend time with someone whom you've idolized and adored since before you could speak. actually, what's even crazier is discovering that person to be more special and warm and generous in person than you ever could've imagined. i get to make a tiny appearance on the hilarious and deeply moving show Kidding next season. this was a DREAM of an experience. thank you thank you thank you Jim and thank you Dave for having me. i have so much more to say but words actually can't …. cover it.
Holstein took to Twitter to not only confirm her appearance but also that she sings in the episode – and that viewers are "going to be blown the f away" by what they see with one of the greatest compliments out there:
Showtime's Kidding is expected to return for its second season some time in late 2019.
Kidding centers on Jeff, aka Mr. Pickles (Carrey), an icon of children's television and a beacon of kindness and wisdom to America's impressionable young minds and the parents who grew up with him. But when this beloved personality's family begins to implode, Jeff finds no fairytale, fable or puppet will guide him through this crisis, which advances faster than his means to cope.

The result: A kind man in a cruel world faces a slow leak of sanity as hilarious as it is heartbreaking. Jeff begins to push back against the limits of the well-oiled machine that is Mr. Pickles' Puppet Time, and of his executive producer, Seb (Frank Langella). Seb fears Jeff's mental state could ruin the branding empire they've built, and thus begins preparing the show for a life after Jeff, while Deirdre (Catherine Keener), the head puppet maker, grapples with her own personal and professional life issues. Judy Greer stars as Jeff's estranged wife, and Cole Allen plays their son.
Directed by Gondry, Kidding also stars Judy Greer (I'm Sorry), Catherine Keener (Get Out, Death to Smoochy), Frank Langella (The Americans, Frost/Nixon), Justin Kirk (Weeds), Ginger Gonzaga (I'm Dying Up Here), and Bernard White (Captain America: The Winter Soldier). Carrey, Gondry, Holstein, Jason Bateman (Arrested Development, Ozark), Jim Garavente, Raffi Adlan, and Michael Aguilar will serve as executive producers.