Krypton moves into the last three episodes of season 1 starting tonight with an episode called Savage Night. The episode introduces us to the series version of Jax-Ur, a long time character in the Superman mythos.
Jax-Ur was a scientist and colleague of Jor-El that we first met in Adventure Comics #289 (1961) by Otto Binder and George Papp. He built a nuclear missile and tried to test it by blowing up an asteroid, but the test went wrong and he blew up one of Krypton's moons, Wegthor, and the colony of people on it. He was sentence to the Phantom Zone for his actions, making him the first prisoner in the Phantom Zone. He appeared a few times pre-Crisis as a villain for Superman, but his post-crisis appearances have been rare.
He's appeared in the Superman Animated Series voiced by Ron Perlman and in the Man of Steel movies played by Mackenzie Gray.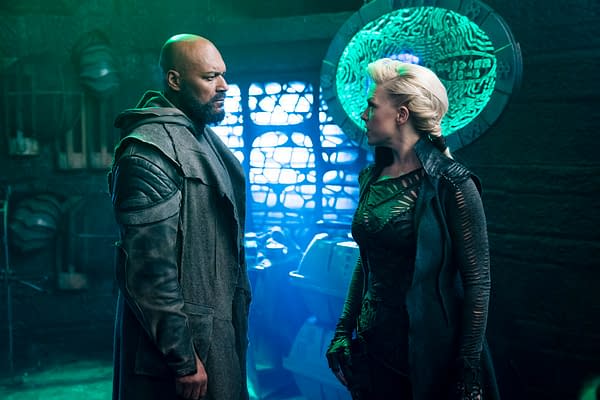 The series Krypton has mentioned Jax-Ur as part of the Black Zero resistance/terrorist group, and we're set to meet her tonight. Yes, the series is doing a gender flip and has cast Hannah Wadingham from Game of Thrones and 12 Monkeys as Jax-Ur. We don't know much about her role on the series other than having seen her in the still shots released by Syfy, and the synopsis for the episode is a bit slim:
A resistance movement begins to form to impede the Voice of Rao's increasing power and influence.
So it's a pretty good guess that if she is part of Black Zero, then she's part of the resistance movement.
Krypton airs tonight at 10 p.m. ET on Syfy.
Enjoyed this article? Share it!