Krypton Season 1: Nyssa-Vex, the Best New Character of the Season
Picking up from where I left off yesterday, taking a look at the best new character of the different superhero/comic book-based series I cover. I focused on the CW series yesterday and was happy to see that Jesse Rath retweeted the article naming his Brainiac-5 the best new character on Supergirl. Today I'm going to move on to the series on other networks. We'll start off with another new series, Krypton.
This is a show that started off at an ease pace, creating the world and introducing all of the characters and the political environment. And then by episode five they turned everything completely upside down and continued to flip things week after week until we got a shocking season finale. You have a lot of good character on the show including Shaun Sipos as Adam Strange, Colin Salmon as General Zod, Blake Ritson as Brainiac, Elliot Cowan as Daron-Vex, Georgina Campbell as Lyta-Zod and Cameron Cuffe as Seg-El. The show is filled with interesting characters, but the one that stood out just a little above the others is Nyssa-Vex played by Wallis Day.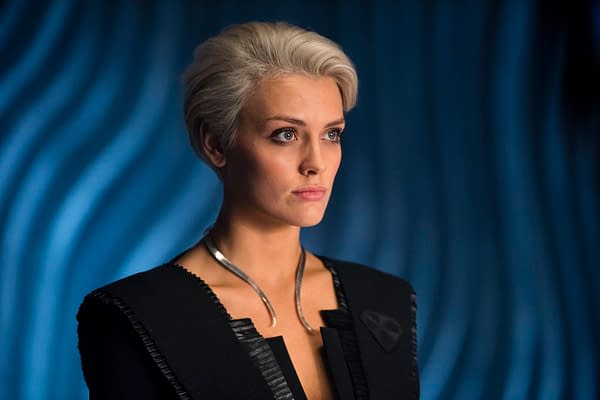 Nyssa's character started off looking like a power-hungry, manipulative elite that treated people like pawns and saw Seg as a piece of her father's plan. But we quickly learned that she had plans of her own, that she could think quickly on her feet and that she understood how to build trust with someone even if it was to use them later on. We also saw her deal with the betrayal of her father, her burgeoning feelings for Seg and her confusion when he risked his own life to save her. And by the season finale we got to see her maternal instincts kick in and a huge reveal that will be part of the upcoming second season.
The character grew more in ten episodes than anyone could've expected. Day brings a charismatic charm and beauty to the role that makes her the focus of any scene she's in. You want to see what she's going to do and for many viewers she went from being part of the evil forces to the one fans want to see end up with Seg. Will Nyssa end up being Superman's grandmother? We'll have to wait and see.