Last Week Tonight: HBO Releases Season 10 Trailer & Sets Return Date
HBO dropped the Season 10 trailer and premiere date for the multi-Emmy Award-winning weekly talk series Last Week Tonight with John Oliver.
---
Comedian, actor, and writer John Oliver returns with new shenanigans as HBO released the new trailer for their long-time weekly late-night series Last Week Tonight with John Oliver. The host and Daily Show alum have brought attention to a wide range of topics, foreign and domestic, offering biting "satirical, insightful, and meticulously researched look at current events" from across the globe, providing a hilarious perspective in analyzing "today's pressing political, social, and cultural issues."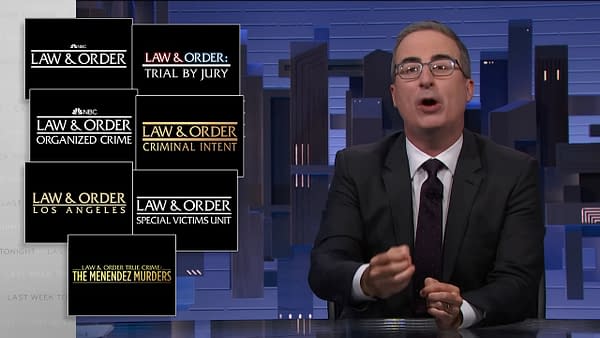 'Last Week Tonight with John Oliver' Going Strong for 10 Seasons
Since its premiere in 2014, the series won 26 Emmys, most recently in 2022 for Outstanding Variety Talk Series and Outstanding Writing for a Variety Series, both for the seventh year in a row. It has also been honored with two Peabody Awards, three Critics Choice Awards in the category of Best Talk Show, two GLAAD Media Awards, five Writers Guild Awards, and seven consecutive PGA Awards. The series YouTube channel regularly posts its major topics that carry the primary bulk of the episode, even staying active on occasion while on hiatus. Season nine delivered commentary that includes FIFA's ongoing hypocrisy in letting countries like Qatar host the 2022 World Cup despite its abhorrent record on human rights, revisiting the British monarchy following Queen Elizabeth II's passing, MAGA candidates who continue to subvert elections, bail reform, transgender rights, crime reporting, museums, and more.
Last Week Tonight with John Oliver is produced by HBO by Avalon and String Jack Productions; executive produced by Oliver, Tim Carvell, Liz Stanton, Jon Thoday, and James Taylor. The trailer highlights praise from critics before it shifts to a shot of Oliver's rear in denim jeans with more comments. It then shifts to how versatile Oliver is as a comedian delivering his nuanced points but also balancing them with lower-brow humor throughout the years before the series admits they have nothing new from season 10 to preview. Let's be honest; if the older highlights aren't appealing enough anyway, you're likely not what the show is targeted for anyway. Season 10 premieres on HBO on February 19th.