Legends of Tomorrow: Dominic Purcell Jokes About Quitting; Post Change
Here's hoping that DC's Legends of Tomorrow star Dominic Purcell isn't going to be using that extra time he's going to have to get into stand-up because if his Instagram post from earlier today is any sign? He's going to need serious work on his "tight five." So it seems that Purcell isn't leaving the show- he's just not returning on a full-time basis. And all of that stuff he posted earlier? Apparently, he was joking because he "needed a laugh"- and apparently enjoyed making the "snowflake generation" upset on a Saturday. Looks like it's still a big love fest over there, what with those legally binding handshake deals and all. Here's a look at the original post: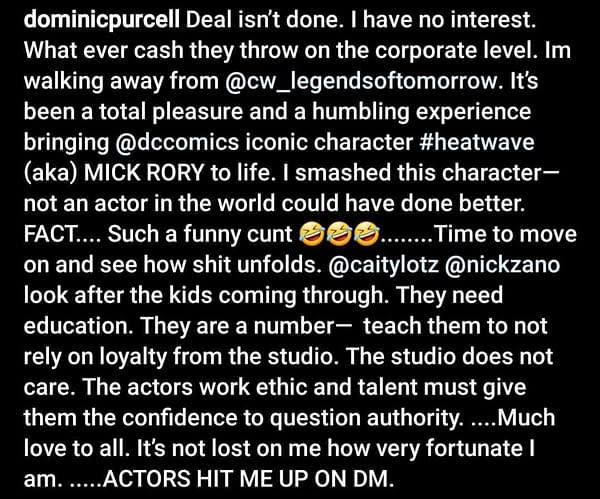 "WHY SO SERIOUS——I needed a laugh and got one fooled ya!!🤣🤣🤣🤣🤣🤣🤣🤣🤣🤣🤣🤣🤣🤣😂😂😂😂😂😂😂😂😂😂😂😂😂😂😂😂😂😂😂😂😂😂😂😂😂😂😂😂😂😂😂😂😂😂😂😂😂😂😂😂😂😂😂😂…… Everyone's losing their mind. No issue with studio. Or anyone. Wanted a laugh. Now I know I am loved 🤣🤣……but yes I am leaving [DC's Legends of Tomorrow] on a full time basis but have every intention of coming back periodically just not full season," Purcell wrote in a revised caption to his Instagram post. "It's a handshake deal with me and Phil Klemmer my boss.I love the character and Mick. Love the cast. So funny how the press jump down shit. wow the snowflake generation a touchy world. [Warner Bros. TV] sorry for freaking u out. Nice negotiation tactic😉🤣. …."
UPDATE: Apparently, the "joke" was so funny it got taken down: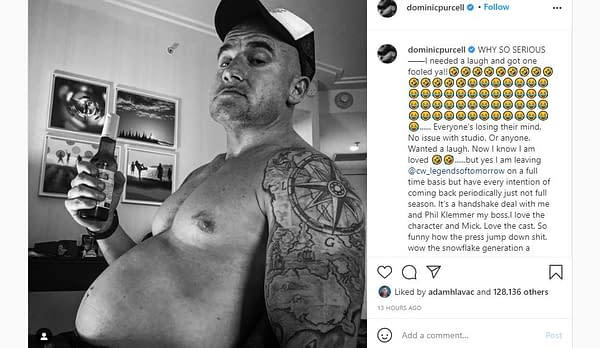 UPDATE II: So Purcell is back with another revision- this one not quite as abusive towards the fans. Notice the "snowflake" line is missing? "WHY SO SERIOUS. 🤣🤣🤣🤣🤣🤣🤣🤣🤣🤣🤣🤣🤣🤣🤣🤣🤣🤣🤣🤣🤣🤣🤣🤣🤣🤣🤣🤣🤣🤣🤣🤣🤣🤣……. MY last post needed a laugh. It was a joke and The 😂……. press went nuts. ….Look I am leaving @cw_legendsoftomorrow but will come back periodically it's a handshake deal with my boss Phil Klemmer. I don't have a beef with studio 😂😂😂🤣 @warnerbrostv don't have a beef with anyone. Shit woke up this morning like I'd caused mass #riots …. But what genius negotiating move. I am loved. 🤣🤣🤣🤣🤣🤣🤣🤣🤣"
Here's your first official look at DC's Legends of Tomorrow, set to tackle time and space starting Sunday, May 2 (alongside Batwoman):
Here's an updated look at the episode line-up so far for the sixth season of DC's Legends of Tomorrow:
S06E01 "Ground Control to Sara Lance" (Directed by Kevin Mock; Written by James Eagan & Mark Bruner)
S06E02 "Meat: The Legends" (Directed by Rachel Talalay; Written by Matthew Maala & Morgan Faust)
S06E03 "The Ex-Factor" (Directed by David Geddes; Written by Grainne Godfree & Tyron Carter)
S06E04 "Bay of Squids" (Directed by Sudz Sutherland; Written by Phil Klemmer)
S06E05 "The Satanist's Apprentice" (Directed by Caity Lotz; Written Keto Shimizu and Ray Utarnachitt)
S06E06 "Bishop's Gambit" (Directed by Kevin Mock; Written by James Eagan & Emily Cheever)
S06E07 "Back to the Finale Part II" (Directed by Glen Winter; Written by Morgan Faust & Mark Bruner)
S06E08 "Stressed Western" (Directed by David Ramsey; Written by Matthew Maala)
S06E09 "This is Gus" (Directed by Eric Dean Seaton; Written by Tyron B. Carter)
S06E10 "Bad Blood" (Directed by Alexandra La Roche; Written by Grainee Godfree)
S06E11 "The Final Frame" (Directed by Jes Macallan; Written by James Eagan and Ray Utarnachitt)
S06E12 "Bored On Board Onboard" (Directed by Harry Jierjian; Written by Keto Shimizu & Leah Poulliot)
S06E13 "Silence of the Sonograms" (Directed by Nico Sachse; Written by Phil Klemmer & Morgan Faust)
S06E14 "There Will Be Brood" (Directed by Maisie Richardson-Sellers; Written by Ray Utarnachitt & Marcelena Campos Mayhorn)