Let Bob's Burgers Be Your Ultimate TV Comfort Food
The Belcher family on FOX's Bob's Burgers may be strange, but they are family. And in these times, but any time really, digging into a big binge of episodes could not be more the very definition of comfort food television. It helps that the show is also built around food, and most of Bob's "Burgers of the Day" sound like a delight, even if a bit punny. Here's a family-sized combo meal of specially curated episodes that give us all the warm, satisfying feelings in our tummies.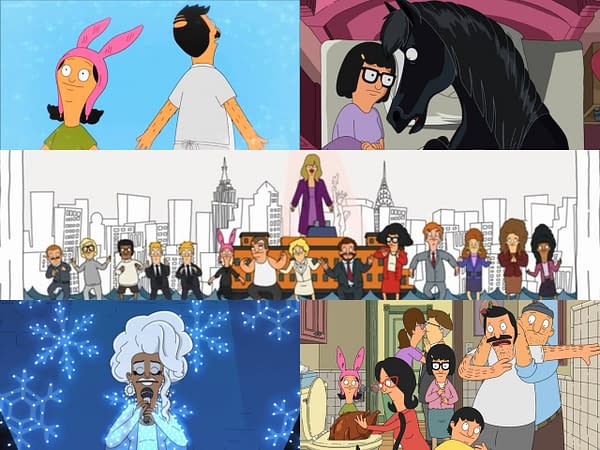 "Work Hard or Die Trying, Girl" (Season 5, Episode 1)
Our first course is the fifth season premiere, which pits rival school musicals against each other. While Tina leads the official school production of Working Girl, Gene runs his own rogue musical adaptation of Die Hard in the boiler room. A classic tale of sibling rivalry, it's also about artistic integrity. Gene Belcher can be quite a diva when he really knows what he wants. But when Mr. Frond takes it on himself to solve this through his counseling and they combine productions, we get one of the best moments of the entire series.

And, yes, we still get Hans Gruber falling from Nakatomi Plaza– a holiday tradition I know means a lot to many of you. Does that make this a Bob's Burgers Christmas episode, too? Sure, if you want it to. I mean, anything's a holiday tradition if you make it one. You should make this show part of your holiday traditions.
"Turkey in the Can" (Season 4, Episode 5)
Speaking of holiday episodes, you can't beat a Bob's Burgers Thanksgiving. Or Halloween. But back to Thanksgiving– the day Bob plays gourmand and makes his family an amazing feast– and this episode where a mysterious someone keeps stealing Bob's turkey from the fridge and putting it in the toilet. Everyone's a suspect! There's also a fun subplot where the butcher thinks Bob is flirting with him by coming back every day for a new turkey. There's also a romance between Mort and Aunt Gayle. And (no spoilers, but) it ends with a really beautiful message about family and growing up.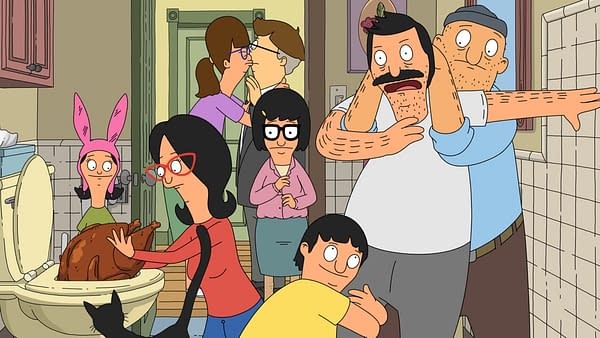 That's ultimately what always makes Bob's Burgers work: a focus on something mundane, or even toilet-related, but somehow ends up being a beautiful meditation on family. Just like Grandma's recipe for your favorite dish at Thanksgiving, this is pure comfort.
"Glued, Where's My Bob?" (Season 6, Episode 19)
Speaking of toilets and toilet humor, the Belcher kids' goop war creates some collateral damage when they glue Bob to the restaurant's commode with some of Teddy's super sticky epoxy. It's a race to get him free so he can be interviewed by Coasters magazine, and it culminates with one of the best Bob's Burgers songs ever.
What a way to celebrate 100 episodes!
"The Horse Rider-er" (Season 6, Episode 17)
Ok, stop me when you're sold on this pitch: Tina has an imaginary horse. His name is Jericho. He has anxiety that he's getting replaced when Tina takes actual horse-riding lessons. He dances. The horse is voiced by Paul Rudd. This is one of those rare episodes of television that I can watch an unlimited number of times and it will still makes me happy. There's a sweetness here and also Rudd just nails this weird neurotic energy with Jericho.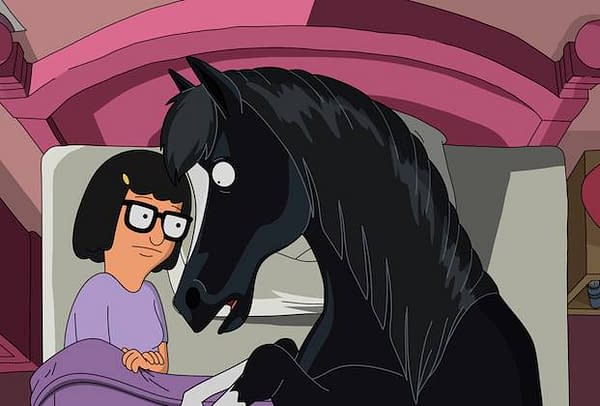 Tina's actual time at horse camp also features lots of Tammy and Jocelyn, who are hands down the best supporting characters in all of Bob's Burgers. And there's also a great side story about Teddy being obsessed with the fact that the restaurant's deep fryer is broken, so no fries. The only downside of the episode is that the parts with Jericho are so excellent that the rest of the episode isn't quite as good, but it's still just perfect television comfort food.
"The Bleakening" (Season 8, Episodes 6-7)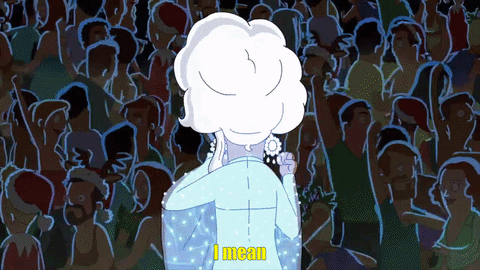 In this two-parter, the Belchers discover the true meaning of Christmas and it's the queerest holiday ever. Bob's Burgers Christmas episodes are legendary, but this one blows the others away with its numerous musical numbers and strangely high stakes. For a while, it does seem like Linda is going to lose faith in Christmas, and humanity. That's just a world I don't want to live in. Instead, they solve the mystery of who stole her handmade Christmas ornaments when the family discovers an underground Christmas rave where at the stroke of midnight on Christmas Eve, a drag queen named XXXmas sings an ode to Christmas lights that is as near to perfect as one can ask for.
It's also an ode to inclusion and diversity that celebrates that we all need each other to help make the holidays bright. There just simply isn't a better, more comforting thought in any holiday episode of any show in recent memory. Bob's Burgers is pure comfort food. But this sampler platter is just the beginning, and there are dozens of other episodes that are perfect for when we all need to tuck into a quick 22-minute slice of happiness. All 10 seasons of Bob's Burgers are available to stream on Hulu.