Walking in a Belcher Wonderland: 7 'Bob's Burgers' Holiday Favs
FOX's Bob's Burgers always seems to find a way to celebrate the holidays in its own unique way. A perennial fall debate is "Which are better: their Halloween, Thanksgiving, or Christmas episodes?" Of course that's a trick question – the answer is all of them!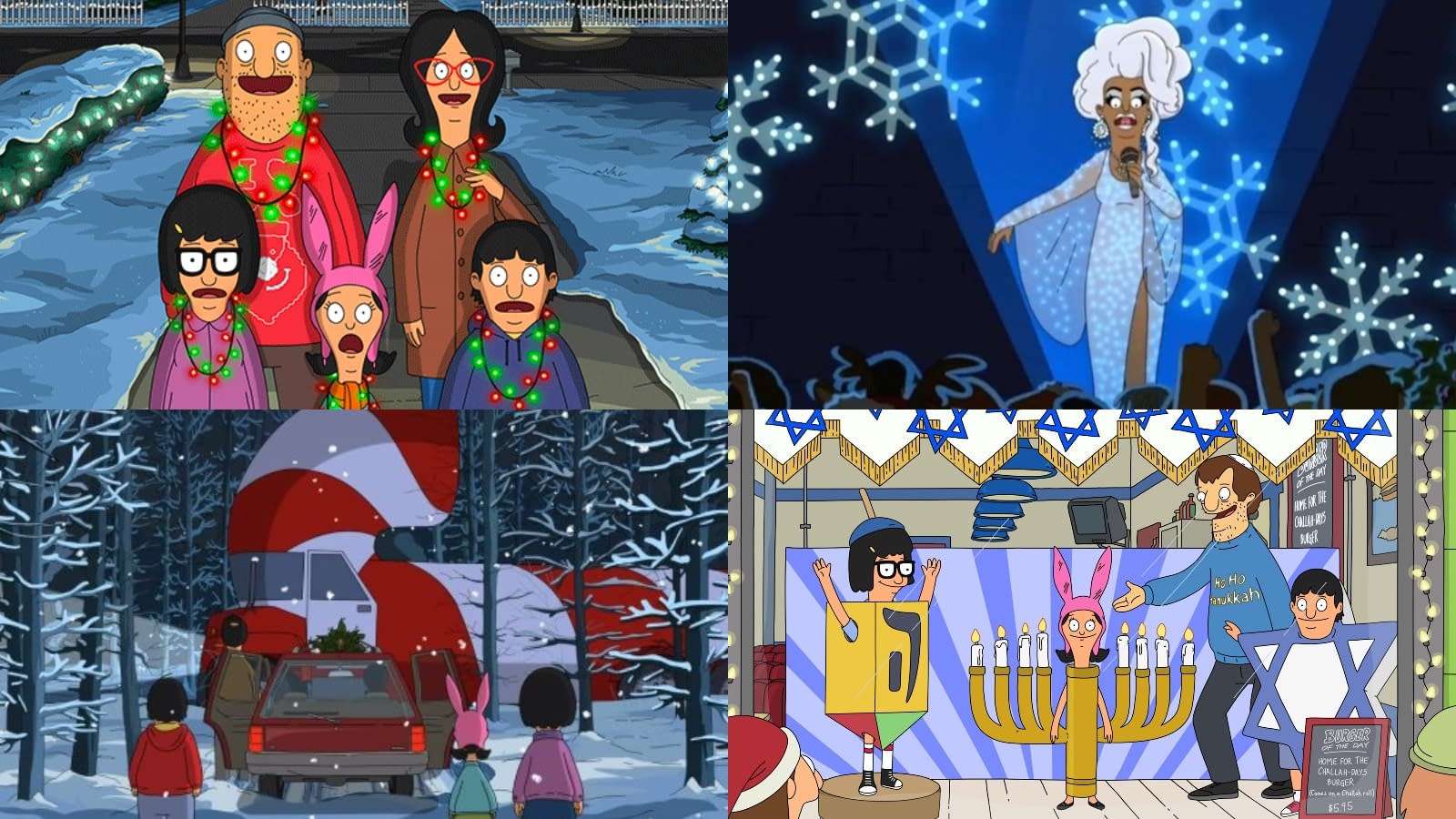 Better than most, the show deals with the realistic prospect of being poor at Christmas (The Simpsons and Griffins always seem to actually have a pretty nice spread at the holidays) and carves out a great place for all the "weirdos" who don't quite fit into your perfect Norman Rockwell Christmas ideal. Whether it's a guy who thinks he's a mannequin, a queer rave singing about Christmas lights, or aloof 1%ers building gingerbread houses – everyone has a place under the tree.
Note: While for many, Die Hard is their favorite Christmas movie – the Die Hard / Working Girl musical is decidedly not a Christmas episode, so it is not included on this list. If it were, it would be #1. Because that episode is fantastic.
On to the list!
7. Father of the Bob
Season 5, Episode 6
Neighboring Store name: "Miracle on 34th Sheets Sheets and Bedding in 34 Colors"
Exterminator: "Not A Creature Was Stirring Not Even A Mouse Pest Control"
Burger Special(s): "Baby You Can Chive My Car, Chrispy Brinkly Burger, Richard Per-Simmons Burger, Greed is Gouda Burger, Cheese is Born"
Score: 5/10
The family visits Bob's dad's diner, Big Bob's Diner, and father-son ravalry plays out because Bob never felt valued by his father. Meanwhile, the kids try to make Bob a present from things they find in the basement, which ends with Gene taking a bath in a box filled with baked beans. Bill Hader plays Big Bob, and Nick Offerman, Carl Reiner and Jordan Peele cameo as diner regulars. This is a good episode, but among the weakest of the Christmas ones because it's so mundane. However, super relatable– who doesn't have family drama at the holidays? But you sort of get the sense Bob is more like Larry David in Curb Your Enthusiasm — if he could just be a little less sensitive and persnickety, he'd have fewer problems.
6. Better Off Sled
Season 9, Episode 10
Neighboring Store name: "Manger Danger Babyproofing"
Exterminator: "Silent Mites Pest Control"
Burger Special(s): "The Smilla's Sense of Snowpeas Burger, The Santa Slaws is Coming to Town Burger"
Score: 7/10
After a record-breaking snowstorm, the kids try to go sledding, only to find the park has been taken over by Logan and the older kids who throw snowballs at the kids. They enlist Rudy's softball pitcher cousin (and a 300 Spartans style use of sleds as shields) to fight off Logan's bullies, who retaliate by bringing in a varsity basketball player to shoot giant snowballs over the shields. This continues an episode-long arms race of snowball fights. Meanwhile, Linda tries to knit scarves for Christmas and she's extraordinarily bad at it– this is the Dunning-Kruger Effect in full force. This is a really fun episode, but it only loses rank on this list because it is the least-Christmasy of all of them, but it ends with a nice message about presents (no spoilers, especially since this only aired a few weeks ago).
5. God Rest Ye Merry Gentle-Mannequins
Season 3, Episode 9
Neighboring Store name: "Cane You Dig It Candy Cane Outlet" (smaller sign: No Licky Loos)
Exterminator: "Silent Mice Exterminators"
Burger Special(s): "One Horse Open Slaw Burger, Santa Claus is Cumin to Town (with cumin)"
Score: 7/10
Bob inherits a storage unit, where they find Chet (Zach Galifianakis), who claims he used to be a mannequin. (It's worth noting this is his first appearance on the show, and would later become a regular guest as Felix, who makes two other appearances on this list. Galifianakis is the Christmas episode MVP) He moves in with the Belchers and helps design displays for their window, which brings in huge amounts of foot traffic and promotion for the restaurant. When Chet tells them about his lost love Nadine, the Belcher children go searching for the lost mannequin and find her… in the window of a sex shop. Even for a show that really embraces the weird, this episode amps up some of the creepy (and not in the good, Halloween way) and so it loses some points here, but it's still really solid and funny. Also? Bonus points for using The Kinks "Father Christmas Give Us Some Money" and The Waitresses "Christmas Wrapping." This show certainly knows its audience.
4. Nice-Capades
Season 6, Episode 5
Neighboring Store name: "You're Missing the Poinsetta"
Exterminator: "The Mice Storm Exterminators"
Burger Special(s): "The Pear Tree Burger (with sliced pears — partridge not included)"
Score: 8/10
The kids unwittingly kick a mall Santa (Henry Winkler) out of a massage chair. When he threatens to put them on the naughty list, they put on a show to convince him they're nice at the ice rink across from Santa's Village. This threat really scares them, especially Louise. One of my favorite things about the Belcher children is how cynical they are on most things, but so childlike and naive when it comes to, say, belief in Santa. The best part of their show includes Mr. Fischoeder and his brother Felix (Kevin Kline, Zach Galifinakis) singing and ice dancing to a song about Christmas liquor– oh bourbon!
3. The Last Gingerbread House on the Left
Season 7, Episode 7
Neighboring Store name: None – this episode does not have a traditional opening sequence
Exterminator: None
Burger Special(s): "Away in a Mango Burger"
Score: 9/10
This is another Fischoeder-brother-heavy episode. Linda convinces everyone to go caroling, but not before Bob has to drop off some food to Mr. Fischoeder's who invited him to be a part of his annual gingerbread house building contest with some of the areas other wealthiest families. Having lost now several years in a row, he promises Bob he won't have to pay January rent if he throws the competition.
Linda, Teddy and the kids go caroling, not finding it to be the magical experience they thought it would be. The only friendly reception they get is from a local weirdo who lives in "The Creepy Murder House," who joins them with his beautiful high tenor voice.
But Bob's competitive spirit takes over and he gets tired of Mr. Fischoeder's insults, so he starts to compete for the grand prize– a snuggle session with a newborn polar bear cub at the local zoo. Of course, things escalate and the gingerbread competition ends with a shootout.
This is such a great message of weirdos finding weirdos at the holidays. And it's also about how the rich are far, far different from you and I and the crazy things they do at the holidays.
2. Christmas in the Car
Season 4, Episode 8
Neighboring Store name: "Nog Nog Who's There? Egg Nog"
Exterminator: "Sugar & Spice and a Lot of Dead Mice Pest Control"
Burger Special(s): none — they are never in the restaurant this entire episode.
Score: 9/10
Lynn sets up the Christmas tree the day after Halloween, meaning it's dead by Thanksgiving. She then sets up another one, which is dead by Christmas Eve, sending them to a tree lot an hour away.
They have Teddy come over to helpfully turn off the oven where a ham is baking, but he ends up getting caught in a trap Louise had set for Santa (the animation when Teddy gets caught is fantastic.), trapping him under the refrigerator. On their way back, a truck that looks like a candy cane continues to menace them – even after Linda "helpfully" tries to honk "Jingle Bells" at them. ("All they hear is honking!")
Meanwhile, all Gene wants is to get through to the radio station to request "Jingle in the Jungle" and spends hours on hold, finally running out the cell phone's battery. While trying to hide from the truck they get stuck in a forest, now resigning themselves to spending Christmas in the car. There is a final showdown with a diminutive trucker (Bobcat Goldthwait) who it turns out is just very sad this Christmas because he's away from his family. Linda gives him their Dutch Baby dessert and all is well as "Jingle in the Jungle" begins to play.
This episode is funny, weird, and ultimately centers on togetherness and family at the holidays, which is a great feeling. Plus, "Jingle in the Jungle" is a song worth staying on hold for hours to request. Why are we debating "Baby It's Cold Outside" and not "Why don't I hear 'Jingle in the Jungle' more often?" I just don't understand.
1. The Bleakening
Season 8, Episode 6 and 7
Neighboring Store name: None – this episode does not have a traditional opening sequence
Exterminator: None.
Burger Special(s): "The Ebeneezer Bleu-ge Burger, Twas the Nut Before Christmas Burger"
Score: 10/10
Linda wants to throw a Christmas party in the restaurant, but has her holiday spirit smashed when someone steals their Christmas tree (and the kids' ornaments) from the restaurant. Oh, and did I mention – it's a musical?!?! The kids believe this is due to the anti-Santa known as The Bleaken and try to track him down. Hearing about other Christmas decoration thefts, the kids track the location to a warehouse downtown where they find an ornament and black feathers. . . and Bleaken tracks! Meanwhile, Teddy hides inside an inflatable snowman to protect his decorations.
After getting an accidental "butt dial" and overhearing the kids' location, Bob and Linda make it to the downtown warehouse and find both the kids and an underground holiday rave. Art the Artist (Adam Driver) stole decorations from around the town to decorate, and everyone is charmed by a drag queen singing a song about "Twinkly Lights." (For more on why this is the official theme song of Christmas 2018, look here).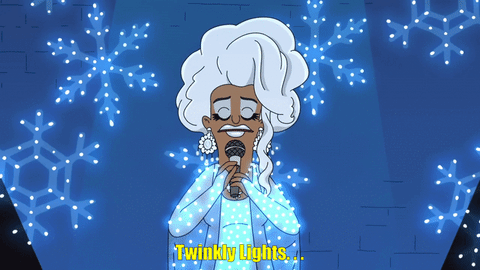 This is the pinnacle of Bob's Burgers during the holiday seasons because sometimes more is more. A double episode that's super-stuffed with songs and cheer but also a touch of darkness that makes it practically perfect. And that "Twinkly Lights" song – a song about light bulbs that's really about inclusion and the value of every person?
Simply the best.

So what do you think about our list? Think the Die Hard / Working Girl musical episode should be on there? Still think Die Hard is the greatest Christmas movie ever? Let us know below!