"Bob's Burgers": We Rank Our Thanksgiving Episode Visits with The Belchers
FOX's Bob's Burgers has the best holiday episodes of any show currently on television. Its Thanksgiving episodes are especially great and rivaled only by Brooklyn-99's love of turkey day. While there are other great animated shows to celebrate (and binge!) over this holiday, it seemed like it was time to dive deep into the Belcher family and Bob's favorite holiday.
The best part of this? Not a single one of these episodes is a turkey. They're all great Thanksgiving episodes. With that, we'll start with the "worst" which is better than your average Thanksgiving episode of anything. Truly, the worst Thanksgiving episodes of Bob's Burgers are the first two seasons when they only ran in the spring and there were no holiday-themed episodes. Oh, and did we mention you can stream all of these on Hulu? Convenient.
8. "Thanks-hoarding"
Season 8, Episode 5
Neighboring Store name: We Lather Together Family Soaps
Exterminator: Mashed Potato Bugs Pest Control
Burger Special(s): The Catch Me if You Cran Burger
Score: 6.5/10
It's a Teddy-centric episode, which is both the strength and weakness of this episode. Overwhelmed at the prospect of hosting for his own family, Teddy enlists Bob to help cook his meal. But when Linda and the kids try to help set up his dining area, they find a room full of hoarded goods. While it's super entertaining to watch the kids play "Find the best thing," it's hard to watch someone deal with something that very clearly causes them a great deal of anxiety. But, it's fun to watch Bob make a second Thanksgiving, complete with both spatchcocking and plenty of spatchcocking jokes.
7. "Gayle Makin' Bob Sled"
Season 6, Episode 4
Neighboring Store name: MAXI PADS: Large Apartment Rentals
Exterminator: The Good, The Bad, & The Bugly Pest Control
Burger Special(s): (none)
Score: 7/10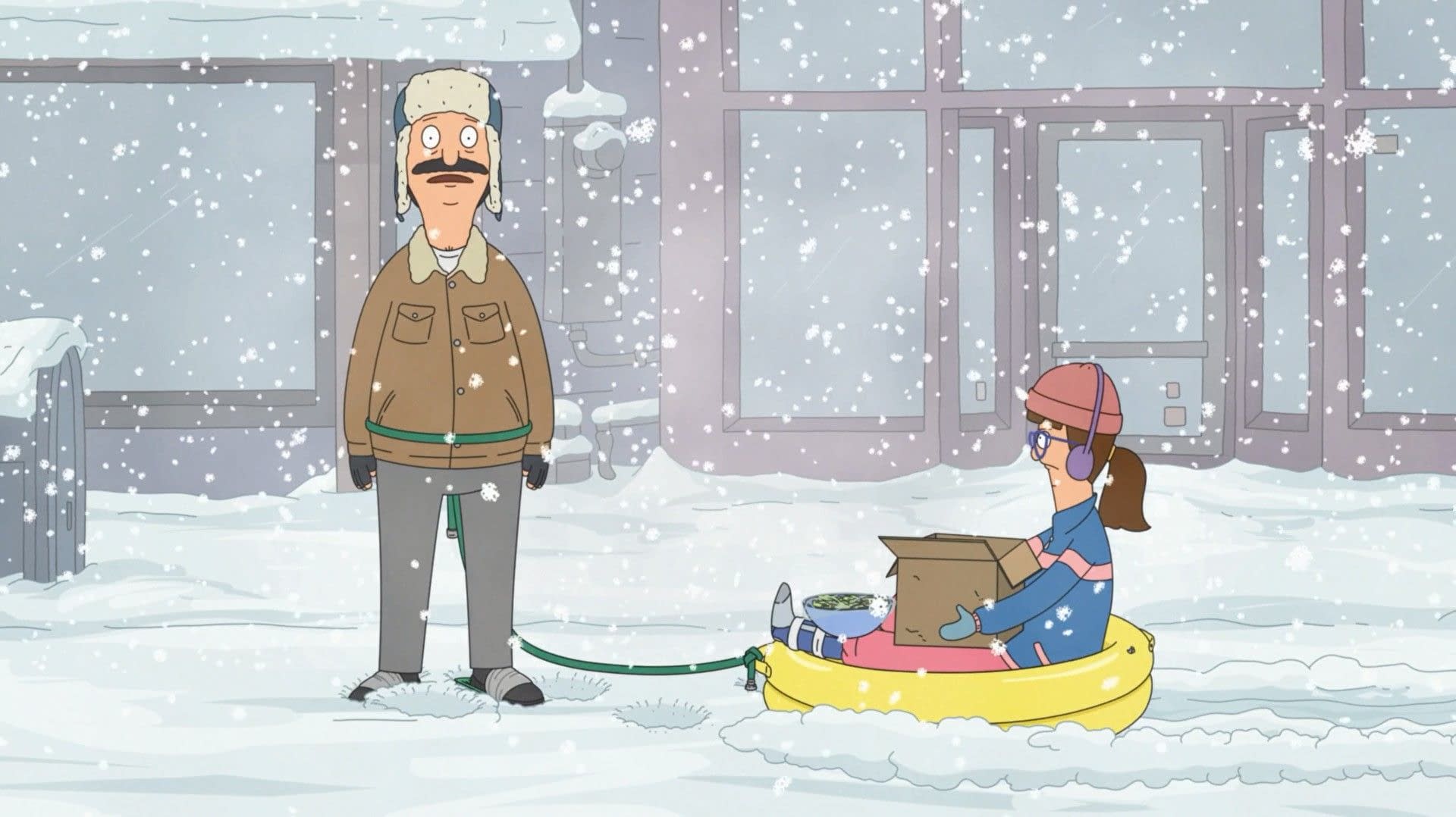 Megan Mullally as Gayle is always a treat, but this episode is the perfect example of how less is more. When Bob has to go pick up Gayle for Thanksgiving in a blizzard and the car is buried by a snowplow, he has to pull her through the snow on an improvised sled made of a kiddie pool. And her cat gets away. And hijinks ensure, but the most important part is that Bob tries to get the family to finish making the Thanksgiving meal, which they are completely unprepared for. It's a fun episode about the lengths we go to when we have to put up with family and their quirks at holidays, but there's just a little too much Gayle.
6. "I Bob Your Pardon"
Season 9, Episode 7
Neighboring Store name: Plymouth Jock: Old Timey Athletic Wear
Exterminator: To Kill a Shocking Bug
Burger Special(s): (none)
Score: 7/10
When the Deputy Mayor screws up the town turkey pardoning, it's up to the Belcher kids to rescue the turkey, now doomed to be sent to a *whisper* slaughterhouse due to bureaucratic ineptitude. While I enjoy the political overtones of the episode, it's mostly a pretty straightforward adventure and nowhere near the zaniness and darkness we get from some of our best episodes.
The real center of the episode is, as with many others, Louise's struggle to admit her feelings of empathy for other people and things, this time based around the turkey. The other business in the episode also revolves around Bob wanting real cranberries for his sauce, which culminates nicely when they find a cranberry bog at the farm where they take the turkey. As a fun callback, it's the same farm with the two-butted goat from "Stand By Gene."
5. "Now We're Not Cooking With Gas"
Season 10, Episode 8
Neighboring Store name: With Great Whisk Comes Great Reward Cooking Classes
Exterminator: It Must Be Mice
Burger Special(s): (none)
Score: 7.5/10
This year's episode revolves around Bob finally getting the heritage breed turkey he's obsessed about after years on a waiting list. But when the gas is shut off for the entire block, he is forced to roast the bird in the alley over an open pit.
So much of Bob's Burgers is about watching Bob obsess over something and be disappointed or blocked in some (usually inane) way. This is just such an episode, and it also balances it well with a side plot of the kids being sent out to find more things to burn to keep the fire going. Linda also spends part of the episode looking for things to burn in the house and instead gets lost in old drawings and crafts the kids made that she saved. It brings a lot of sweet to the heavy salt of this episode.
4. "An Indecent Thanksgiving Proposal"
Season 3, Episode 5
Neighboring Store name: Colonial Baloney (Smaller sign: Get Your Thanksgiving Baloney Now!)
Exterminator: The Last of the Mousehicans Pest Control
Burger Special(s): (none)
Score: 8.5/10
Any episode is better with Mr. Fischoeder (Kevin Kline), as the not at all subtle classist satire is usually incredibly deft. This is on full display here, as Calvin asks if he can "rent" the Belcher family for Thanksgiving to impress an old flame. And by impress, I mean seduce, because she is a notorious homewrecker and will only want him if he's married and can break up his marriage.
There's multiple things going on in the episode, not the least of which is that Bob gets high on absinthe while cooking Thanksgiving dinner. This leads not only to a hallucination in which we get the best My Neighbor Totoro reference ever (this was the exact moment I fell in love with Bob's Burgers) and then the comedy of errors culminates with a shootout chase through the mansion. The rich truly are different, aren't they?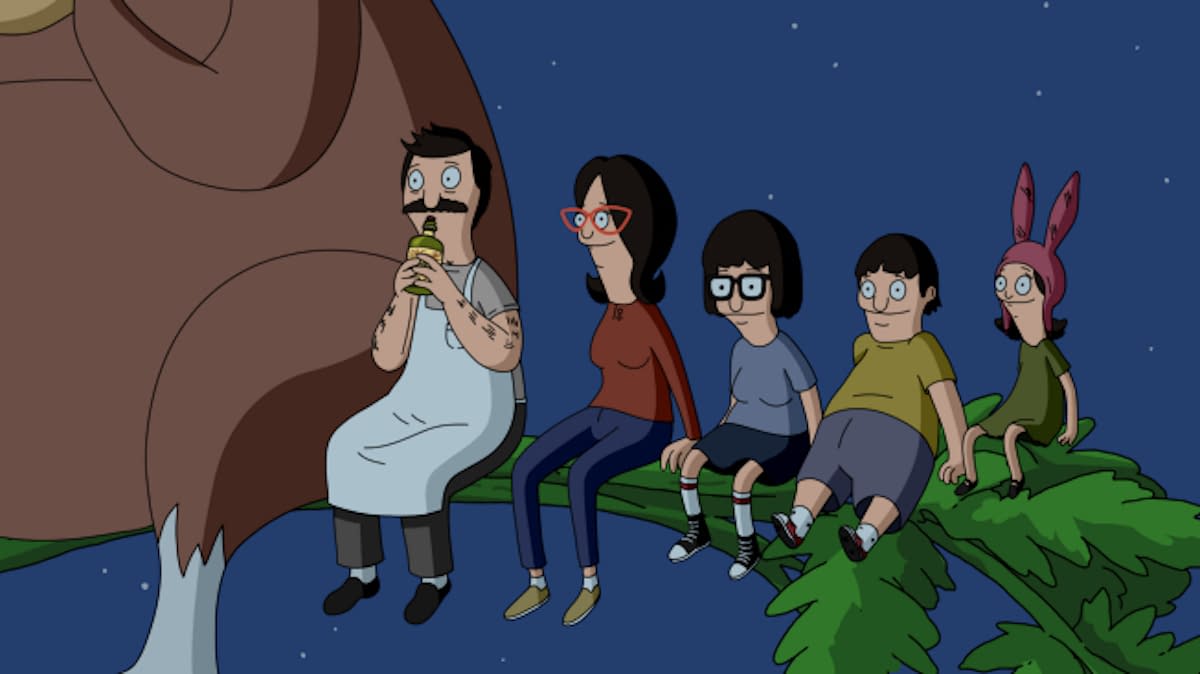 But my personal favorite part of the episode is that Mr. Fischoeder is bribing Linda and the kids even more, that for things they say and do that he likes, he is paying them extra. Louise playing sweet is always adorable, especially because we see how rehearsed and acted it is. But even funnier is how bad and awkward Tina is. Tina doing awkward mixed with sincere is the special sauce of the show (see #1 and #2 on this list), and this episode nails it like the perfect amount of sage in your turkey.
3. "Dawn of the Peck"
Season 5, Episode 4
Neighboring Store name/Exterminator/Burger Special(s): (none)
Note: This episode has a cold open and doesn't include the normal opening sequence, instead going directly into a scene which references the opening to Jurassic Park.
Score: 9/10
Bob's Burgers is especially good when it gets surreal, and this episode is a great example. Trying to follow many of the tropes of a zombie apocalypse movie, instead the culprits are a bunch of unruly turkeys who run wild over the town after being let loose at the town's Thanksgiving celebration.
Bob, however, is boycotting and stays home and listens to Donna Summer – which really makes this episode. So do the terrible carnival rides, and the proper deployment of both Teddy and the Fischoeders as side characters in the perfect amount. Also any episode where Regular-Sized Rudy gets to be a hero is good in my book.
2. "The Quirkducers"
Season 7, Episode 6
Neighboring Store name: Let's Give Them Stuffing To Talk About
Exterminator: From My Coal Dead Ants Pest Control
Burger Special(s): Jagged Little Dill Burger
Score: 9.5/10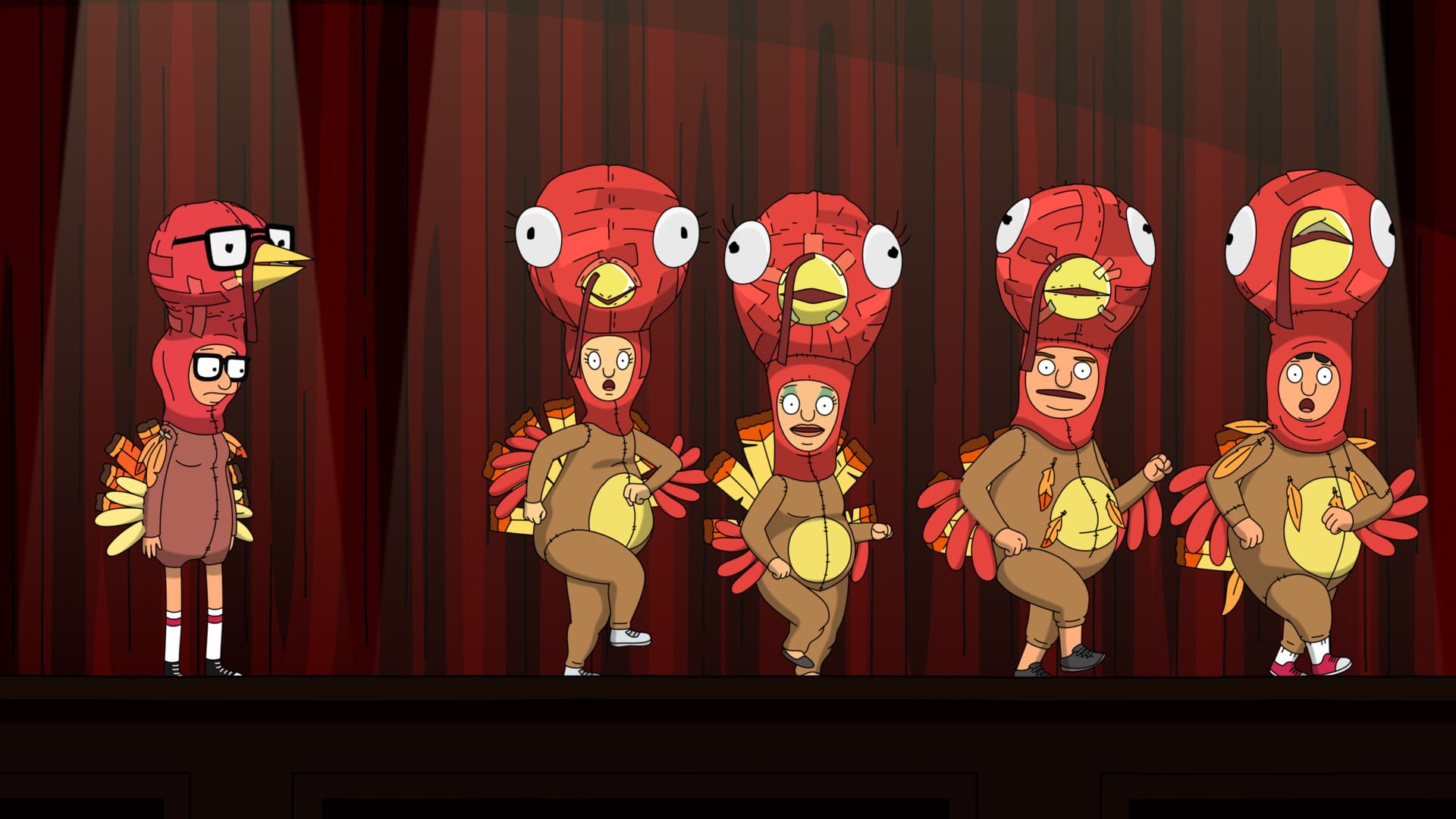 The only reason this episode isn't #1 is that the idea of the kids putting on a show was done even better in "Work Hard or Die Trying, Girl" and "Topsy." But still, just a turkey's feather off the lead is this gem where Tina writes and directs a play called "The Quirky Turkey" where she confronts the neglect and bullying by her peers in a way that is both beautiful and disturbing.
Gene and Louise play this beautifully as well, trying to parlay the play into getting part of the day off before Thanksgiving, but end up getting emotionally invested by the end. The "what have we done" realization is always fun with these two, and then realization that they'll have to clean up the fake blood and turkey guts from the play hits even harder.
Oh, and Linda finds a potato she thinks looks like her grandfather. It's the perfect running gag.
1. "Turkey in a Can"
Season 4, Episode 5
Neighboring Store name: Dr. Rangelove Stove Store
Exterminator: Oh No You Rodon't Exterminators
Burger Special(s): (none)
Score: 10/10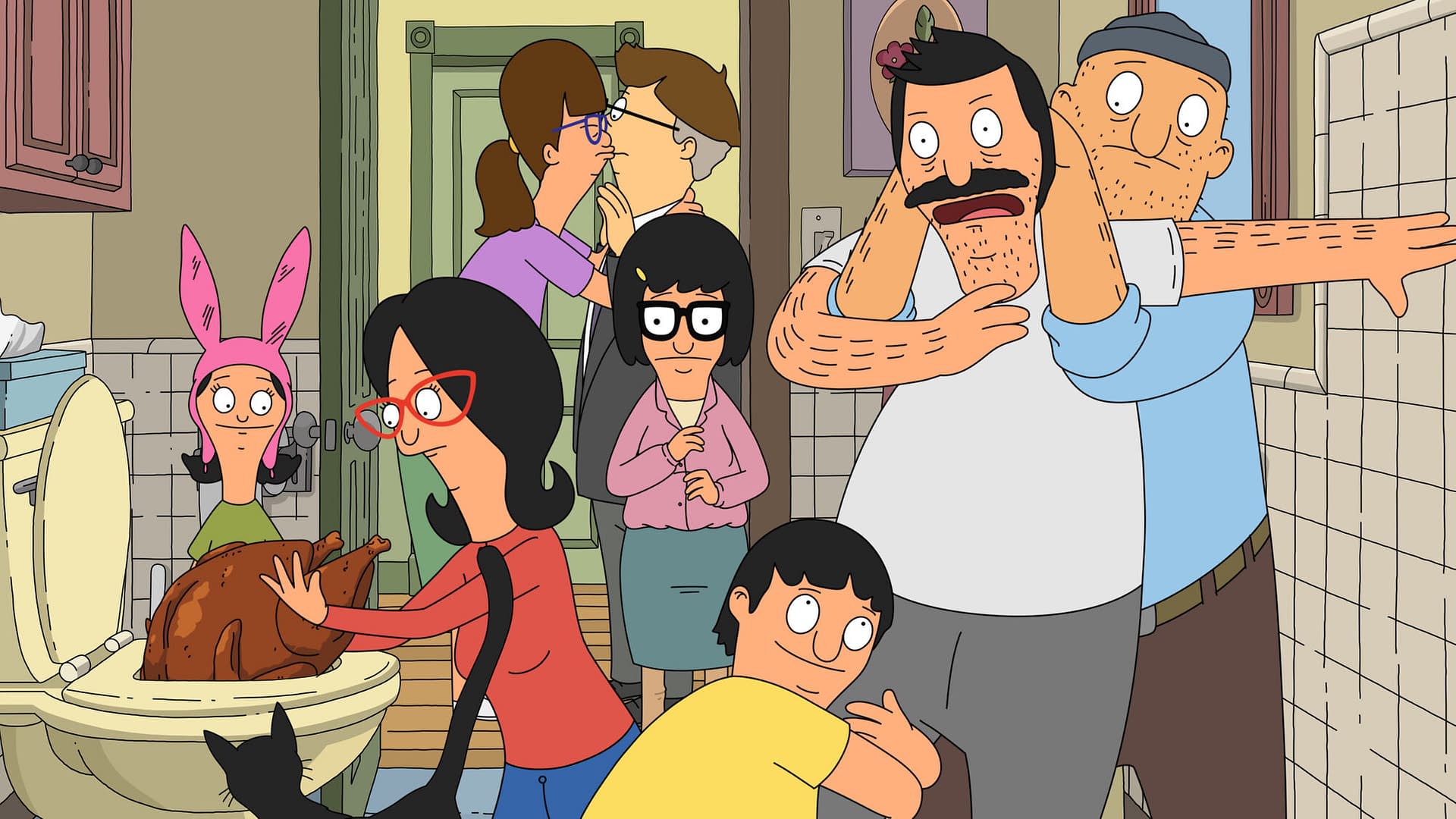 This episode is the top of the heap because of its excellent mix of everything Bob's Burgers does well. First, the bizarre. Someone keeps putting Bob's turkey in the toilet. It becomes a mystery and Louise plays detective, even though everyone suspects her in the first place. Second, the sweet. Tina is trying to graduate from the kids table to the adult table, and it's really adorable to watch her trying to play act as what she thinks an adult is. Third, the hilarious comedy of errors. The guy at the grocery store who thinks Bob is hitting on him. Bob's obsession with preparing his turkeys and talking to them. Fourth, we get the perfect amount of the side characters we want here: Aunt Gayle, Teddy, and Mort all make appearances and wackiness ensues.
But [spoiler alert] this episode is, at its heart, about a dad who loves his kids and what happens when he gets high on allergy medicine and sublimates his anxiety about his children growing up into play acting with a raw turkey. It's sweet. But it also involves the toilet. This is prime Bob's Burgers.
And with that, don't forget it's almost time to celebrate Christmas again, and what better way to do that than with "Twinkly Lights", the holiday theme we all need about light bulbs, drag queens, and diversity/inclusion? Oh, and we made another list of the best Bob's Burgers Christmas episodes last year. Happy Thanksgiving!