Let's Talk About The X-Files Season 11 Episode 8, 'Familiar'
The time has come for another classic The X-Files style belief vs skepticism episode, "Familiar". If you missed last week's tech-heavy yet minimalist episode, you can read about it here.
In season 11's 8th episode, Mulder and Scully investigate the brutal animal attack of a little boy in Connecticut while suspecting darker forces are at play. Also, there's a scary AF doll.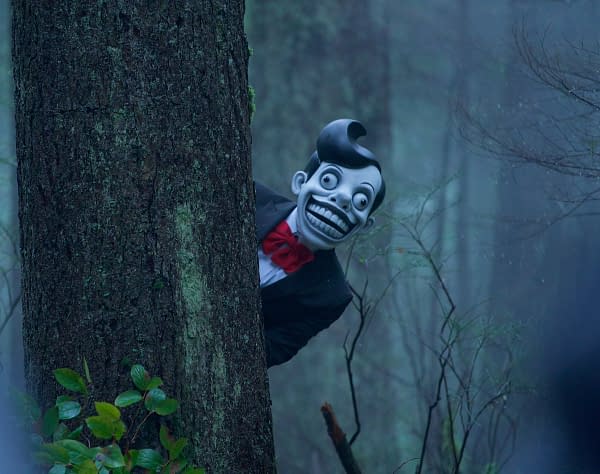 One important thing to point out about "Familiar" is the director. Holly Dale, who has a long list of TV series (like The Americans, Dexter, Cold Case, and Flashpoint just to name a few) under her belt is now the third woman to direct an episode in the series. Yup. The third. Across 11 seasons.
A little history- and then we'll dive into the episode because that's what you're here for, right?
The first woman to write AND direct an episode of the series was none other than Agent Dana Katherine Scully herself, Gillian Anderson. The season 7 episode 17 "All Things" was such a beautiful story for Scully, it remains one of my favorite in her narrative. Then 2 seasons later comes season 9 episode 7,"John Doe", directed by Michelle MacLaren (Breaking Bad, The Walking Dead, Game Of Thrones). That brings us to season 11. So, maybe if we get another two seasons of the show, we'll get another female director?
Ok, so things that happened in The X-Files s11e8 "Familiar":
it starts with a child singing to his scary doll while his mom has a bad phone call
Andrew, the kid, sees a human sized version of his doll Mr. Chuckleteeth beconing him into the forest. He follows it.
cut to later that night, where a group of police are combing the same forest looking for Andrew, and they find the doll, covered in blood
The local police tell Mulder and Scully that the boy was killed by an animal attack, even though the cause of death is a crushed windpipe
The likely culprit is a coyote/wolf hybrid they say
"Thanks for backing me up out there," Scully says. "Yeah, you're my hommie." Mulder responds
So classic X-Files here, Scully trying to explain the happenings with science and Mulder jumping right to witches
As Scully is examining the body, Mulder notices something on the boy's feet, he thinks it's salt
The FBI agents speak to a young girl who may have seen something, but she's watching a weird alien-teletubbies thing
Mulder looks at the books on the little girl's mom's bookshelf, which is filled with Witch lore and histories.
The little girl calls to her mom and points to the tv, and Mr. Chuckleteeth is on the show.
How do kids watch this? 😮#TheXFiles pic.twitter.com/SZua8xWNZe

— The X-Files (@thexfiles) March 8, 2018
Creepy. AF.
Ah, I see we're back to the breathless Scully
She confronts one of the local Police Officers who is adamant that the boy's father (who is in law enforcement) couldn't possibly be the killer
They go to check on him, and he's notably freaked out, pulls a gun on both Scully and the officer
Mulder is out in the forest and comes face to face with a big wolf
Mulder and Scully track down the actor who plays Mr. Chuckleteeth, who has a monkey in a cage and big giant shoes
Back at Emily's (the little girl) house, it's lunch time and one of the not-teletubbies shows up outside her window and she follows it
It looks like things don't end well for Emily- the girl's body is found in the same forest area as Andrew's
Mulder finds salt at the scene, he brushes away leaves from the ground and uncovers a huge salt circle
Scully reminds him it's a crime scene, and he continues to talk about 17th century witches (so typically him)
The Chief reveals that while he has been an adulterer, he is not an 'evil' man. He was having an affair with Andrew's mom when the boy wandered off
A mob tries to take down the man who plays Mr. Chuckleteeth, and one of the policemen shoots him in the head
"Time has a way of shining light on injustices, especially in this part of the country," Scully says outside the courthouse where the shooter gets a $5k bail
Andrew's mom leaves her husband (after he calls her a witch) and gets into a pretty bad crash
Edgars and the Chief have a showdown in the doorway of Chief's house, and a gunshot is heard as it fades to black
Our favorite doll has returned. #TheXFiles pic.twitter.com/5oL347uMLy

— The X-Files (@thexfiles) March 8, 2018
Mulder and Scully show up right after the firefight, and Edgars has been killed.
There's salt at the scene, and in the house, the Mr. Chuckleteeth show is playing
The Chief goes to the forest, and finds his wife Anna in the middle of a circle of candles.
She admits it was all her doing, that she wanted to curse her husband for his cheating, not cause death
the hellhound comes out of the darkness and attacks the chief
Anna tries to finish closing her spell, but bursts into flames
The Grimoire doesn't burn (duh it's magic), and Scully gives it to the helpful local officer
Mulder and Scully climb into their car, to leave the town and the local playground's merry-go-round starts turning with no one on it.
Join us next week for episode 9!