Lobo Wants in On the Fun in SYFY's Official 'Krypton' Season 2 Trailer
Nearly a month ago, fans of SYFY's Superman prequel-series-with-a-time-twist Krypton were treated with a teaser first-look at the upcoming sophomore season… and from the looks of it then, things weren't looking too promising for The Grandfather of Steel Seg-El (Cameron Cuffe). With the series set to return on June 12th, the cabler released the first full-length official trailer – and if you thought it was a bad day to be a hero before?
Better strap on that cape and hold on tight… becuase if the expected "big bads" weren't bad enough? There's always Emmett J. Scanlan's Lobo.
Good luck with that…
Here's a look at SYFY's first official trailer for Krypton season 2, which once again puts the spotlight squarely on the villains, with Zod now holding the reigns on Krypton and Seg-El looking to rally a resistance to take back their home planet and save Krypton's future. But with other forces at play and different personal agendas slowly being revealed, can our hero save his planet – and himself – in time?
What if Superman never existed? Set two generations before the destruction of Superman's home planet, "Krypton" follows Seg-El (Cameron Cuffe), the legendary Man of Steel's grandfather, as a young man who fights to save his home planet from destruction.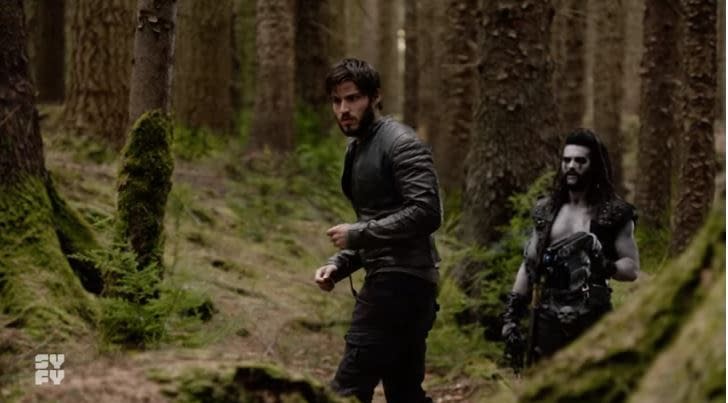 Season 2 brings us back to a changed Kandor, locked in a battle over its freedom and its future. General Dru-Zod (Colin Salmon) is now in control. He's on a ruthless mission to rebuild Krypton according to his ideals and to secure its future by conquering the universe. Faced with a bleak outlook, our hero, Seg-El, attempts to unite a dispersed group of resisters in an effort to defeat Zod and restore hope to their beloved planet. Their chance at redemption is threatened however, by their opposing tactics, shifting alliances and conflicting moral boundaries – forcing each of them to individually determine how far they're willing to go in pursuit of a better tomorrow.
Krypton is from Warner Horizon Scripted Television and is executive produced by David S. Goyer (Man of Steel, Batman v Superman: Dawn of Justice, The Dark Knight Trilogy) through his Phantom Four banner, alongside Cameron Welsh(Constantine, The Last Ship), who serves as showrunner. Based on the DC characters created by Jerry Siegel and Joe Shuster, the series stars Cameron Cuffe (The Halcyon) as Seg-El, Georgina Campbell (Broadchurch) as Lyta-Zod, Shaun Sipos (The Vampire Diaries) as Adam Strange, Colin Salmon (Arrow) as General Dru-Zod, Ann Ogbomo (World War Z) as Jayna-Zod, Aaron Pierre (Britannia) as Dev-Em, Rasmus Hardiker (Your Highness) as Kem, Wallis Day (Will) as Nyssa-Vex, Blake Ritson (Da Vinci's Demons) as Brainiac, and Ian McElhinney (Game of Thrones) as Val-El.