Lucifer fans are starting to know what it's like to be a fan of The Mandalorian with the waves of good news they've been receiving lately. The series is set to return for its fifth season on August 21, and now a sixth season has officially been confirmed, also. Showrunners Ildy Modrovich and Joe Henderson signed new deals, with Modrovich set to direct an episode during the fifth season and Henderson revealing that the season 6 writers' room was already meeting. The duo even dropped some intel on the fifth season's black-and-white, 1940s-based episode "It Never Ends Well for the Chicken," which offers a noir-stylized look back at Lucifer's (Tom Ellis) time in Los Angeles as well as new details on Maze's (Lesley Ann-Brandt) past.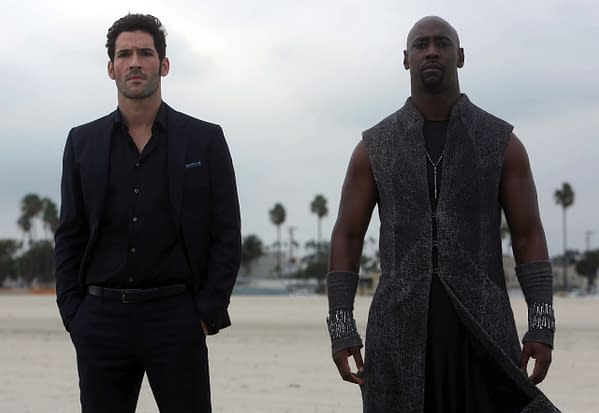 Now it looks like The Devil will have his brother with him for the sixth season- on both sides of the camera. D.B. Woodside (angelic older brother Amenadiel) took to Twitter on Sunday to announce that he was returning to the popular streaming series for its sixth season. In addition, Woodside will also be spending an episode of the "final" season in the director's chair.
Happy to announce that I will be returning to Lucifer for season 6. Additionally, I will be directing an episode for our final season. ❤️This is a beautiful cast. We stand by each other. We fight for one another.

So… let's get to work. ✊🏾#AngelTrainingBegins@LuciferNetflix

— DB Woodside (@dbwofficial) July 5, 2020
Ellis wasted little time jumping on Twitter to voice his excitement over Woodside's return and support for his run behind the camera:
Yes Brother…! Utterly delighted and excited to get back alongside you both in front of and behind the camera❤️#Lucifer ✊🏿✊🏼😈 https://t.co/F0S7qTng1h

— tom ellis (@tomellis17) July 5, 2020
Lucifer makes a tumultuous return, Chloe rethinks romance, Ella finally finds a nice guy, and Amenadiel adjusts to the whole fatherhood thing.
Here's a look back at the shooting script info tweet sent out to usher in the title of the season 5 opener, sporting the curious-sounding title "Really Sad Devil Guy" – written by executive producer Jason Ning (The Expanse) and directed by Eagle Egilsson (Gotham). Following the opener, viewers can look forward to "Lucifer! Lucifer! Lucifer!", "¡Diablo!", "It Never Ends Well for the Chicken", "Detective Amenadiel", "BluBallz", "Our Mojo", "Spoiler Alert", "Family Dinner", "Bloody Celestial Karaoke Jam", "Resting Devil Face", "Daniel Espinoza: Naked and Afraid", "A Little Harmless Stalking", "Nothing Last Forever", "Is This Really How It's Going To End?!", and "A Chance at a Happy Ending" (so much to unpack in that run of titles).
What? A sad 😈 guy? Who could that be @jkning ? 🤔 #LuciferSeason5 #lucifer pic.twitter.com/MRLsCGoBNV

— Lucifer Writers Room (@LUCIFERwriters) August 29, 2019
Enjoyed this article? Share it!