Posted in: Netflix, Review, TV | Tagged: entertainment, Erik LaRay Harvey, Marvel's Luke Cage, Mike Colter, netflix, television, Theo Rossi
---
Marvel's Luke Cage Season 1, Episode 13 Recap: You Know My Steez
This article contains spoilers for the Marvel's Luke Cage season 1 finale, 'You Know My Steez'.
.
.
.
.
.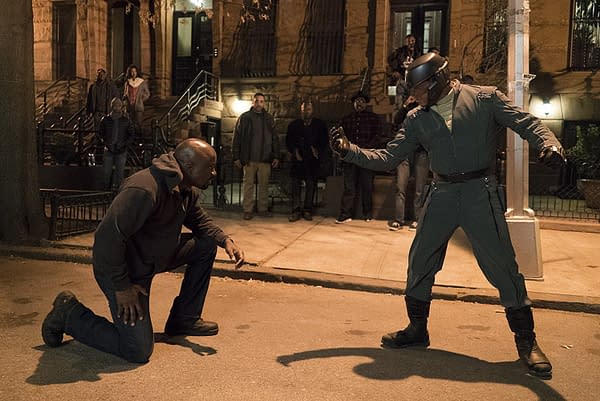 This episode begins with a flashback of young Willis Stryker (Jared Kemp) working with young Carl Lucas (Clifton Cutrary) on how to box. They talk about some guy that Carl wants to beat up because he hit him. Willis tries to talk Carl out of it, but Carl can't let it go, because he's a Lucas. This stings Willis, but he says nothing.
We the jump to the future where Luke Cage (Mike Colter) is fighting Willis "Diamondback" Stryker (Erik LaRay Harvey), and their friendship is long gone. Diamondback is wearing a Hammer Tech suit designed specifically for him to fight Luke. They're tearing up the barbershop and when one of the chairs flies through the window, people on the street see, and now they have an audience.
We cut to see Maria Dillard (Alfre Woodard) and Hernan "Shades" Alvarez (Theo Rossi) get to their car and Shades realizes he doesn't have the folder with the evidence to clear Luke. Mariah tells him not to worry about it and tells her assistant to call the press. She knows Misty Knight (Simone Missick) is going to arrest her, but she's going to spin it all in her favor.
Misty is outside the shop trying to keep people back, and she realizes she has lost her phone in the shop. While fighting, Luke is still trying to get Diamondback to calm down and forget the past. He doesn't really want to hurt his brother. We cut to Claire Temple (Rosario Dawson) home with her mom, seeing the fight on the news. She heads down there, leaving Candace (Deborah Ayoringe) with her mom.
They continue to fight, and we cut to another flashback of their younger versions boxing, then back to them fighting up the stairs, and Luke is knocked out of the window and down onto the street. Diamondback follows and starts getting big hits in on Luke. The audience grows and there are now cameras filming the fight. The audience is commenting and getting behind Luke.
ESU arrives and sets up with their new guns. Everyone is showing up, including Claire. Mariah is working the reporters, naming dropping Carl Lucas and saying that it's a fight for the very soul of Harlem. Luke stops, telling Diamondback that he's tired of paying for his father's sins. He tells Diamondback that when Luke went to Seagate, their father called him a mistake too. He tells Diamondback that if he wants him dead, then do it already.
Cut back to the younger versions boxing again and we see Carl using a technique of taking punches to tire out his opponent the same way that Luke is doing with Diamondback… except it was Willis that taught him that move.
A big punch sends Luke into a van. Diamondback staggers back, obviously tired. Luke sees Claire, who tells him to remember who he is. The crowd starts chanting "Luke". We see young Carl suddenly opening up on his boxing opponent with full energy, getting in a ton of punches, and we see Luke get a few good shots on Diamondback and then hitting him with an uppercut that sends him flying. He's done and being taken off on a backboard. Misty arrests Mariah for the murder of Cottonmouth.
Luke gets a moment alone with Claire before Misty tells him he needs to get to the station and make a statement. Bobby Fish (Ron Cephas Jones) brings him a new shirt and hoodie, commenting on how many of them he owns. The head for the precinct.
Cut to Candace and she gets a text from Misty telling her to meet her so she can bring her in. At the station, Mariah is booked and put into an interrogation room to wait.
Misty takes Luke's statement with Claire by his side. He tells her about the trip to Georgia because of the Judas bullets and needing Burnstein. He tells her that he got involved because they killed Pop. He talks about how you can't just sit back and ignore the problems. That people are afraid and needed someone to step up. That's why he took down Crispus Attucks. The other cops are all listening and seem impressed. He then talks about Harlem as the pinnacle of Black art and politics — a shining light to the world. He says Pop's mantra, "Never backwards, always forward."
Ridley questions Mariah, and she puts on the tears and tries to blame everything on Diamondback. When she's done telling her story, Misty walks in, calls her a liar, and starts laying down the physical evidence. How Cottonmouth had been struck by a bottle then pushed through the window. He'd then crawled toward the stage and had been beaten by a mic stand, and one was missing from Harlem's Paradise inventory. She then plays part of the Candace recording saying Mariah did it. Misty feels like she's got Mariah, but then is called out of the room and is told that Candace is dead — someone used Misty's lost phone to lure her out and kill her in front of a bodega. She's furious and screams at Mariah, but without Candace they don't have a case. Mariah tells Ridley that Diamondback killed Cottonmouth and they need to keep him in custody… then she leaves. Ridley goes off on Misty for not bringing Candace in — for trying to protect her alone and getting her killed.
Luke and Claire are eating and talking about the future, but Luke just wants to relax. He flirts with her, badly… and they talk about getting some coffee. Luke goes to Mariah and asks about the file. She says, "What file?" and walks off. And just when you think it's as bad as it gets, the Marshall come to take Carl Lucas back to Seagate. He tells them he'll go — he's tired of running. Claire kisses him, finally. She then says she knows a really great lawyer she'll call. Luke goes with the marshals.
Mariah gets picked up by Shades and her assistant. Shades gives her Cottonmouth's gun, the one he used to kill Candace with. Misty goes to see Candace's body. Claire is walking home and sees an ad for a martial arts class taught by Colleen Wing. Bobby Fish is back at the barbershop and finds the folder with the evidence to clear Luke. Mariah fixes up Harlem's Paradise, takes over Cottonmouth's office, and kisses Shades. Misty goes into the club — undercover, like when the season began. And we see Dr. Burnstein going in to visit Diamondback in the hospital. Then back to Luke, who says, "Sometimes backwards to move forwards… always."
The Verdict
I'll do an overall review of the series tomorrow after having watched it a second time. But my thoughts on this episode are mixed. I thought the fight with Diamondback was a bit over the top, especially compared to how grounded the series was in the beginning. But I think Diamondback was over the top as well, compared to Cottonmouth.
The flashbacks between Willis and Carl worked against the story in that we see how close the two of them were. Willis was looking out for Carl, and now he's trying to kill him. The two don't connect. We're supposed to take that he went to prison and his mom dying while he was gone as enough for him to become the crazy, bible-quoting villain we got at the end?
I also wonder about the ending. Candace dies, Mariah and Shades get away with it… did Luke really need to go back to prison? Yes, Bobby Fish found the evidence, but it was such a downer ending that Luke didn't take out Pop's killer or the man who employed him. He didn't bring down Mariah. The only thing he did was beat up his crazy brother and then get sent back to prison. And it's not like they did any stories of him back in prison — he immediately got out in The Defenders. It was a wonderful meal with a disappointing dessert.
---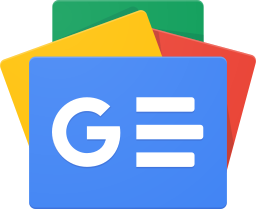 Stay up-to-date and support the site by following Bleeding Cool on Google News today!