Maisie Williams, Joe Dempsie Talk THAT 'Game of Thrones' Season 8 Scene [SPOILERS]
Hopefully you've caught up on this week's Game of Thrones season 8 episode 2 "A Knight of the Seven Kingdoms" because thar be spoilers here. Seriously, if you don't want to know what happened, maybe catch up before reading this.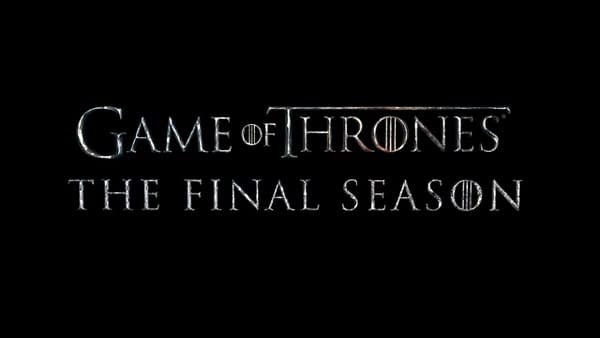 If you'll recall, our favorite murderchild Arya Stark (Maisie Williams) got to experience of the wonders of adulthood- being intimate for the first time with a notable blacksmith Gendry (Joe Dempsie) on the eve of battle.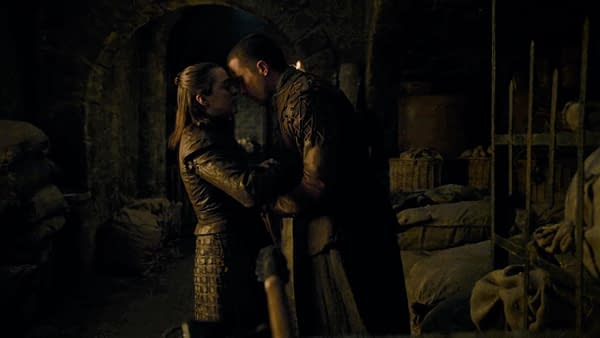 This scene, oddly enough, has been a divisive moment in the series, which has been rife with incest, rape, murder, and any number of depictions of cringe-worthy things. For many viewers, it was the choice to have Arya appear nude (albeit very tastefully) in the scene. This is a young lady we've seen grow up from a child of 12, and that's enough to make even the most ardent of Game of Thrones fans a little uncomfortable.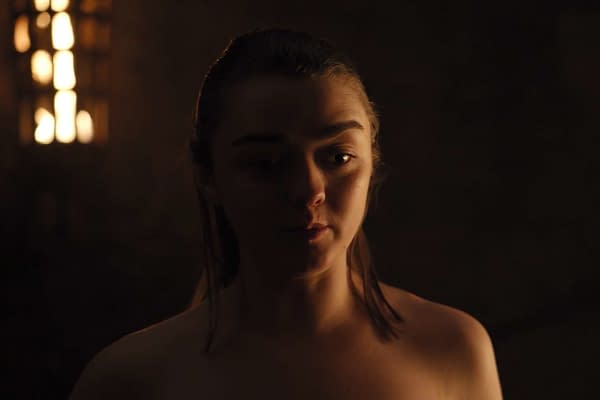 Williams also apparently thought the scene was a prank showrunners David Benioff and Dan Weiss were trying to pull on her, as she told Entertainment Weekly.
"At first, I thought it was a prank. I was like, 'Yo, good one.' And [David and Dan were] like, 'No, we haven't done that this year.' Oh f—k! I got to the read-through and I'm reading the scene and thought, 'Oh, we're actually going to do this. When do I shoot this? I need to go to the gym.' A whole list of things."
As to the actual building of the scene, Williams revealed that the showrunners left if up to her to show as much or as little as she wanted.
"David and Dan were like: 'You can show as much or as little as you want'. So I kept myself pretty private. I don't think it's important for Arya to flash. This beat isn't really about that. And everybody else has already done it on the show, so…

In the beginning, everyone was really respectful. No one wants to make you feel uncomfortable which kind of makes you feel more uncomfortable, because no one wants to look at anything that they shouldn't look at, which in turn makes you feel like you look awful because everyone is kind of like [Williams averts her eyes]. You want people to act more normal.

Then [the scene] was rushed. We were [directed by] David Nutter, who has a habit of speaking fast anyway. By the end we're rushing to finish the scene and David is going, 'Okay, you're going to come in and do this and do that and, great, take your top off' — and then walked off. And I'm like … 'Okay. Let's do it.'"
Dempsie also touched on his feelings with the scene, saying "It's obviously slightly strange for me because I've known Maisie since she was 11, 12 years old [Joe is 31]. At the same time, I don't want to be patronizing toward Maisie — she's a 20-year-old woman. So we just had a lot of fun with it."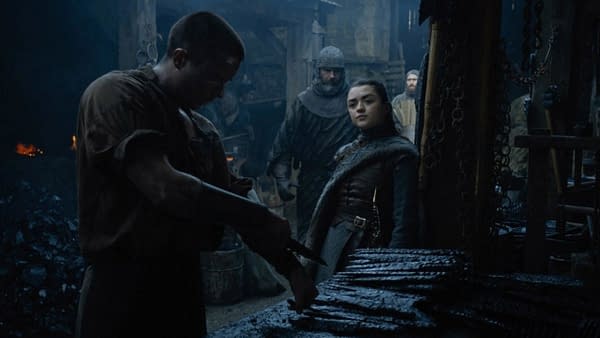 What it all really boiled down to for Arya is the adage that her old dancing master Syrio Forel taught her, "not today", and having a human relationship. Williams continued:
"It was really interesting because it's a very human relationship for Arya. This is something she's stayed away from, an emotion we've never really seen her engage with. David and Dan were like, 'It's the end of the world, what else would you have her do?' This may be is a moment where Arya accepts death tomorrow, which she never does — 'Not Today.' So it was that moment where she says, 'We're probably going to die tomorrow, I want to know what this feels like before that happens.' It's interesting to see Arya be a bit more human, speak more normally about things people are scared of."
Game of Thrones 8th and final season continues for just 4 more Sundays on HBO. Here's a preview of next week's episode 3: