Marvel's Cloak & Dagger Season 1, Episode 1 Recap: First Light
This article contains spoilers for Marvel's Cloak & Dagger season one episode – First Light.
.
.
.
.
.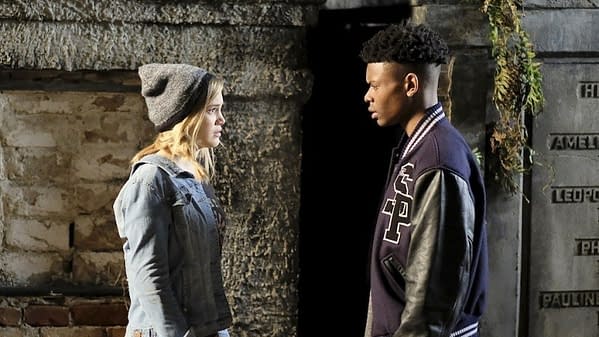 Last night we got the premiere of Marvel's Cloak & Dagger and it starts with flashback where we meet eight year old Tandy in her dance class and eight-year old Tyrone (wearing an oversized hoodie) seeing his brother getting hassled by his friends for not stealing a car radio. Thinking his brother is afraid, Ty steals it for him. Tandy's father picks her up and we learn that her mom was supposed to be it at home and there is a mention of her doing pills. Her father gets a call and starts talking about issue with a oil platform and the company he works for, Roxxon. Ty gives the radio to his brother, who is about to return it when the cops show up and they run. Everything goes wrong from as the oil platform starts to collapse, Tandy's dad can see it from the bridge their driving on and ends up being run off into the water when it explodes. At the same moment, the cops have their guns on Ty's brother and shoot in response to the explosion. Ty dives into the water after him, but he's already dead. Tandy is trapped in the car with the water filling up and her dad is either dead or out could. Then there is a wave of energy that goes out and hits them both. Ty ends up saving Tandy… and we have their origin.
We jump ahead eight years and Tandy goes into a club, finds a rich kid mark and goes back to his place where she drugs him and then lets her friend in so they can rob the place. Ty's playing basketball and not getting the fouls even though he's being manhandled. He ends up decking the other kid and a fight starts. We follow Tandy back to her place, which is an abandoned church and we see her put on an oversized hoodie, snort some drugs, put her head phones on and goes to sleep. Ty goes home and also seems very alone in his family's house, he puts his headphones on and goes to sleep.
We cut back in time to see Tandy's house being torn apart by Roxxon employees and we learn that her dad is being blamed for the explosion on the platform. Back in the now we find that their haul from the rich kids house didn't make much and that they couldn't sell the ballet tickets. They decide to hit a party in the wood that night. The same party that Ty gets invited to by a girl, Evita, that seems to like him… he's kind of oblivious. Tandy makes a stop at her mom's trailer to stash her haul in a duffel bag in the ceiling. Then at the party, she 'bumps' into Ty, spilling her drink on him and helps to clean it up while lifting his wallet. She goes to get towels and he finds Evita, goes to pay for her drink and realizes his wallet is gone. he chases after Tandy into a cemetery and when he catches her, there is a power surge that sends them both flying. Tandy's hand is suddenly glowing and Ty's hand is covers in dark matter. She looks at him and asks if he was the kid from the beach… When they get close again, her powers go super bright and she disappears while Ty can't see her.
Tandy, in shock by what happened, tries to talk to her friend Liam about it and about miracles. She tells him that an angel's hand saved her that night. Ty goes home, climbs into bed and pulls the blanket over him only to wake up on the roof of a building with a giant Roxxon sign. He stands there with the blanket around him like a cloak. We flash back to when he was a kid and the police tell his parents that his brother was found in the water with drugs in his system. That his body was in no shape to find bullet wounds and that the cop Ty says shot him doesn't exist… a red headed cop with a scar over his eye. Back to the now we see Ty walking down stairs from the building and discovering the cop, Detective Connors, that shot his brother loading his car across the street.
Tandy is at the trailer again and is surprised when her mom comes home and she forgets to put the duffel bag away. When she touches her mom, she gets a flash of what her mom could've been and how her life could've been so much better. This is part of her powers, seeing the best version of a person. Tandy is surprised by the power flash. Ty's mom comes up and confronts him about not going to school that day. He pushes back and calls her on what is really going on, that she's scared if he doesn't do everything right she'll lose him, but she tells him that she's afraid that even if he does everything right she still may lose him. He goes to sleep but wakes up the the trunk of Connor's car. Tandy decided to go to the ballet anyway and when leaving is confronted by the guy she robbed and his two friends. The force her into an alley where he pins her against the wall and sends his buddies off. But when he tries to force him self on her, she manifests a light dagger and stabs him with it. She looks at the dagger and it vanishes. Cut to Connors who is about to make a drug sale. He opens his trunk only to have the drugs thrown in his face and Ty jump out and run. Connors gives chase while the buyer takes off. The cop finds him, but Ty dives into a tarp as the cop fires. Ty wakes up on the floor in his room. There is a bullet lodge into his speaker.
We get two more flashbacks. One of young Tandy waking up on the beach next to young Ty. She takes his oversized hood and runs off. The second one we get young Ty waking on the beach and finding a ballet slipper. Cut back to now as Ty pulls the slipper out of his closet and then Tandy wraps herself in the oversized hoodie.
VERDICT
This was a very strong opening for a series. We got to know the Ty (Aubrey Joseph) and Tandy (Olivia Holt) very quickly and the laid out their bond very well. The origin story was there without taking up too much time. I think the rest of the characters need to be developed more and there needs to be more of a sense of the city. The series takes place in New Orleans, you only put a show there if it will feel like New Orleans. We don't have that feeling yet. I've never watched anything on Freeform before, so I wasn't sure what to expect quality wise, but in a lot of ways this could've been a Netflix series. They could've dropped these kids in New York and you would've expected Matt Murdock to walk by at some point. Its a feeling I didn't get from Marvel's Runaways or even Inhumans. This is a very promising start.
No trailer here as we moved right into the second episode, which you'll find the recap and review of on the site shortly.