Meet The Walking Dead's Carol: Fighter, Friend, Horrible Babysitter
For fans of the Walking Dead universe, things are pretty much status quo as we head into Memorial Day weekend. We're still a way's away from Fear the Walking Dead season 6, with spinoff series The Walking Dead: World Beyond and the original series' Greg Nicotero-directed tenth season finale "A Certain Doom" still loosely penciled in for some time later in 2020. Since we have some time to kill (maybe not the best choices of words), why not get yourselves acquainted with anything and everything you need to know about Carol Peletier (Melissa McBride) in the newest edition of I See 'Dead' People. Previous editions have focused on comic-to-screen comparisons for Paola Lazaro's Juanita Sanchez aka Princess, Jeffrey Dean Morgan's Negan, and Tom Payne's Jesus.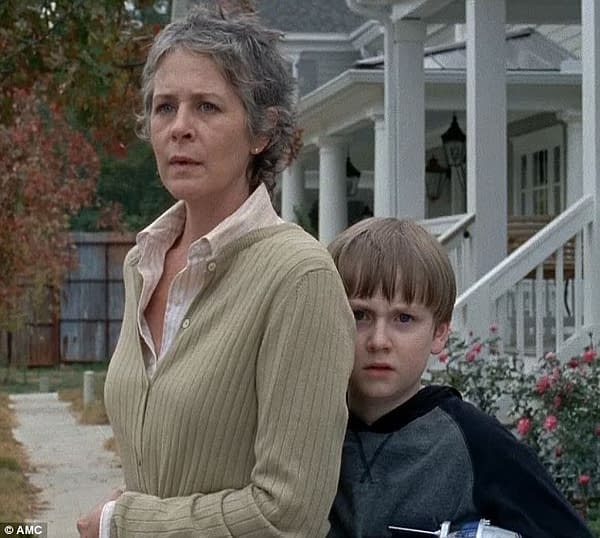 Now, it's a look at the highs and lows of one of the show's badest badasses. Need someone to sniper three "big bads" in less than a minute? Carol. Need someone who can turn a shoestring and a paper clip into something that can kill you eight different ways? Carol. Need someone to babysit your kids? Two-out-of-three isn't bad, right? Batting average like that will get you in the hall of fame. And before anyone comes at me for this, remember two things: she mentally broke a child so badly that he died from it, and Daryl (Norman Reedus) and Connie (Lauren Ridloff) make a much better couple.
Which brings us up-to-speed and up to the tenth season, which found Carol working with the one person we least expected yet also makes the most sense in a "big picture" sense: Negan. Aside from the dramatic possibilities that having those two characters working together brings, it also gave McBride a chance to share some screen time with Morgan. As she explains in her interview with Undead Walking: "Yeah, I was so excited to finally get to work with him. I was really, really happy. I think there's a lot of time to figure out who we become in that world setting, Robert Kirkman's fictional world setting and relate it to our actual lives in some way, why we do what we do, who we become, how we become, what we become, what will become, you know, the world around us. And there's a lot of time for her to consider it. They've all done things in that world that never would have imagined they'd be doing, and some of the themes are who really are the monsters."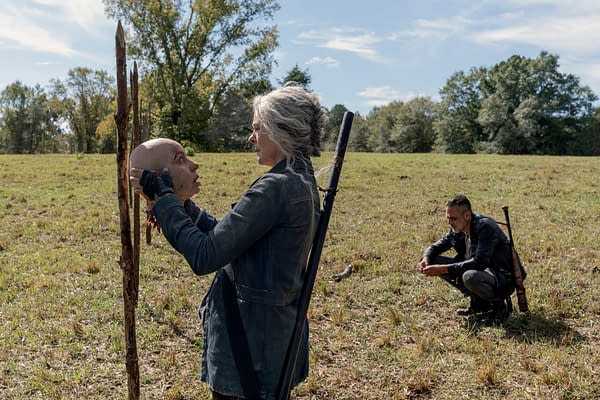 For Carol, it's not that she sees a kindred spirit in Negan as much as she sees someone whose needs aren't so different from her own: "And I think when she considers Negan, there are so many questions. Even when I was watching Negan, I was curious about what made him this way. What in the world made him that way, aside from survival? To be such a monster that he was, she's heard stories about him because he's a legend like that. And now he's faced his death, and what must he be thinking about that? So regarding all of that, he was interesting and it made sense for her to bring him on board with a plan because he had the most to gain. He said 'I've been in prison for seven years and I've lost everything.' And what he wanted was respect. She could give him respect, and she could free him, and she could get rid of the Alpha and have some sense of vengeance."