"Modern Family" Season 11 "Dead on A Rival": Softer Goodbyes, Subtler Humor Make for Much-Needed Ep [SPOILER REVIEW]
This week's episode of ABC's Modern Family was much more light-hearted, perfect to follow the one from last week. It truly got a few laughs off of me and I enjoyed all storylines. They seriously keep tugging at my heart-strings and seemingly setting more groundwork for what is to come to finalize the show. It appears that we are going to start saying goodbye to characters slowly as we heads towards the series finale.
[rwp_box id="0"]
This week's "Dead on A Rival" follows several threads. First, Alex (Ariel Winter) needs a personal assistant- her only option? A guy she liked so much she could not stop giggling while interviewing him. Jay (Ed O'Neill) suggested for her to hire Margaret (Marsha Kramer), his previous assistant. It was fun to see Alex banter with Jay over how Margaret is not the best fit—even more priceless to see Jay admit to Margaret Alex is cold. Things take a turn for the better though, when Jay ends up advising Alex to actually hire the boy.
Phil (Ty Burrell) receives a visit from a long-time friend who has always looked up to him, Kenneth (Josh Gad). Turns out he comes along with an opportunity of a lifetime; however, Phil is too scared to go into space. This portion was truly funny. For a second, I truly thought Claire (Julie Bowen) was going to land a new job—and I seriously laughed out loud when I saw her take Phil's place on their secret handshake. What I did not expect? Haley (Sarah Hyland) totally taking that opportunity from Claire in such a smooth way, giving advice to Kenneth on how to actually make backing down from his space trip look cool.
On their end, Gloria (Sofia Vergara) and Manny (Rico Rodriguez) welcome an unexpected guest: Manny's dad Javier (Benjamin Bratt), who shows up to invite Manny on a year-long cruise. Turns out, Javier is going through a little mid-life crisis. It was nice to actually see Javier be human for once, instead of a raging d-bag and stereotype; and also to see him enjoy Manny's acting for real. It was even nicer to see Gloria admit her unhealthy protectiveness over Manny. Seeing her push Manny to take the opportunity to sail around the world was surprising. I love the growth they showed in that single moment.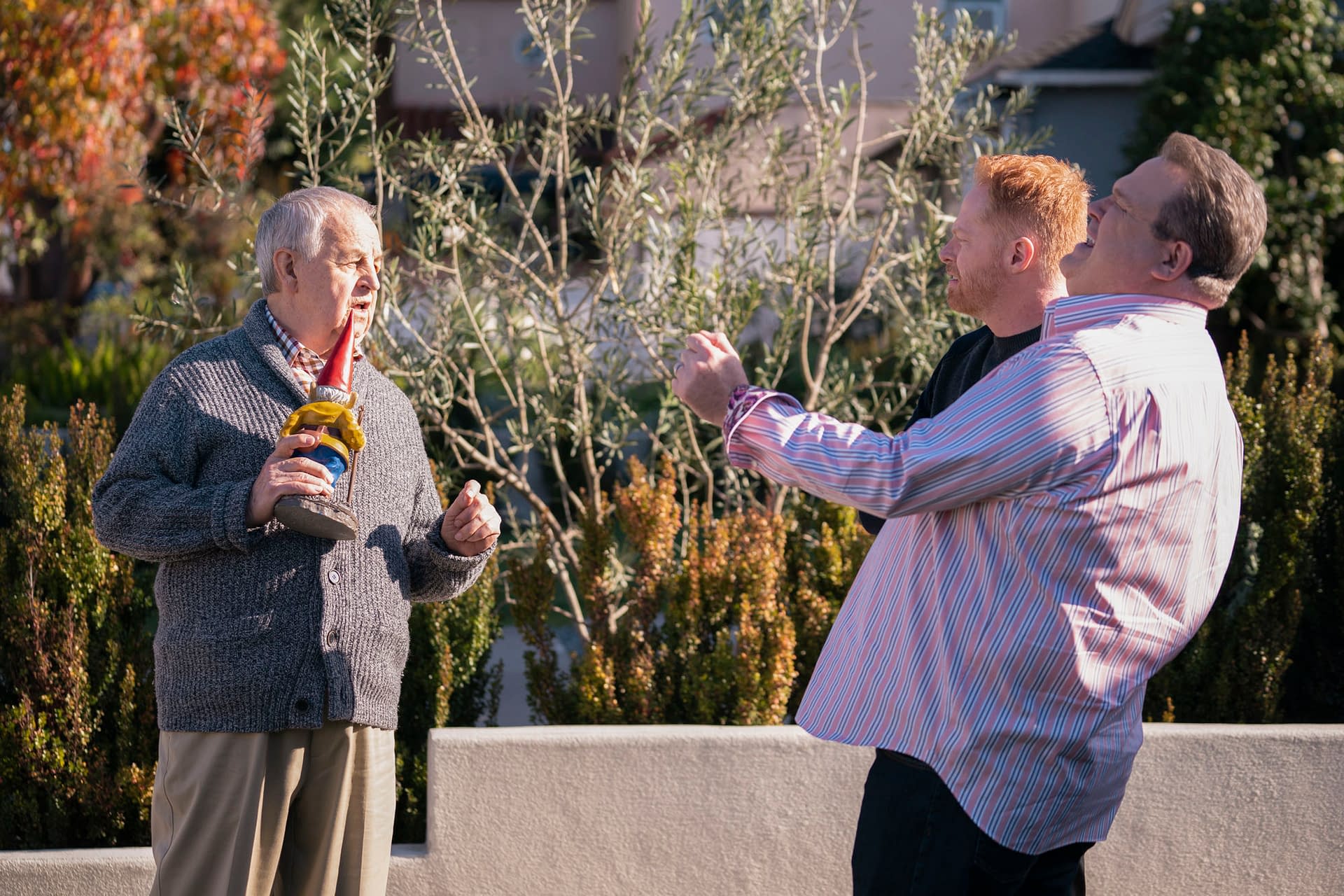 Finally, Mitch (Jesse Tyler Ferguson) and Cam (Eric Stonestreet) also receive an unexpected visitor: the previous owner of their home who has shown up to die there. However, they manage to turn things around and have him look into the future by walking him to his old friend's home, their neighbor. While it had a couple of moments that had me wondering where this was going, it ended up very cute. Cam and the old man start giving advice to Mitch on handling bullies – showing that sometimes, even hate and revenge can bring people closer.

It was a very nice episode of Modern Family—I feel we have said our small goodbyes to Margaret, Javier, and Manny. I wonder if they will take off right away or if they will just move things faster and give us a flash forward into the future at the end. I think we are now on the downward slope and my heart is starting to feel it. It will hurt a bit to say our final goodbyes later on, I am sure – especially with the next episode of Modern Family not arriving for another two weeks.