Aah, back at last. It feels good to be back, doesn't it? It sure does for Elliot, Angela, and all your friends and foes on USA Network's Mr. Robot.
Last season left off with Angela (Portia Doubleday) going a little cray cray believing that Whiterose (BD Wong) would bring her mother back and she just had to trust the plan. That's exactly where the start of this episode picks up – right where we left off, with her father (yes, that was a bombshell for her too) Phillip Price (Michael Kristofer) trying to talk some sense into her hysterical mind.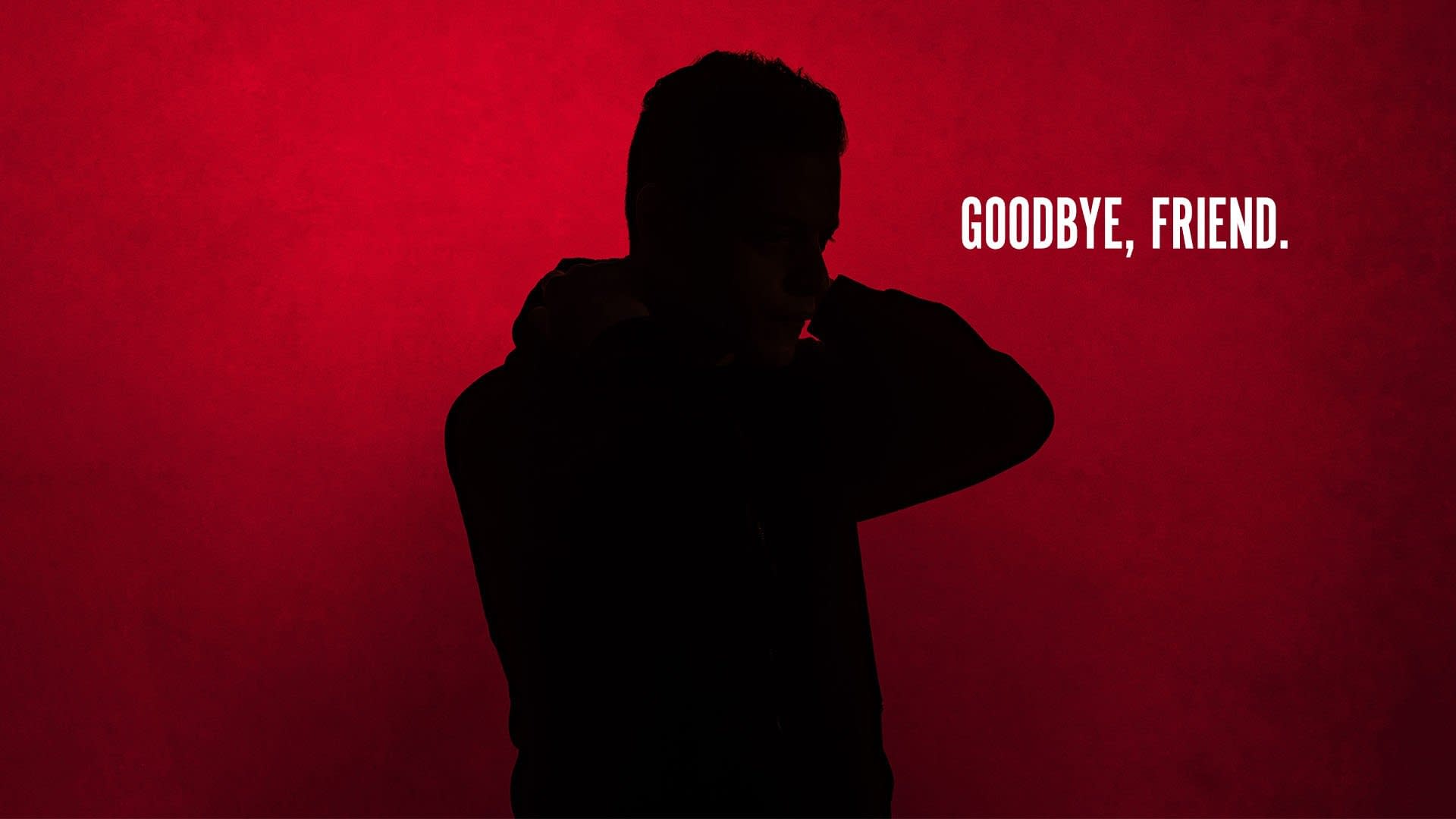 Of course, that doesn't really work and she finally gives up the delusion that Whiterose can resurrect the dead and instead states her intent to bring down Whiterose for lying to her.
…That doesn't really end well for her either, because as Phillip Price is walking away from that conversation, we see two of her demon henchmen pass him and head toward Angela. Big yikes – this can't end well.
But we weren't expecting it to end like it does. Oh friend, not at all. Wanna know what happens? Oh yeah – MAJOR SPOILERS!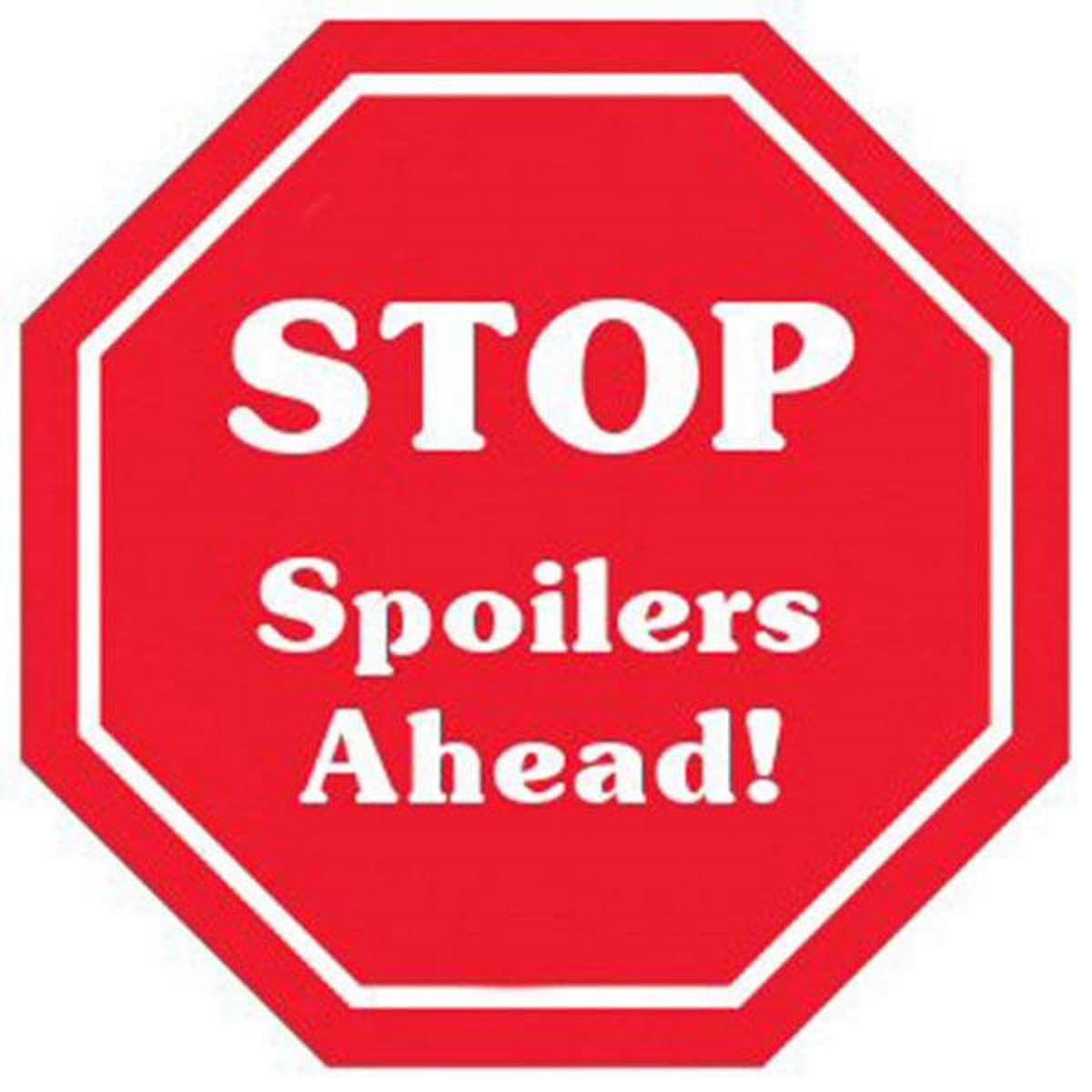 About five minutes into the episode, the henchmen shoot Angela – right in the head, execution style. Bang bang, no more blonde.
In case you need it summed up – before the opening credits even roll, Angela gets killed by the Dark Army. Curse their sudden but inevitable betrayal!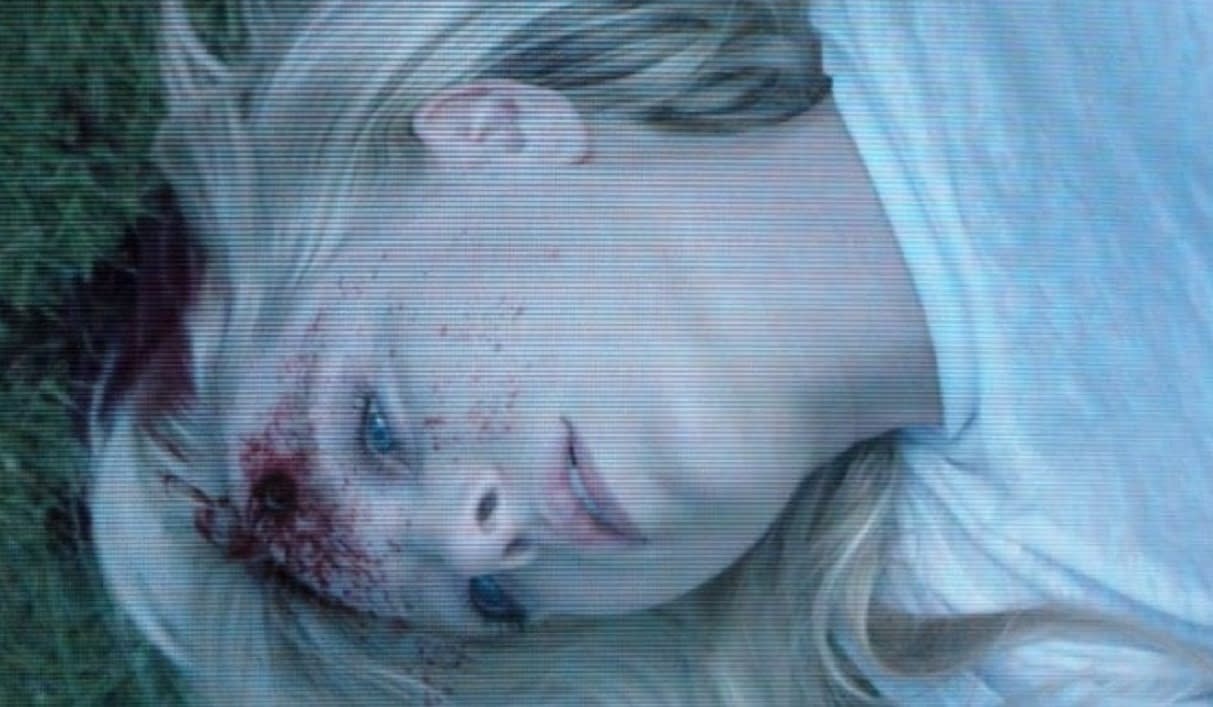 And Phillip Price is pissed. That was a shady deal by Whiterose, manipulating naive Angela like that… but she was kind of off the deep end.
Speaking of Whiterose, she has plans to tie up loose ends after the holidays in regards to Elliot (Rami Malek). Until then, she plans to keep him on a short leash (more like a choke chain, from the sounds of it).
And now, we go to…a 2015 law office Christmas party? We meet a sleazy lawyer who has a thing for underage girls. Double cringe. Too bad for him – somebody has a video and plans to blackmail. Who could that be? Mr. Robot (Christian Slater), of course: hacking for the greater good.
The reversal of Five/Nine is being attributed to Tyrell Wellick (Martin Walstrom), CTO of E Corp, and the economy is booming after basically totally collapsing back in May.
Back to our blackmailed lawyer: take a breath, Freddy, we're going to get through this.
Our hacker for the greater good is after something here, and apparently Freddy knows something. Mr. Robot navigates him through the train station to dodge a tail (who we assume are Dark Army henchmen) and meet up with Elliot.
Oh, they are Dark Army. And it turns out that this sleazy lawyer has a very important client: Whiterose. And now Elliot has her bank information. I'm thinking he's planning to hit the Dark Army where it hurts: their off-shore accounts. Apparently buying off politicians and moguls takes money, and I'm guessing things are not going to be good if she doesn't have any.
In an insane twist, Freddy realizes that Elliot can't protect him from the Dark Army, and so instead of continuing to take orders from his blackmailer (Elliot), Freddy takes himself off the board by shooting himself, in the middle of the sidewalk.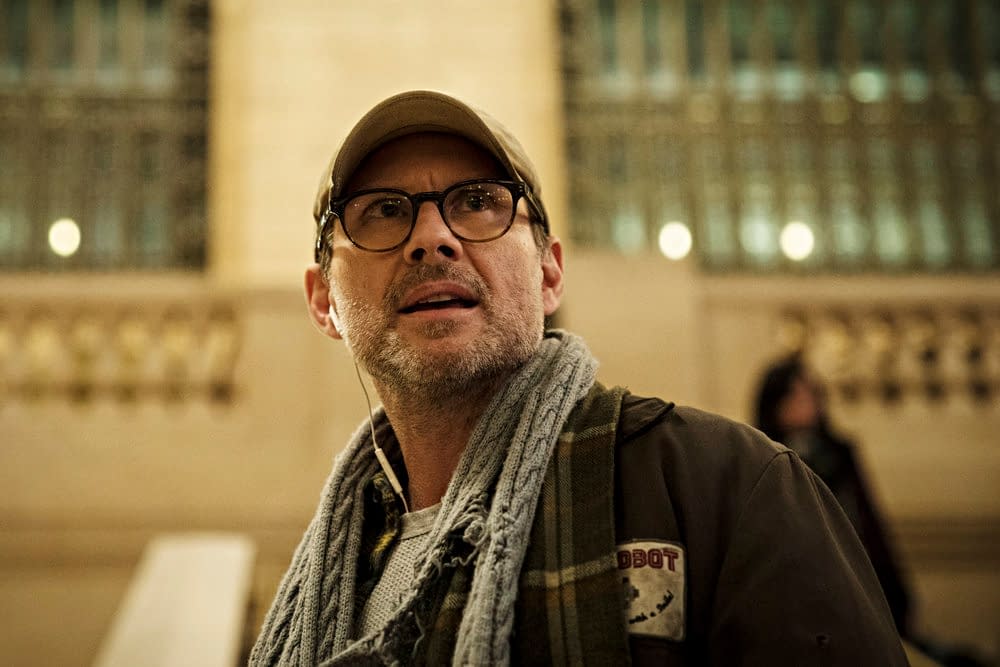 What a halfway point for the episode.
Our dear Tyrell is realizing that it's lonely at the top, and Dom (Grace Gummer) is acting more paranoid than a stoner in an escape room. Oh- Dom is at her mother's for the holidays, btw, and her mom is adorably suburban.
Elliot and Mr. Robot are working together to stop the shipment of Whiterose's project before she kills him. All Elliot is focused on now is bringing down Whiterose…until Darlene shows up rambling about how she saw Angela – alive.
Elliot tries to get coked up Darlene (Carly Chaikin) to see reason – my my my, how the roles have reversed this season. He's the sane one and she's looking pretty unstable and not coping well.
Darlene is pissed at Elliot and Mr. Robot doesn't understand why Elliot doesn't just show her the photo Whiterose sent to him of Angela's very grizzly demise. Turns out Elliot is taking the high road and showing compassion… or he's just totally shutting down in the wake of Angela's death.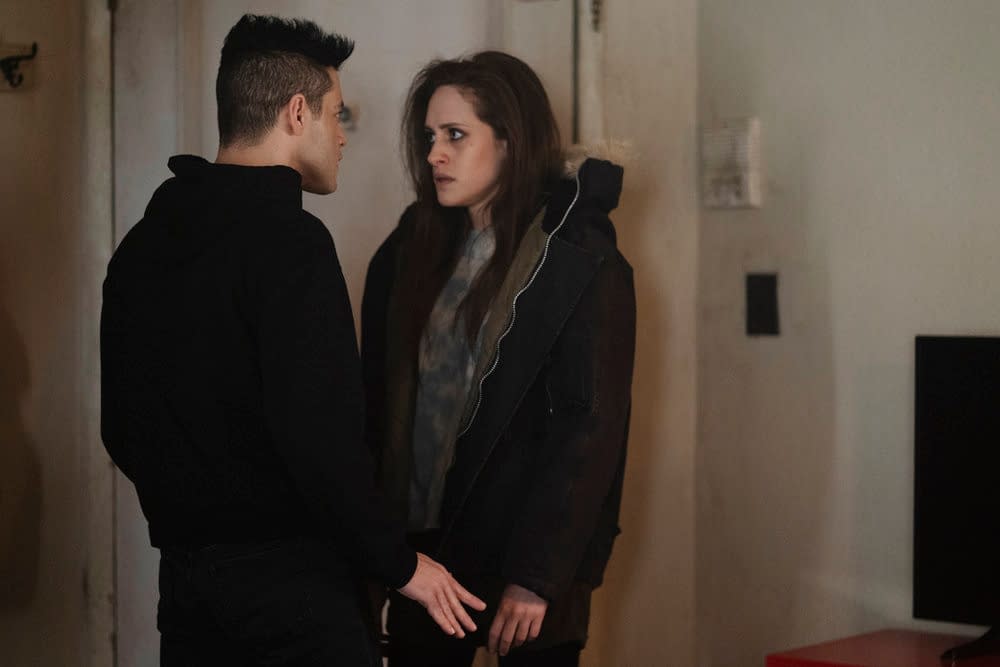 Mr. Robot confirms all of this and addresses us directly, because Elliot hasn't all episode. Oh – you hadn't noticed, friend? Well in case you didn't, Elliot is not coping with this well – and Mr. Robot is pleading with you to stick with Elliot and help him.
Speaking of helping Elliot, he will need quite some help getting out of being kidnapped by the Dark Army. Just like Dom needs some help adjusting to her new normal because spoiler: she is not taking being forced to work for the Dark Army well.
Darlene is still taking a page our of Elliot's former book of coping by drowning all of her feelings in drugs and booze. She is so very not over losing Angela.
On the topic of drugs, the Dark Army is shooting Elliot up with… something cooked in a spoon. This can't be good. There's no way it can end like this – this can't be "goodbye, friend" for good.
We were left hanging there for a minute, because it looked very much like lights out for our hacker hero – but at the last second, Phillip Price and his mysterious men give him a nasal spray of what I'm assuming is some kind of antidote and welcome him back.
I'm sorry – WHAT?!
We get two real deaths and an almost death (I'm going to count that as 2.5 deaths) in one single episode. I don't have to tell you how crazy bananas insane this is. What a series premiere!
I have absolutely no idea how they can keep this momentum going over the whole season, but I can't wait to watch and find out.
Tune in to Mr. Robot next Sunday on USA Network to watch all the holiday hacking shenanigans.
Enjoyed this article? Share it!