My Hero Academia Season 4 Finale His Start Review: Dreams of Heroism
My Hero Academia reached its finale bursting with action, with Endeavor and Hawks working hard to save the city against a sentient Nomu and try to keep damage to a minimum. All while the world, the Todoroki siblings, and Class 1-A watch from their own locations praying for a good outcome. In this last episode, Endeavor takes fans on a rollercoaster of emotions. This season had already shown Endeavor struggling with accepting himself and trying to find meaning to being a hero, most importantly a meaning he could relate to without having to change who he was.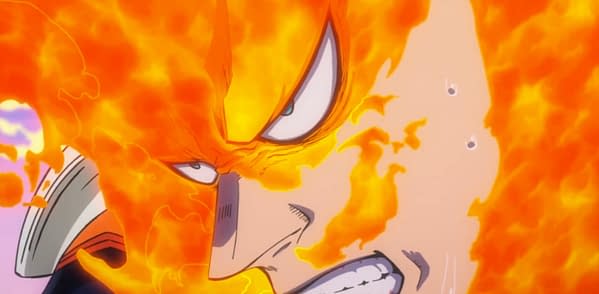 "His Start" was the action-packed finale fans did not know they were craving. During Todoroki's second attempt at the Provisional Hero License exam we see Endeavor ask All Might what being a hero means. This season we have seen many snippets of Endeavor's struggle to become number one and prove that he can do it and is just as deserving as All Might was. As a character that has always been more of a secondary role, it is interesting to see Endeavor take over the whole spotlight. Not to mention with a pretty damn good second in command, Hawks—but we shall get back to him in a bit.
My Hero Academia is Giving Endeavor His Own Redemption Arc
It seems Endeavor has been trying to make peace and corrections with his past, especially involving his family. We see his wife tell her kids that he has been trying to talk to her, but she is just not ready to face that part of her past just yet. We have also seen Endeavor try and gain Todoroki's respect and pride as his son. As well as on the last episode where he tried to not be as unapproachable as he seems with a kid. I have really been enjoying these little peeks into Endeavor's human side and I hope we get to see more of it in the future.
Nonetheless, Endeavor catches on to the Nomu just as fast as the Nomu himself seems to do with the rest of the heroes. This fight was just as flashy and amazing as Deku's was with Overhaul. Something very important that I really love of My Hero Academia above most anime I love: the heroes are not always losing. There seems to be a fair share of wins and losses, yet our heroes seem to learn and adapt always making it believable. It makes me infinitely glad that the heroes here have not become punching bags. Endeavor lands one final punch and one final blast, saying words that according to him he promised he would never say: Plus Ultra! He lands and from the news we see he is still alive and fist in the air. I swear I got chills watching it. He did well and I really hope he becomes the hero he wants to be, a wonderful successor to All Might.
On his end Hawks does an amazing job and keeping the viewers safe—guys, they made it clear they are not the Avengers. Hawks seemed to manage well in keeping casualties to a minimum. I loved the dynamic between Hawks and Endeavor; also how Hawks seems to genuinely want to help Endeavor in becoming a better hero, the number one in all aspects. I hope we get to see this duo more often in future seasons because I fell in love. I also liked the way they cut to everyone else watching the news throughout the episode. It did a great job setting up a more serious turn.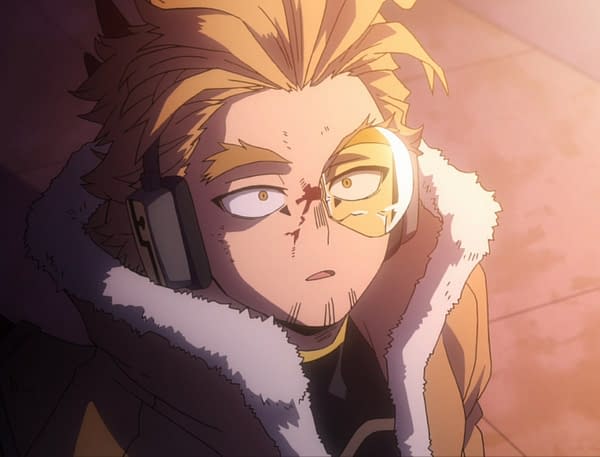 The ending threw me for a loop, however. We see Deku in his dreams look to his side and all past holders of One for All are by his side, with the exception of All Might. When he looks to the side though, we see a man holding the face of a younger boy. Deku says something about this person being "the ninth," but this person looked so much like Shigaraki that there is no way they could be the next in line to hold One for All, and the person with him looked like All for One. I am curious as to what this means since I am not very familiar with the next arc. I guess this will give me a chance to catch up on the manga while I wait for season five. This season of My Hero Academia was really a riot—I enjoyed every single aspect of it even when it felt slow. I hope the next one is just as packed with action and great writing as this one was.