Netflix Wants to Know Your Sign with New Zodiac Chart
Netflix is getting a little personal on Twitter today (okay, well, the NXOnNetflix account), posting a new zodiac chart.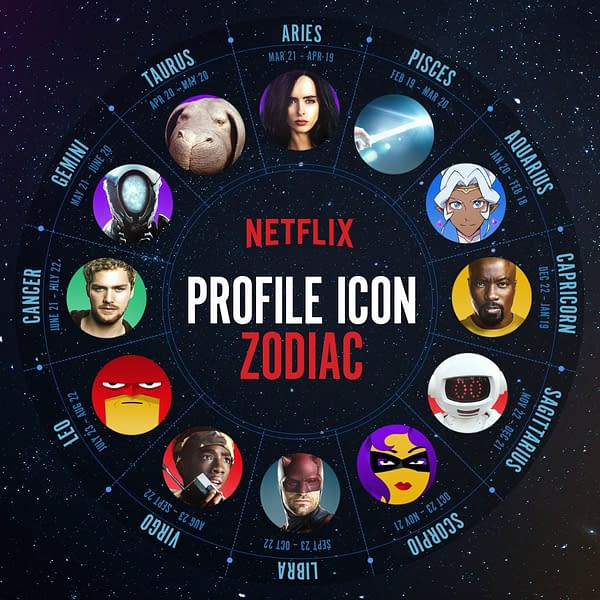 Made up of images of new available profile avatar icons for streaming service users, the chart features some familiar faces:
It starts with Jessica Jones holding down the first position as Aries, a lightsaber as Pisces, an anime character (that we personally don't recognize, so please tell us if you know who that is!) as Aquarius; Luke Cage as Capricorn; a sweet-looking tiny robot for Sagittarius; a female purple-haired hero (or villain) as Scorpio; Daredevil as Libra (really?); Lucas from Stranger Things as Virgo; a male red-cowled cartoon hero (or villain) as Leo; Danny Rand, aka Iron Fist, as Cancer; the new Robbie the Robot from Lost in Space as Gemini (accurate); and Okja as Taurus.
What do you think — are these icons accurate as representatives of zodiac symbols? Should we care, or should we continue with our #NetflixandChill with Orange Is the New Black while we wait for news about GLOW?