[SXSW 2019] David Tennant Talks 'Jessica Jones', Season 3 Absence, 'Good Omens'
David Tennant, who played one the most intimidating and powerful villains of the Marvel Defenders universe as the mind-controlling Kilgrave, is grateful for the time he had on Marvel's Jessica Jones amidst its cancellation on Netflix. Tennant spoke to Entertainment Weekly while promoting his latest Amazon Prime series Good Omens during South By Southwest, SXSW.
Kilgrave met a brutal end at Jessica's (Krysten Ritter) hands when she snapped his neck at the conclusion of season one. He returned to haunt her through hallucinations the following season. When asked about one last appearance in the third season, he said Kilgrave won't appear. Tennant admitted despite the show's cancellation at the height of its popularity, he's at peace with the decision.
"I don't really regard it as a cancellation so much as something having the life that it should have," the actor said. "Three seasons of that story is great. Rather than thinking of it as something that was canceled, I think of it as something that had three seasons that will live in the memory."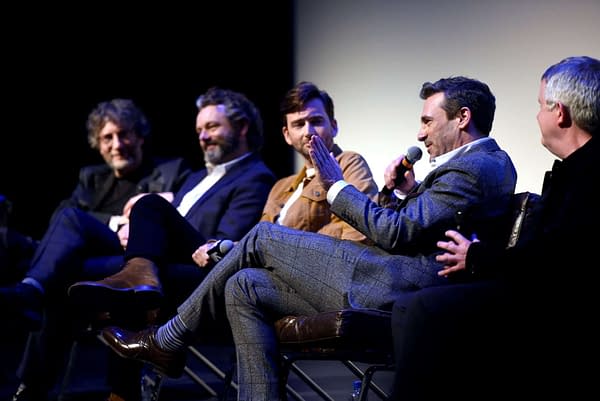 In Good Omens, based on the Neil Gaiman novel, Tennant plays Crowley, a demon who tries to save earth from Armageddon, which he deems quite inconvenient
Co-star Michael Sheen complimented Tennant during the show's panel.
"The biggest challenge was being in scenes with David and enjoying what he does so much that I forgot to say my lines. When you're up close, you're going, 'Oh that's very good, I would never have thought of doing that,' and then, 'Oh s—, I've got to [say my lines].'"
Good Omens premieres on May 31st on Amazon Prime. Season three of Marvel's Jessica Jones airs sometime in 2019 on Netflix, seasons 1 and 2 are currently available to stream.