AEW's Double or Nothing PPV could be the most purchased show in the company's short history, according to early reports. However, it turns out that the angle that happened on Dynamite this week featuring Mike Tyson and MMA stars Henry Cejudo, Vitor Belfort, and Rashad Evans may not be gaining the interest for AEW that the company hoped for, according to other early metrics. The news comes via the latest issue of the Wrestling Observer Newsletter, in which Dave Meltzer writes of PPV buys:
Two weeks after UFC did a shockingly high number for UFC 249, AEW followed suit with what, at least at this point, looks to be the most-purchased PPV show in company history.

Streaming numbers from B/R Live in the U.S. and FITE for international markets both ended up more than 10 percent up from the 2/29 Revolution show and may end up closer to 15 percent up, which was tracking to be the second highest number in company history, behind only the first Double or Nothing show, at about 100,000 to 110,000 buys. The cable buys for Revolution are still only estimated until final numbers are to come in at some point in the next few weeks. Due to the holidays, we haven't heard any reliable early estimates on PPV, so if for whatever reason those numbers don't have a similar increase, it could fall short of the record set for the first Double or Nothing show (Kenny Omega vs. Chris Jericho) from last year's Memorial Day weekend in Las Vegas.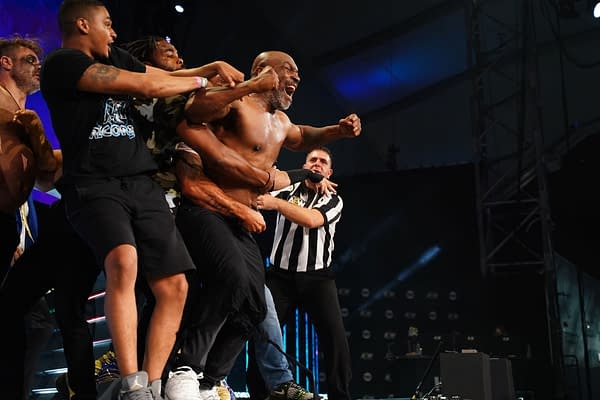 Meltzer goes on to note that if the cable buys do hold up, the show could end up with 115,000 to 120,000 buys, which would either tie or beat last year's Double or Nothing, AEW's most-bought PPV to date. That number seems to be based largely on excitement for AEW's own storylines and matchups, which is interesting considering AEW put so much attention on Mike Tyson and his posse on Dynamite this week. Meltzer writes that early metrics seem to indicate that Tyson's appearance did not result in the considerable boost in mainstream attendance the company was probably looking for, though, as we said yesterday, the real number to watch is the rating for next week's Dynamite.
Tyson did get AEW publicity on mainstream websites that usually cover pro wrestling, but that was a given, such as the web sites of ESPN, Yahoo, TMZ or Sports Illustrated. At press time it didn't appear to break strongly into pop culture. As a surprise, nothing related to AEW or Tyson cracked the Google search on either 5/27 or 5/28, meaning less than 50,000 searches. We didn't hear of it being covered on what would be the key breakthroughs like Good Morning America or other major entertainment news television shows, or ESPN Sports Center. The most important metric would be the rating of the 6/3 show.
If these early numbers turn out to be accurate, it sends a compelling message: that AEW is more successful concentrating on stories and matches with its own talent than in trying to bring in outside stars for mainstream attention. The Double or Nothing PPV featured Tyson as an afterthought, there to present the belt and maybe punk down Lance Archer, and that PPV was seemingly wildly successful. However, a few nights later, bringing Tyson and three legitimate MMA stars onto the show for the most significant segment of the night failed to crack the top Google searches. We'll have to see how things pan out, but if Tyson and friends fail to draw more viewers to AEW, there's an obvious lesson to be taken from the events: stick to what you're good at. And AEW is very good at creating a compelling pro wrestling show.
Enjoyed this article? Share it!