Gotham will not be on tonight, or next week, or the week after. But it will be back on April 28th, with the first part of the two-part finale. I have so many questions. But I also have one pretty solid answer: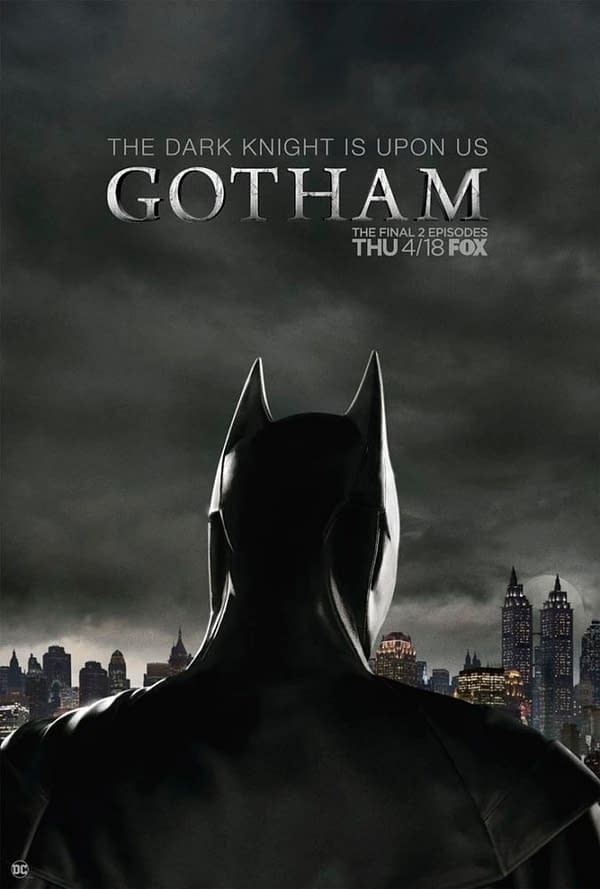 Batman will be casting his grumpy eyes upon the city of Gotham! Whew! That was question number 2 on my list.
The first, of course, is when will Jim Gordon grow that damned mustache?
The first episode of the finale is title "They Did What?" Probably in regards to Penguin (Robin Lord Taylor) and Riddler (Cory Michael Smith) taking a romantic submarine ride together. Here's the official synopsis:
As Bane (guest star Shane West) enacts his final plan for Gotham's destruction, Gordon rallies his former enemies to save the city. Meanwhile, Nyssa al Ghul (guest star Jaime Murray) kidnaps Barbara's newborn daughter with ambitions to raise her as her own. Then, Bruce's decision to leave Gotham points him to his destiny, while devastating Selina in the all-new "They Did What?" episode of Gotham airing April 18th.
Of course Bruce (David Mazouz) is going to try to leave Gotham. Poor Selina (Camren Bicondova), she's finally happy, and Broods Wayne has to go and mess everything up.
Nussa al Ghul taking off with Barabara's (Erin Richards) baby still plays into my long running theory that said baby will wear a cape and cowl at some point. Will Barbara live long enough to see it happen?
We've been building up to these last two episodes for five years now! And we still haven't seen Mister Freeze in action this season yet! Here's hoping that finale, which promises to be 10 years in the future, gives us a glimpse at what all of our favorite villains have been up to while they wait for Bruce to put on the cape!
… and for Gordon to grow the damned mustache, of course.
https://youtu.be/3ROLs4j1s-Y?list=PLr5xdVw1KkGswBhLmHR1AHU4xhBh3T9dr
Enjoyed this article? Share it!