No, Justice League Isn't Ben Affleck's "Highest-Rated Career Movie"
Ben Affleck wants nothing to do with James Gunn's DCU, but was he right that Justice League was his "highest-rated career movie"? Maybe not.
---
We all know the deal that went down this week. In a profile of the actor, writer & director from The Hollywood Reporter, Ben Affleck made it clear that he's not interested in directing anything for DC Studios' James Gunn & Peter Safran's new DCU. "I would not direct something for the [James] Gunn DC. Absolutely not. I have nothing against James Gunn. Nice guy, sure he's going to do a great job. I just wouldn't want to go in and direct in the way they're doing that. I'm not interested in that." Aside from being a clear departure from where things were reportedly at back in December 2022, the response itself was about an "11" on a ten-point passive-aggressive scale. And if there was any doubt about who Affleck tends to side with in this whole Justice League/"Snyderverse" debacle, it's definitely Zack Snyder. But of all the things that bothered us about Affleck's comments, this one line stuck out – one that he used to defend the Snyderbros for the way they've jacked up the scores for JL over the years (because, as we're sure Affleck knows, online reactions always speak truth to power when it comes to the actual quality of a project… right?): "Say what you want, it is my highest-rated career movie." It stuck out because… well… we think there's a very good chance that he's wrong.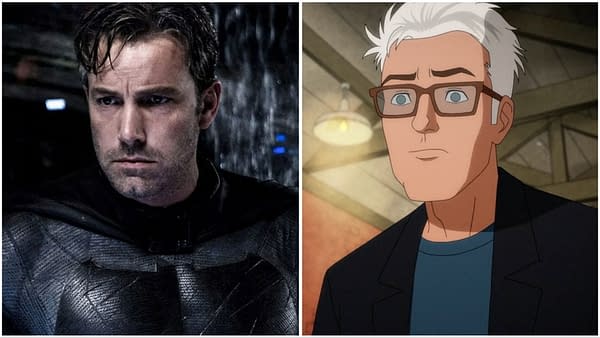 Normally, exaggerations like Affleck's are understandable in the "heat of the moment" of an interview when you're not necessarily fact-checking yourself and speaking more from emotion. But when you use a line like that to defend a level of toxicity that can't be defended by, "Yeah, but they make me feel better about myself, so…" Now, to be fair? We're not sure what the measuring stick is that Affleck is using, but JL holding the top spot in Affleck's filmography on IMDB doesn't seem to be the case. As for Rotten Tomatoes? When we last looked at the "Audience Score" (so no one can accuse us of looking only to those "snobby film critics") rankings for Affleck's films, we have Good Will Hunting at 94%, with JL tied with Kevin Smith's Jay and Silent Bob Reboot at 93%. For an even further perspective, Affleck's Batman ranks only 3% higher than Argo and Dazed and Confused. Also, it would appear that audiences 1% prefer more for Affleck to not be on the screen & executive produce than be Batman (with the 2009 doc Reporter getting 94%). And where's the love for Batman v Superman: Dawn of Justice? Because that's only sitting at 63% (ouch). Of course, this is the best Affleck film ever, so the entire argument is moot…
Ben Affleck on "Justice League," Zack Snyder & More
"'Justice League' … You could teach a seminar on all the reasons why this is how not to do it. Ranging from production to bad decisions to horrible personal tragedy, and just ending with the most monstrous taste in my mouth," Affleck shared when explaining what it was about the production that soured him on staying with the DCU. "The genius, and the silver lining, is that Zack Snyder eventually went to AT&T and was like, 'Look, I can get you four hours of content.' And it's principally just all the slow motion that he shot in black and white. And one day of shooting with me and him. He was like, 'Do you want to come shoot in my backyard?' I was like, 'I think there are unions, Zack. I think we have to make a deal.' But I went and did it. And now [Zack Snyder's 'Justice League'] is my highest-rated movie on IMDb."
When the point is brought up that Snyder's passionate fanbase was a major factor in that, Affleck counters that he won't argue with fans appreciating after-the-fact a film that Affleck describes as being "the worst experience I've ever seen in a business which is full of some shitty experiences." In fact, the experience killed off any interest he had in directing "Batman" or any other genre film of that nature moving forward. "Say what you want, it is my highest-rated career movie. I've never had one that went from nadir to pinnacle. Retroactively, it's a hit. All of a sudden, I was getting congratulated for the bomb I'm in. But I was going to direct a Batman, and [Justice League] made me go, 'I'm out. I never want to do any of this again. I'm not suited.' That was the worst experience I've ever seen in a business which is full of some shitty experiences. It broke my heart. There was an idea of someone [Joss Whedon] coming in, like, 'I'll rescue you, and we'll do 60 days of shooting, and I'll write a whole thing around what you have. I've got the secret.' And it wasn't the secret. That was hard." Affleck then went on to explain how the experience impacted him personally, requiring him to seek help.