NOS4A2 Season 2 Preview: The Shorter Way Forces Vic to Face Her Past
Giving credit where credit is due, NOS4A2 writer David Grimm and star Zachary Quinto did an amazing job with "Good Father" in rounding out Charlie Manx's (Quinto) backstory in a way that gives viewers a better appreciation of the evil that he and Christmasland present to Vic (Ashleigh Cummings). And that's what made it work the most: while we understood him more, it made us hate him on an even deeper level. While Manx, Bing (Olafur Darri Olafsson), and Millie (Mattea Conforti) conspire to keep the lights of Christmasland on full-time, we look ahead to next Sunday's "The Night Road" and Vic's on-screen return. In the clip below, the Shorter Way brings her to a very unexpected place, and to a long-lost face: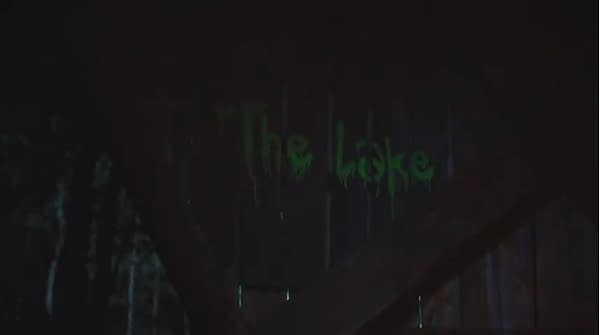 NOS4A2's second season picks up eight years after the events of season one. Vic McQueen (Ashleigh Cummings) remains more determined than ever to destroy Charlie Manx (Zachary Quinto). Charlie, having faced his own mortality, emerges desperate for revenge against Vic. This time, he sets his sights on the person who means most to Vic – her eight-year-old son Wayne. The race for Wayne's soul sends Vic and Charlie on a high-speed collision course, forcing both to confront the mistakes of their pasts in order to secure a hold on Wayne's future.

NOS4A2 season 2, episode 3 "The Night Road": Vic takes the Shorter Way to Haverhill; Lou and Wayne face a terrible threat in her absence. Written by Lucy Thurber.
Here's a look back at "Good Father" and the moment Manx finished selling his soul, as he and Millie paint the path to Christmasland with blood:
Based on best-selling author Joe Hill's novel, and executive produced by series creator/showrunner Jami O'Brien (Fear the Walking Dead) and Hill, NOS4A2 stars Quinto, Cummings, Conforti, Jahkara J. Smith, Olafur Darri Olafsson, Ebon Moss-Bachrach, Virginia Kull, Jonathan Langdon, Ashley Romans, and Jason David. Produced by AMC Studios in association with Tornante Television, NOS4A2 is executive produced by Hill, O'Brien, and Tornante Television's Lauren Corrao.