Oscar De La Hoya Calls Dana White Little B***h, Challenges McGregor
The worlds of MMA and boxing collided once again this week when boxing legend Oscar De La Hoya claimed he would knock out UFC star Conor McGregor in two rounds and then attacked UFC's Dana White. "Two rounds!" De La Hoya said in a CBS podcast interview. "Because one thing about me, I went for the kill always. And look, Conor McGregor, I love him in the Octagon, I respect him, I watch him all the time. But the boxing ring is a whole different story."
McGregor, for his part, seemed happy to accept the challenge, tweeting, "I accept your challenge, Oscar de la Hoya." McGregor lost to Floyd Mayweather in ten rounds in a 2017 boxing match when the referee stopped the fight as a gassed McGregor could no longer defend himself. Though retired, Mayweather was 40 years old when he fought McGregor and was undefeated in his boxing career. De La Hoya is 47, and had a less impressive record. Both men are retired from boxing. McGregor is currently 31.
Dana White addressed the challenge in a press conference. "Is f***king Oscar De La Hoya beautiful or what?" White responded. "Did he ask for a two-round fight?" In an interview with Richard Jefferson on ESPN, White went further, responding to the prospect of a match between McGregor and De La Hoya by saying, "First of all, Oscar De La Hoya's like 50 years old. He's like 58, 48 or 49 years old. And what that means to me… You know that me and Oscar used to be cool. The beef with me and Oscar is I used to promote his fights and say, hey, Oscar's got a good fight on tonight, da-da-da. We do McGregor vs. Mayweather, and he tells people not to watch it. It's a disgrace to boxing. But wait a minute. So Mayweather vs. McGregor is a disgrace to boxing, but you vs. McGregor isn't? What it tells me is when almost 50-year-old Oscar De La Hoya wants to fight Conor McGregor, it means he's broke. He needs the money." White added, "I don't know what his deal is, but to me, it sounds like he needs some money."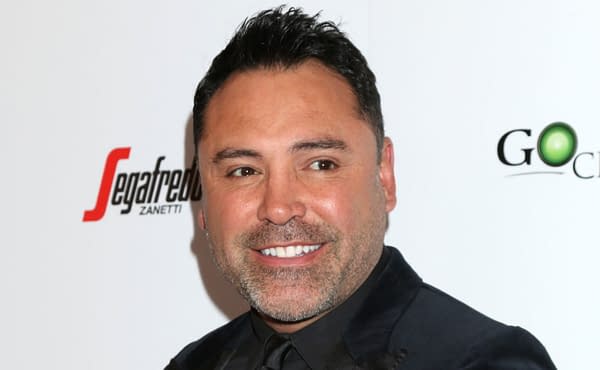 On Twitter, De La Hoya responded to White, saying, "@danawhite you are such a little bitch, never laced a glove other than being a box aerobics teacher. The Fertitta brothers are the ones who built the business and you were lucky enough to just have 10% of UFC. #littlebitch." So the question may not be will the McGregor/De La Hoya fight happen, but will De La Hoya step into the ring with Dana White? To McGregor, De La Hoya clarified, "For the record: McGregor, I never challenged you. I was just asked a question and I simply spoke the truth…"
UFC 249 is happening tomorrow night as UFC looks to brand itself the first sport to return to live events during the coronavirus pandemic. The fights will be held in an empty building with limited crews, and the promotion is taking a lot of precautions to ensure safety from the virus. President Donald Trump himself will be watching, according to White, who told TMZ UFC 249 is the first step in the plan to reopen the nation. "His whole philosophy was let's get sports back first, figure out how to do that safely. Then let's start figuring out how do you get people back in the office? How do you get people in cubicles? And, then how do you get kids back in school?"